Track Therapy Care with New Evaluation Codes
By Brad Ericson
November 15, 2016
Comments Off

on Track Therapy Care with New Evaluation Codes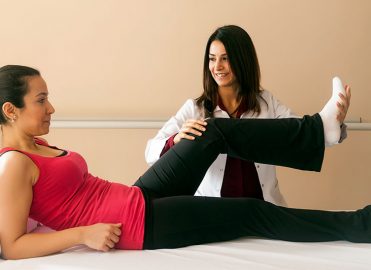 2017 CPT® codes more accurately report and justify reimbursement for providers of physical medicine.
New physical therapy (PT), occupational therapy (OT), and athletic training (AT) evaluation codes are the first significant changes to CPT® physical medicine and rehabilitation codes in two decades. Far more numerous, informational, and specialty-focused, the new evaluation codes solve a long-time problem for practitioners who need a better way to document their assessment and plans for patient care.
The codes (97161-97172) are similar to evaluation and management (E/M) codes found in the 99000 series, but are specific to the PT profession. They're also re-sequenced, so they show up before the modalities, which start at 97010 Application of a modality to 1 or more areas; hot or cold packs. (Codes 97001-97006 are deleted in CPT® 2017.) Each specialty enjoys three levels of evaluation and one re-evaluation, all based on several factors.
Developed to improve data gathering, professionals hope these new codes improve reimbursement, as well. Sharon L Dunn, PT, PhD, president of the American Physical Therapy Association, said in a statement to members regarding the 2016 status of payment reform:
The tiered evaluation codes in themselves offer an opportunity for PTs to inform the eventual payment values that will be assigned to them in the future. By using the new codes appropriately and accurately, we can help shape future payment as we generate data that CMS can incorporate in its decisions on how these codes will be valued in the future.
The new tiered evaluation codes also introduce separate sub-heads for PT, OT, and AT evaluations, but groups them together. This will help coding and billing in clinics and facilities offering all three services.
PT Is Based on Clinical Decision-making
The PT codes — three evaluation and one re-evaluation — now consider:
Patient's history
Examination results
Clinical decision-making
Development of the care plan
The level of the PT evaluation performed depends on the clinical decision-making and the patient's severity, according to CPT® instruction. For reporting, PTs must demonstrate review of these body regions and body systems:
Defined body regions such as the head, neck, back, lower extremities, upper extremities, and trunk
Musculoskeletal systems, which include gross symmetry, range of motion, strength, height, and weight
Neuromuscular systems, which includes gross coordinated movement and motor function
Cardiovascular and pulmonary systems, which include heart and respiratory rates, blood pressure, and edema
Integumentary system, which means assessing the pliability, scar formation, color, and integrity of the skin
Because the descriptions of all the new evaluation codes are extensive, we'll include only 97161 so you can see how similar the codes are to 99000 E/M codes:
97161 Physical therapy evaluation: low complexity, requiring these components:
A history with no personal factors and/or comorbidities that impact the plan of care;
An examination of body system(s) using standardized tests and measures addressing 1-2 elements form any of the following: body structures and function, activity limitations, and/or participation restrictions;
A clinical presentation with stable and/or uncomplicated characteristics; and
Clinical decision making of low complexity using standardized patient assessment instrument and/or measurable assessment of functional outcome.
Typically, 20 minutes are spent face-to-face with the patient and/or family.
At least 20 minutes are spent face to face with the patient and/or family for reassessment code 97164, as well. Moderate complexity (97162) requires 30 minutes, and high complexity (97163) requires 45 minutes.
OT Is Based on Occupational Performance
OTs also get a new set of codes, 97165-97168, that include:
Occupational profile and client history
Assessment of occupational performance
Clinical decision-making
Development of the care plan
OTs are keen to identify and correct performance deficits, and evaluations are meant to identify "the inability to complete activities due to the lack of skills" in one or more of these categories:
Physical skills such as balance, mobility, strength, endurance, motor coordination, sensation, and dexterity
Cognitive skills such as in interacting with tools and materials, carrying out actions, and modifying performance when encountering problems
Psychosocial skills such as interpersonal skills, habits, behaviors, coping strategies, and environmental adaptations
Codes 97165 and 97168 require at least 30 minutes with patient and/or family. The OT must spend as much as 45 minutes to justify reporting 97166, and 60 minutes for 97167 (the highest complexity code).
AT Is Based on Strength and Movement
AT, a growing field in physical medicine, also gets new evaluation codes. Including a patient history and examination, the 97169-97172 series — three for evaluation and one for re-evaluation — follow a similar theme to the PT evaluation codes. ATs must look at a minimum of these elements:
History and physical activity profile
Examination
Clinical decision-making
Development of the care plan
Fewer definitions are required of ATs than their physical medicine counterparts, but the body systems review is significant. ATs must review:
Musculoskeletal system, which includes an assessment of gross symmetry, gross range of motion, gross strengths, height, and weight
Neuromuscular system, which includes a general assessment of coordinated movement and motor function
Cardiovascular and pulmonary systems, which requires a review of heart rate, respiratory rate, blood pressure, and edema
Integumentary system, which means an assessment to pliability, scar formation, skin color, and skin integrity
ATs are required to spend at least 15 minutes with the patient and/or family when determining 97169, 30 minutes for 97170, and 45 minutes for 97171. Re-evaluation requires 20 minutes.
RVUs Will Evolve
The Centers for Medicare & Medicaid Services (CMS) is revamping the Medicare payment system, in accordance with the Medicare Access & CHIP Reauthorization Act of 2015 (MACRA), and relative value units (RVUs) for the new codes are only proposed (at this writing). Considering the agency's interest in zero-based budgeting, and worries about fraud or overutilization, RVUs are not expected to differ much from one code to the next within a specialty until more data is gathered. For OTs, for example, CMS recommends making the RVU for all codes 1.20. Over time, physical medicine professionals hope these new codes will help define future reimbursement.
Resources
CPT® 2017 Professional Edition, American Medical Association, pages 664-668
AOTA Advocacy and Policy: New Evaluation Codes for OT in Medicare Physician Fee Schedule Proposed Rule, July 8, 2016: www.aota.org/Advocacy-Policy/Federal-Reg-Affairs/News/2016/new-evaluation-codes-medicare-physician-fee-schedule.aspx
Federal Register, Vol. 81, No. 136, Pat. 46162, July 15, 2016, "Medicare Program; Revisions to Payment Policies Under the Physician Fee Schedule and Other revisions to Part B for CY 2017; Medicare Advantage Pricing Data Release: Medicare Advantage and Part D Medicare Advantage Provider Network Requirements'; Expansion of Medicare Diabetes Prevention Program Model"
Latest posts by Brad Ericson
(see all)
No Responses to "Track Therapy Care with New Evaluation Codes"