MACRA: Transitioning Payment Methods
In Facility
November 18, 2016
Comments Off

on MACRA: Transitioning Payment Methods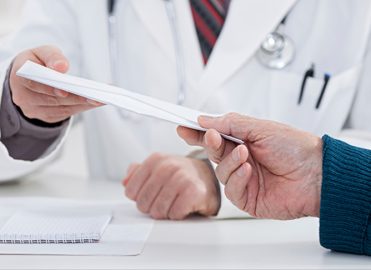 Start now to ensure your business processes support MIPS and APM requirements.
Editor Note: The Merit-based Incentive Program (MIPS) and Advanced Alternate Payment Model (APM) requirements are finalized. Now, we're just weeks away from the start of the first performance period. AAPC has been covering news of the Quality Payment Program from the start. The following article, which first appeared in Healthcare Business Monthly, is a comprehensive explanation of what quality-based payment is today and how it may affect you in the near future. This article has been updated to reflect provisions that were finalized after the article was published.
The Medicare Access & CHIP Reauthorization Act of 2015 (MACRA) charged the Centers for Medicare & Medicaid Services (CMS) with implementing a Quality Payment Program (QPP) that would pay healthcare providers for the quality of their work, rather than the quantity. On October 14, 2016, CMS finalized two new QPP tracks: the Merit-based Incentive Payment System (MIPS) and Advanced Alternative Payment Models (APM).
CMS outlines four strategic goals of the QPP:
Design a patient-centered approach leading to better, smarter, and healthier care;
Develop a program that is meaningful, understandable, and flexible for clinicians;
Design incentives that drive delivery system reform principles and participation in APMs; and
Ensure attention to excellence in implementation, effective communication, and operational feasibility.
What You Need to Know About MIPS
Beginning in 2019, MIPS will replace the Physician Quality Reporting System (PQRS), the Value-based Modifier (VBM), and the Medicare Electronic Health Record (EHR) Incentive Program (or Meaningful Use), along with their individual financial penalties or rewards, for a single positive, neutral, or negative payment adjustment based on participation in four performance categories:
Quality (replaces PQRS)
Improvement Activities
Advance Care Information (replaces Meaningful Use)
Cost (replaces the VBM)
These performance categories will be weighted, and will contribute to a clinician's composite performance score of up to 100 points. This score will be compared to a performance threshold that CMS will calculate based on available data from the 2017 reporting period. 2017 performance scores will determine 2019 payment adjustments.
For the 2017 performance period (which can start any time between Jan. 1, 2017 and Oct. 2, 2017), CMS is allowing MIPS-eligible clinicians to participate at their comfort level. Your pace will determine your payment adjustment in 2019:
No participation – negative 4 percent
Some participation – neutral
Partial year – neutral or small positive adjustment
Full year – moderate positive adjustment up to 4 percent
In subsequent years, this adjustment increases to as much as plus or minus 9 percent .
Who Is Affected by MIPS?
Eligible clinicians, in the first two years of MIPS, are physicians and traditional mid-level providers (physician assistants, nurse practitioners, clinical nurse specialists, and certified registered nurse anesthetists), who bill more than $30,000 to Medicare and provide care to more than 100 Medicare patients per year.
MIPS applies only to eligible clinicians, not to hospitals or other facility types. Also excluded are:
Eligible clinicians in their first year of Medicare Part B participation
Eligible clinicians defined as having a low volume threshold, which is finalized as Medicare annual billed charges of equal to or less than $10,000 or 100 Medicare patients or less in a given year
Certain participants in Advanced APMs
CMS expects the majority of eligible clinicians to participate in MIPS in the first year, with substantial growth of APM participation in the future.
MIPS Reporting
The performance period begins Jan. 1, 2017 and ends Dec. 31, 2017. Performance data must be submitted by March 31, 2018. MIPS reporting on the four performance categories can be achieved at the individual level, or as a group of eligible clinicians using a group Tax Identification Number (TIN).
2017 MIPS Reporting Methodologies
Individual
Group (25+ eligible clinicians)
Qualified Clinical Data Registry (QCDR)
Registry
Certified Electronic Health Record (CEHRT)
Medicare Claims
QCDR
Registry
CEHRT
CMS Web interface (registered by June 30, 2017)
Performance Categories
As mentioned above, there are four performance categories, three of which require data submission.
Quality
This performance category is worth 60 percentage points out of a 100-point composite performance score. To earn points:
MIPS-eligible clinicians who are reporting individually need to report up to six quality measures, including an outcome measure, for a minimum of 90 days (in 2017).
Groups using the web interface need to report 15 quality measures for a full year. Groups in qualifying APMs should report quality measures through their APM.
Improvement Activities
This performance category is worth 15 percentage points out of a 100-point composite score. To earn points:
Most participants must attest to completing up to four improvement activities for a minimum of 90 days.
Groups with fewer than 15 participants, or located in a rural or health professional shortage area, must attest to completing up to two activities for a minimum of 90 days.
Participants in Certified Patient-Centered Medical Homes, comparable specialty practices, or an APM designated as a Medical Home Model will automatically earn full credit.
Participants in certain APMs will automatically receive points based on the requirements of participation.
Advancing Care Information
To earn the maximum 25 percentage points, participants need to fulfill the required measures for a minimum of 90 days:
Security Risk Analysis
e-Prescribing
Provide Patient Access
Send Summary of Care
Request/Accept Summary of Care
Optionally (in 2017), participants can submit up to nine measures for a minimum of 90 days for additional credit.
To earn bonus credit:
Report Public Health and Clinical Data Registry Reporting measures
Use certified EHR technology to complete certain improvement activities
Note: You do not need to submit advancing care information if the measures do not apply to you.
Cost
No data submission is required. This information will be calculated from adjudicated claims. For 2017, CMS is not factoring this category into participants' composite performance scores.
The APM Advantage
Through sufficient participation in an Advanced APM, you can earn a 5 percent Medicare Part B incentive payment in 2019 (through 2024), and be exempt from MIPS reporting requirements and payment adjustments.
The list of CMS-approved Advanced APMs for 2017 currently include:
Comprehensive ESRD Care Model (Large Dialysis Organization (LDO) arrangement)
Comprehensive ESRD Care Model (non-LDO arrangement)
Comprehensive Primary Care Plus (CPC+)
Medicare Shared Savings Program ACOs – Tracks 2 and 3
Next Generation ACO Model
Oncology Care Model (two-sided risk arrangement)
To qualify for the 5 percent incentive payment, participants must receive a certain percentage of payments for covered professional services or see a certain percentage of patients through the Advanced APM during the associated performance year. In performance years 2017 and 2018, participants must see at least 25 percent of Medicare payments and at least 20 percent of Medicare patients through an Advanced APM. These percentages will steadily increase in two-year increments.
For performance years 2026 and later, Advanced APM participants may earn a 0.75 percent fee schedule update, while eligible clinicians who do not achieve sufficient participation in Advanced APMs will earn a 0.25 percent fee schedule update, and may also be subject to MIPS reporting requirements and payment adjustments.
How to Prepare
To prepare for MIPS, review your current performance and participation status in PQRS, Value Modifier, and Meaningful Use and identify gaps requiring remediation before year-end. Be diligent in understanding your cost, utilization, and quality benchmarks. If you don't have a Quality Improvement plan in place, now is the time to develop and implement one.
You may also find it advantageous to review quality metric reporting data, and align the data to a quality initiative plan, to gain a clear understanding of your patient population. Also, review your business processes to ensure they support the MIPS/APM requirements. And if you're not participating in a clinical data registry, it may be time to start. Last but not least, visit www.aapc.com/macra for more quality-based payment guidance and important updates.
Resources
Notice of Proposed Rule Making, MACRA, Quality Payment Program
The Quality Payment Program Overview Fact Sheet
Latest posts by Penny Osmon Bahr
(see all)