Healthy Habits for Working at Home
December 1, 2016
Comments Off

on Healthy Habits for Working at Home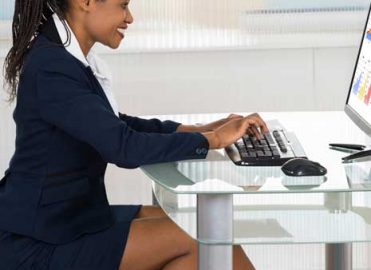 Office Wellness
Be the healthiest, most productive remote coder you can be.
Employees who work from home often face a set of health concerns that employees in facilities and physician practices don't have to worry about. Let's explore the issues unique to remote workers, and the ways to improve physical and emotional well-being while working in the comforts of your home.
Stay on Task and Practice Discipline
Working from home takes discipline to stay focused. If you are easily distracted, you'll soon see a decline in your production. For peace of mind in knowing you are working up to your full potential, there are things you can do to stay on task. Work-at-home risk adjustment coder Sarah Lester, CPC, CRC, said her solution to staying on task was, "I had to learn to set a schedule and stick to it, as well as set boundaries. I close my office door and silence my cell phone when necessary."
Eliminate Distractions that Cause Unnecessary Stress
As a remote employee, you don't have the stress of daily commuting, co-workers interrupting you with questions or drama, or a boss looking over your shoulder, but you may have other stresses that will quickly have you ripping out your hair if you don't get them under control.
Work kid free: It's nearly impossible to care for young children while giving your paid work undivided attention for 40 hours a week. Trying to do both simultaneously is not fair to your children, to your employer, and especially not fair to your emotional health. No one can be an extreme multitasker for such long periods. Before you have a mental breakdown, find alternative care solutions for children who are not in school. This will allow you to separate work from your parental demands.
Troubleshoot interruptions: Household distractions can sabotage your workflow and raise stress levels. Many times, family and friends think that just because you work at home, it's OK to come visit anytime, or they think you are accessible to run errands. Rhonda Buckholtz, CPC, CPMA, CPC-I, CRC, CDEO, CHPSE, CENTC, COBGC, CPEDC, CGSC, vice president of strategic development at AAPC, is a remote worker who knows how disruptive pop-in visits can be. "Family sometimes interferes with work," she said. "Many feel that if you are home, you are not working or that you should be cleaning your house." To avoid undo stress, make sure your friends and family understand that when you are working from home, you are getting paid to work. Explain your designated work hours to others. If you need to run errands, do them on a lunch break, just like you would if you commuted to an office. Save the housework for breaks, as well. "Work time is work time, not laundry time," Buckholtz said.
Know When to Shut Work Off
For facility or physician office workers, you know that once you arrive at work, it's time to start working; and once you get home, it's family time. For remote workers, there isn't a clear cut line, especially if you work on salary. At home, your work computer and email are available 24/7. Buckholtz said, "Technology is so accessible nowadays that it is very hard to 'shut off,' work." If you aren't careful, you may work well into the night, or forget to take breaks or to shower.
For a good night's sleep, don't intertwine your work and sleep space. For most people, seeing their work computer makes them think of work and the tasks they need to complete. If possible, have an office space that is in a separate room from where you sleep. At the very least, be sure you can't view your computer screen from your bed.
Overcome the Isolation and Daily Humdrum
Being alone at home, day after day, can wear on your constitution, especially if you've been doing it for a long time. Most business and social interactions for remote workers are done via email. This can be isolating and can hurt your verbal business skills. To lessen the isolation and help your verbal skills, speak to co-workers, colleagues, etc. on the phone, rather than in an email, whenever possible.
Outside of work, be sure to pursue personal interests and sign up for activities that involve social interaction to retain healthy communication skills. If you're physically active, join a group-oriented exercise class, such as Zumba or an adult sports team. This will break up a boring day, while keeping you social and physically fit. It's also good to have a change of scenery, so on the weekends, leave your house and go experience the outside world.
Get Up, Get Moving, Get Healthy
Working at a computer all day means sitting for extended periods of time and being inactive. The good news is that you can mix work with exercise. Exercise equipment integrated into home office equipment allows you work and stay physically fit at the same time. For example, Lester said, "I have a 'pedaler' that I keep under my desk, so I can burn a few calories during the day." Buckholtz has special exercise equipment, as well. She said, "I have a treadmill desk that I try to use as much as possible during conference calls. That helps a lot with staying fit."
Get out of your seat: If investing in exercise equipment for your office isn't your thing, walking or jogging on breaks is free and healthy. Lester said, "I get up and walk on my breaks and lunch, and try to get outside as much as possible." Another solution is to do office yoga at your desk or to use short online exercise videos to get moving.
Eat smart: Because you are home and there is usually an unlimited supply of food, it's too easy to make unnecessary visits to the refrigerator. Try to stay out of the fridge unless you are hungry. Stock your fridge with healthy, fresh food that is not processed, so when you do binge or stress eat, it's not garbage food.
Watch the eyes: Too much screen time is rough on the eyes. Lester has solutions to minimizing vision damage. She said, "I rarely watch television and I keep up with my eye exams. I also have anti-reflective coating, as well as blue light blocking on my glasses."
If you get headaches or blurred vision from computer eye strain, look away from the screen more often to give your eyes a rest.
Latest posts by Michelle Dick
(see all)