Three Tidbits for Better MRSA Dx Reporting
January 12, 2017
Comments Off

on Three Tidbits for Better MRSA Dx Reporting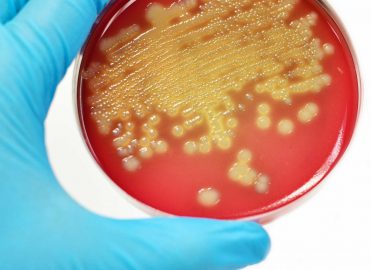 Prevent the spread of misguided MRSA claims with these tips for precise ICD-10-CM coding.
Although the precision of code descriptions makes it harder to miscode an infection in ICD-10-CM, there are three tricks to coding Methicillin-resistant Staphylococcus aureus (MRSA) to prevent claims denials or questions.
1. Make Notes in ICD-10-CM About Four MRSA Codes
The two main codes for MRSA infections are:
A49.02 Methicillin resistant Staphylococcus aureus infection, unspecified site
The infection site has not been determined, yet.
B95.62 Methicillin resistant Staphylococcus aureus infection as the cause of diseases classified elsewhere
The infection site is known, and reported secondarily (e.g., skin of the groin).
One of these two codes usually is the first-listed code when a patient is treated for an MRSA infection.
Exceptions include a patient with MRSA sepsis or MRSA pneumonia, which have specific codes:
A41.02 Sepsis due to Methicillin resistant Staphylococcus aureus
Only one code is needed for sepsis; additional codes are reported to capture severe sepsis and accompanying organ failure.
J15.212 Pneumonia due to Methicillin resistant Staphylococcus aureusNote: No other code is needed to capture the pneumonia
Other sequencing exceptions include MRSA in obstetrical or neonatal coding, for which you are instructed to report the source of infection as an additional code.
2. Never Report Z16.11 with the Four MRSA Codes 
To do so would be redundant.
Z16.11 Resistance to penicillins [Methicillin is a form of penicillin.]
Many conditions require you to report MRSA with B95.62, and a second code to identify the site/type of infection, such as the skin site or specific heart valve. The drug resistance is inherent in the MRSA code, and ICD-10-CM guidelines tell you to leave Z16.11 out.
There are instances, however, when  Z16.11 for staph infections is appropriate. When a newborn or neonate has MRSA pneumonia or MRSA sepsis, for example, the P code captures the staphylococcal infection, but not the penicillin resistance.
P36.39 Sepsis of newborn due to other staphylococci
Report P36.39 for all staph sepsis in a child 28 days or younger, and report Z16.11 to capture the drug resistance.
P23.2 Congenital pneumonia due to staphylococcus
Report P23.2 for all staph pneumonia in a child 28 days or younger, and report Z16.11 to capture the drug resistance.
ICD-10-CM guidelines state, "If the P36 code includes the causal organism, an additional code from category B95, Streptococcus, Staphylococcus, and Enterococcus as the cause of diseases classified elsewhere, or B96, Other bacterial agents as the cause of diseases classified elsewhere, should not be assigned."
Because P36.39 describes the causal agent, you can capture the penicillin resistance with Z16.11. The same logic holds true for P23, although you're not so instructed.
3. Report Colonization History, Testing, and Results 
MRSA lurks on the skin and in the nasal cavities of many people, increasing the risk of infection for the colonized persons and those around them. A person who has been "colonized" has MRSA present, without necessarily having an active MRSA infection. Patients undergoing hospitalization or outpatient elective surgery usually are tested for colonization using a nasal swab. The cost of this test is bundled into the Medicare Severity-Diagnosis Related Groups payment, but the preventive value of the test makes it financially advantageous for facilities.
In some cases, provider offices test high-risk patients for MRSA. These patients may have a history of MRSA or immunodeficiency. If MRSA is found, documentation may read "MRSA screen positive" or "MRSA swab positive." ICD-10-CM has developed codes that allow you to capture these situations.
Z22.322 Carrier or suspected carrier of Methicillin resistant Staphylococcus aureus
Z86.14 Personal history of Methicillin resistant Staphylococcus aureus infection
A patient may have MRSA colonization and an active MRSA infection, in which case, code both conditions.
There are two CPT® codes for reporting MRSA screening or testing:
87081 Culture, presumptive, pathogenic organisms, screening only
Report this code anytime a true screening is performed, as for hospital admission or when a skin or other accessible infection site is suspect.
Report Z22.322 to show the reason for the test, whether as a true screening or to screen for a symptomatic pathogen. The test's focus is to determine if the infective agent will colonize a slide.
87641 Infectious agent detection by nucleic acid (DNA or RNA); Staphylococcus aureus, methicillin resistant, amplified probe technique
A polymerase chain reaction technique is employed to test nasal swab specimens. Fluorescent dyes bind with the MRSA deoxyribonucleic acid (DNA) and software reports whether MRSA is present or absent in the sample. It should be clear from the documentation which of the diagnostic codes is appropriate to report with this test.
Latest posts by Sheri Poe Bernard
(see all)
No Responses to "Three Tidbits for Better MRSA Dx Reporting"