Survey: 1 in 5 Would Switch to Docs Providing Telehealth
By Brad Ericson
In Coding
January 27, 2017
Comments Off

on Survey: 1 in 5 Would Switch to Docs Providing Telehealth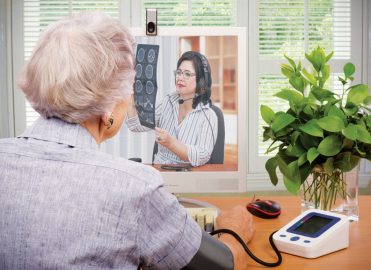 If you're 35 to 44 years old and have children under 18 years old, you're more likely to switch primary care providers (PCP) if he or she provides telehealth visits. If so, you're part of 20 percent of the population who'd do so, recent Harris Poll studies indicate.
The studies, commissioned by American Well, a telehealth company, indicates 65 percent of those surveyed are interested in seeing their PCP over video. Parents are keenly interested, with 74 percent saying they'd be interested in video visits. According to the company, chronic care prompts interest in using the services, with 60 percent saying they would see a doctor online. Half of women age 18 to 44 want their birth control via telehealth. Of those looking for post-surgery or inpatient care, 52 percent would use telehealth. Seventy-eight percent would use telehealth to fill prescriptions.
The popularity of telehealth grows as technology and reimbursement grows, and the transition by providers and facilities continues to get easier. The National Center for Connected Health Policy, a non-profit group seeking to help define standards of care and regulation, maintains several fact sheets and other resources for providers hoping to adopt the technology. The acceptance of the real time remote care is being reflected by expanded coverage. And while each state has different regulations, they are easy to discern from a search tool provided by the California-based organization.
Federal Encouragement
The Centers for Medicare & Medicaid Services (CMS) broadened telehealth coverage this year to include end-stage renal dialysis, advanced care services, and critical care consultations. CMS specifies its own requirements and coverage for telehealth services. Several conditions must be met for Medicare to make payments for telehealth services under the Medicare physician fee schedule (PFS). The service must be on the list of Medicare telehealth services and meet all of the following additional requirements:
The service must be furnished via an interactive telecommunications tool
The service must be furnished by a physician or other authorized provider
The service must be furnished to an eligible telehealth site
When all of these conditions are met, Medicare pays a facility fee to the originating site and makes a separate payment to the distant site practitioner furnishing the service.
CMS' HCPCS Level II codes set started displaying telehealth codes in 2001 codescontinued to add codes in 2009 and 2012. The agency added two new codes in 2017:
G0509   Telehealth consultation, critical care, subsequent, physicians typically spend 50 minutes communicating with the patient and providers via telehealth
G0508   Telehealth consultation, critical care, initial , physicians typically spend 60 minutes communicating with the patient and providers via telehealth
And the AMA added modifier 95 Synchronous telemedicine service rendered via a real-time interactive audio and video telecommunication system to its CPT code set this year, adding a star icon to indicate to which services the modifier can be appended.
AMA's New Modifier
According to AAPC's John Verhovshek, MA, CPC, Modifier 95 may be appended to 79 designated codes (primarily E/M services and Medicine codes, plus several Category III codes) to describe a service that involves "real-time interaction between a physician or other qualified health care professional and a patient who is located at a distant site from the physician or other qualified health care professional," per CPT® instructions. If the telemedicine service is not performed real-time with the patient, modifier 95 is not appropriate.
The interactive telecommunications equipment must include audio and video: The patient and provider must be able to communicate and interact in real time (e.g., the service mimics a face-to-face visit, although the provider and patient are distant from one another). Services reported must meet all minimum code requirements. CPT® instructs, "The totality of the communication of information exchanged between the physician or other qualified health care professional and the patient during the course of the synchronous telemedicine service must be of an amount and nature that would be sufficient to meet the key components and/or requirements of the same service when rendered via a face-to-face  interaction."

Latest posts by Brad Ericson
(see all)