ABN or Not to ABN? That Is the Question
March 1, 2017
Comments Off

on ABN or Not to ABN? That Is the Question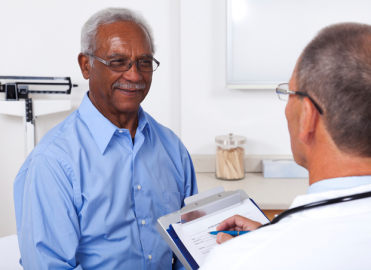 If your organization treats Medicare patients, the Advance Beneficiary Notice of Non-coverage (ABN) is worth every penny it could save your physicians. The ABN safeguards your right to collect on non-covered services (other than statutorily excluded services) from patients.
With all the money ABNs help practices to recoup, you'd be surprised at the number of organizations that do not use them. The most common reason is the inability to use one successfully. In other words: It's too hard to figure out when to issue them, who should complete them, who should review them with the patient, and all the other rules associated with ABNs.
Let's discuss proper ABN utilization and address the issues.
When to Issue an ABN
An ABN is issued to notify a patient that a service usually covered by Medicare may not be covered at this time for a specific reason. The key here is that Medicare typically covers the service. Items statutorily excluded from Medicare coverage (i.e., never covered) do not require issuance of an ABN because Medicare, like other carriers, expects its beneficiaries to understand the benefits and limitations of their particular plan.
Examples of statutorily excluded services include:
Long-term (custodial) care
Most dental care
Eye examinations related to prescribing glasses
Dentures
Cosmetic surgery
Acupuncture
Hearing aids and exams for fitting them
Routine foot care
The most common reasons Medicare denies a service ordinarily covered are:
Service is deemed experimental, investigational, or considered "research only" in this case
Service is not indicated for the diagnosis and/or treatment in this case
Service is not considered safe and effective in this case
Service exceeds frequency limitations set by Medicare
The following is an example of a situation requiring an ABN:
Frequency Limitation: A 73-year-old female Medicare patient comes in for a screening pelvic exam and Pap smear. She states she is unsure when her last screening pelvic exam and Pap smear were performed. After a review of the patient's records, it's determined her last screening pelvic exam and Pap smear were performed 18 months prior. This patient does not meet high-risk criteria, which creates a Medicare coverage limitation.
Medicare covers one screening pelvic exam and Pap smear every 24 months for all asymptomatic female beneficiaries. Coverage increases to every 12 months if the patient meets one of the following criteria:
Evidence (on the basis of her medical history or other findings) that she is at high risk for developing cervical or vaginal cancer and her physician (or authorized practitioner) recommends she has the test more frequently than every two years. High-risk indicators include:
Early onset of sexual activity (under 16 years of age)
Multiple sexual partners (five or more in a lifetime)
History of sexually transmitted infection (STI), including human immunodeficiency virus (HIV) infection
Fewer than three negative Pap tests or no Pap tests within the previous seven years Diethylstilbestrol (DES)-exposed daughters of women who took DES during pregnancy
A woman of childbearing age (premenopausal) who has had a Pap test during any of the preceding three years that indicated the presence of cervical or vaginal cancer or other abnormality
Here's another prime example of when an ABN is appropriate:
Not Medically Necessary: A 77-year-old female Medicare patient requests removal of a skin tag on her neck. The skin tag is deemed to be benign in nature and is not inflamed, bleeding, itching, etc. The patient's request to remove it creates a Medicare coverage limitation because Medicare does not cover benign lesion removal (including skin tag removal) for purely cosmetic purposes.
How to Complete the ABN
The ABN serves as notification that Medicare will likely not cover the service and the patient will be responsible for payment. Therefore, it must be issued prior to the service or procedure, far enough in advance to allow the patient to make an informed decision and to consider other options. The ABN must also be explained to the patient by someone able to answer questions the patient may have about the form they are being asked to sign.
Completing an ABN requires the following information:
To be completed by the provider (or staff):
A. Notifier – Must include the name, address, and telephone number of the person at the practice issuing the ABN.
B. Patient's name – It must be the patient's name according to their Medicare card.
C. Identification (ID) number – The ID number used to link the claim with the patient, usually the patient's medical record or account number. It cannot be the patient's Medicare number or Social Security number.
D. Item, service, laboratory test, test, procedure, care, or equipment.
E. Reason Medicare may not pay – Include a patient-friendly description of why Medicare may not cover the service.
F. Estimated cost – Reasonable estimated cost of all the items and services listed in part D.
(see G below)
H. Additional information
Note: If the billing and notifying entities are not the same, the additional information section (H) should indicate who the patient should contact for questions.
To be completed by the patient:
G. Options – Three options where the patient indicates their decision (whether to have the service and, if they want the service, whether they want Medicare to be billed).
I. Patient signature
J. Date the patient signed the ABN
How to Put ABN Issuance into Practice
The biggest hurdle many practices face with ABN issuance is how to operationalize it: Who does which part, and when, with whom?
Some practices mistakenly issue one to every Medicare patient for every service. This process is called issuing blanket ABNs, and may cause Medicare to invalidate all issued ABNs from the practice, including those that may have been appropriate.
Practices that issue ABNs correctly have one thing in common: a process for identifying potential denied services prior to delivering them. Although this step sounds easy, it may take some claims data analysis to ensure you are capturing all potential opportunities for ABN issuance. Let's walk through some steps that make ABN issuance easier.
1. Determine which services warrant an ABN in advance.
This step is best completed by conducting a review and analysis of your healthcare organization's services and corresponding Medicare denials. The goal is to identify patterns in Medicare coverage determinations and policies where commonly performed services (within a given practice) are likely to be denied. From there, compile a list of common procedures where an ABN may be appropriate. Compare this list to the provider's schedule (usually at least a day ahead of time), much like the way you identify pre-certifications and/or prior authorizations.
Sometimes a procedure is determined to be necessary after the patient arrives. In such situations, your list will be your best friend. Prior to the service being rendered, check the list of procedures that may be non-covered due to coverage limitation. If the procedure is on the list, proceed to step 2.
2. Complete portions A-F and H of the ABN (prior to issuance).
This step is frequently completed by the billing, coding, or charge entry staff. You may consult clinical staff to ensure the item, service, test, procedure, care, or equipment is accurately described on the ABN in patient-friendly terms. Some practices include the CPT®/HCPCS Level II codes for the services rendered in blank D, which is fine, but also include a description of the services in patient-friendly language.
3. Review the ABN with the patient.
This step is best done by a member of the clinical staff who understands why the ABN is being issued and who can effectively explain it to the patient. In some practices, the ABN review with the patient includes both a clinical staff member and someone from the coding, billing, or charge entry staff. The individual(s) reviewing the ABN with the patient must explain the service being considered, and the reason Medicare is not likely to cover it, as well as to answer any questions the patient may have.
4. Have the patient complete sections G, I, and J of the ABN.
When the ABN has been reviewed with the patient and the patient's questions have been answered, the patient must be given time to review their options and make an informed decision. If the patient is rushed or coerced into signing, Medicare may invalidate the ABN. When the patient has made their decision, they must complete sections G, I, and J of the ABN to indicate how they would like to proceed (whether they want to receive the service and, if so, whether they want the service billed to Medicare).
5. Proceed accordingly.
The patient's informed decision will determine how the provider should proceed.
Proper execution of an ABN — not unlike most other administrative tasks — requires communication between the clinical staff, the coding, billing, charge entry staff, the practice management staff, and the patient. Although it may take some effort to properly implement ABN issuance, it's worth the effort in the dollars a practice may be able to collect that would have otherwise been written off as a loss.
---
Resources
Medicare.gov, What Part A & Part B Doesn't Cover: www.medicare.gov/what-medicare-covers/not-covered/item-and-services-not-covered-by-part-a-and-b.html
CMS, Medicare Learning Network, Medicare Advance Beneficiary Notices: www.cms.gov/Outreach-and-Education/Medicare-Learning-Network-MLN/MLNProducts/downloads/abn_booklet_icn006266.pdf
Screening Pap Tests and Pelvic Examinations: www.cms.gov/Outreach-and-Education/Medicare-Learning-Network-MLN/MLNProducts/Downloads/Screening-PapPelvic-Examinations.pdf
Medicare Coverage Limitations: www.cms.gov/Outreach-and-Education/Medicare-Learning-Network-MLN/MLNProducts/Downloads/Screening-PapPelvic-Examinations.pdf
Latest posts by Chandra Stephenson
(see all)