Make Your Reception Area Inviting
March 13, 2017
Comments Off

on Make Your Reception Area Inviting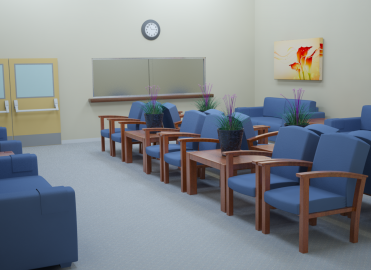 Your reception area is the first thing a patient will see when coming to the office. It should be inviting and clean, while also providing privacy and efficiency. Potential negatives in a reception area include:
Dirty counters, chairs, or carpet, which may give the impression that germs and diseases are all around.
Dog-eared reading material: Old, worn-out magazines give a perception of many hands on the magazine, and that order and cleanliness are not important.
Too close for comfort: A check in area right next to patient seating can be uncomfortable because patients provide confidential information at the time of check in.
Long lines: Only one check-in station at a large clinic can result in long wait times.
Poor upkeep: Dirty, damaged walls or chipped paint suggest unsanitary conditions and outdated facilities.
Too few distractions: A waiting room providing no form of entertainment encourages patients to focus on listening to other patients or staff conversations.
Investing in an inviting reception area can help to attract new patients, and retain those you already have. Besides general upkeep of carpets, paint, and furniture, the appearance of the reception area may be improved by organizing magazines, picking up garbage, straightening chairs, wiping smudges off windows, etc.
Arranging an office so that patients feel their information is confidential when they check in, arranging chairs so that everyone isn't looking face-to-face, and an office flow to keep lines short can provide confidence. Comfort can be improved with artwork, fish tanks, televisions, coffee bars, and good lighting. Taking time to think about how your patients feel while in your reception area will improve the perception of the clinic.
Latest posts by John Verhovshek
(see all)