NIH: Two Common Preterm Birth Tests Not Useful
In Billing
March 19, 2017
Comments Off

on NIH: Two Common Preterm Birth Tests Not Useful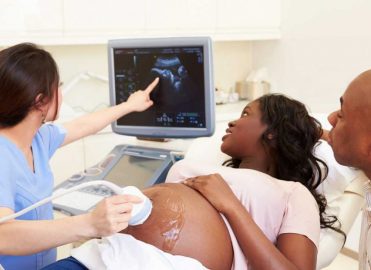 The results of a study focused on spontaneous preterm delivery in first-time pregnancies have researchers questioning the usefulness of two screenings physicians commonly performed on pregnant women.
After screening more than 9,000 women, routine ultrasound examination of the uterine cervix and fetal fibronectin testing identified only a small proportion of the women who would eventually deliver preterm, the National Institutes of Health (NIH) reported March 14.
"These methods of assessing women in their first pregnancy do not identify most of those who will later go on to have a spontaneous preterm delivery," said the study's senior author, Uma Reddy, M.D., of the Pregnancy and Perinatology Branch at NIH's Eunice Kennedy Shriver National Institute of Child Health and Human Development. "There is a need to develop better screening tests that can be performed early in pregnancy."
Previous studies have indicated that a short cervix early in pregnancy could be a warning sign of impending preterm birth; and the presence of fetal fibronectin in the vagina early in pregnancy could signal early labor.
The NIH research network study was conducted as part of the Nulliparous Pregnancy Outcomes Study: Monitoring Mothers-to-Be (nuMoM2b).
Procedure Coding
The fetal fibronectin ELISA test performed by a laboratory is reported with CPT 82731 Fetal fibronectin, cervicovaginal secretions, semi-quantitative. Do not use this code to report a rapid fetal fibronectin test.
To date, most payers consider fetal fibronectin assays medically necessary for use in women who are experiencing symptoms suggestive of preterm labor between 24 and <35 weeks' gestation. All other applications, including routine pregnancy monitoring in asymptomatic women, are generally considered investigational.
The usual method for cervical screening is transvaginal ultrasound cervical length (TVU CL) assessment, reported with CPT 76817 Ultrasound, pregnant uterus, real time with image documentation, transvaginal.
CPT 76817 may be billed alone or with other ultrasound services at the same session. If TVU for cervical screening is performed on the same date of service as a transabdominal ultrasound performed for other clinical indications, both ultrasound procedures would be billed.
A parenthetical note in CPT 2017 states, "If transvaginal examination is done in addition to transabdominal obstetrical ultrasound exam, use 76817 in addition to appropriate transabdominal exam code."
Based on these guidelines, the use of modifier 59 Distinct procedural service would not required. However, should payers have specific internal guidelines that require the use of modifier 59; it would then be attached to the transvaginal ultrasound (CPT 76817).
Diagnosis Coding
ICD-10-CM diagnosis code Z36 Encounter for antenatal screening of mother is generally recommended to support cervical length assessment in the absence of risk factors or symptoms. It is important to clearly document in the body of the ultrasound report that a transvaginal approach was used to assess cervical length.
ICD-10-CM codes to support 82731, as appropriate, include:
N88.3 Incompetence of cervix uteri
O09.211 – O09.219 Supervision of pregnancy with history of pre-term labor
O34.30 – O34.33 Maternal care for cervical incompetence
O47.00 – O47.9 False [threatened] labor
O60.00 – O60.03 Preterm labor without delivery
Sage Advice
Contact your local payers to verify the specific coverage for these tests to avoid delays in claims processing.
---
References
Esplin, MS, et al. Predictive accuracy of serial transvaginal cervical length by ultrasound and quantitative vaginal fetal fibronectin for spontaneous preterm birth among nulliparous women. JAMA. 2017.
Society for Maternal-Fetal Medicine, Andrew Helfgott, MD. Contemporary OB/GYN. June 2013.
Aetna. No. 0166. www.aetna.com/cpb/medical/data/100_199/0166.html.

Latest posts by Renee Dustman
(see all)