A Day in the Life of NAB at HEALTHCON
March 30, 2017
Comments Off

on A Day in the Life of NAB at HEALTHCON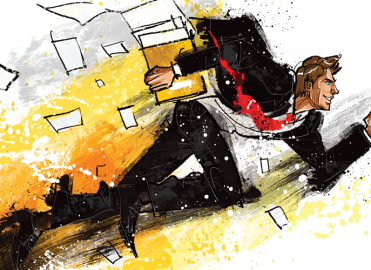 Conference is an adrenaline rush of fun, work, education, and friends.
By Angela Jordan, CPC, COBGC, AAPC Fellow, and Angela Clements, CPC, CPC-I, CEMC, CGSC, COSC, CCS, AAPC Fellow
A reward for being a member of the National Advisory Board (NAB) is helping at HEALTHCON, AAPC's annual national convention. It's a privilege to work alongside AAPC staff and AAPC Chapter Association members. With a unified goal of making conference the ultimate experience for everyone, we roll up our sleeves and get to work.
We've Arrived!
NAB members arrive to the venue the day before HEALTHCON begins. We come from different parts of the country so we are excited to see each other; and we can't wait to meet new members and catch up with old friends who we only see once a year, at conference.
After we meet with the Conference Team, it's time to get busy. There are conference t-shirts to be counted, folded, and sorted; registration packets to organize; store products to set up or fully stock, and the list goes on. After we stuff and stack more than 1,000 conference bags and transport them to the registration area, we explore the venue and the locations of each room to be sure we are expert tour guides for attendees who are looking for their next session or lunch.
Let's Rally!
The night before the big day, AAPC staff, NAB members, AAPC Chapter Association members, and ambassadors meet to discuss what the Conference Team has been planning all year. Everyone gets a conference staff handbook, and we discuss the events of the week and our assignments.
After the meeting, some of us retire to our rooms for a good night's rest before the big day. Others go for a walk or jog. Some of us get together for dinner and talk half the night away.
The Big Day
It's 6 a.m. and we're in the conference center, putting everything out that we prepared the night before. It's just two hours until registration opens, where we've been assigned. As we'll be the initial point of contact, it's important that we greet each member with a smile and a positive attitude. We're so excited about the coming events, that won't be a problem.
NAB President Jaci Johnson Kipreos, CPC, COC, CPMA, CPC-I, CEMC, has been working registration at conference for many years. "Nowhere else do I get the surge of excitement, adrenaline, and happiness that runs through me while working registration, watching all the members come in, and seeing their excitement."
When registration begins, we make sure each member has downloaded the HEALTHCON app to their smartphone and give them their schedule, t-shirt coupon, lunch tickets, name badge, conference program, lanyard, and bag full of goodies. We also take a minute to review the program, so they know where to log continuing education units (CEUs) and find their agenda for each day. Then, we point attendees in the direction of the ribbon wall and conference t-shirt pick-up area.
Working registration is an important job, but that's not all NAB members do at HEALTHCON. Once conference gets underway, we get to help members in a variety of ways.
Room Chaperones
Each session room has a team of three chaperones who assist with the transition between sessions and during the session. We check schedules, provide directions to those looking for their sessions, and oversee the standby line. We also help members locate their seat, answer questions, and hand out speaker evaluations.
Once the session has started, we help late arrivals to find empty seats, monitor the door during the session, pick up the speaker evaluations, and look over the room for anything left behind by accident.
The real bonus to being a room chaperone is meeting and talking with so many members over the course of conference. It's an opportunity to learn about members and to ask them about their conference experience. Plus, being assigned to the same room for the entire conference allows you to listen in on some amazing presentations.
Speaker Liaison
Speaker liaisons are responsible for the speaker's experience and to make sure they get to the session room in time to get set up. Just like a room chaperone, the speaker liaison is assigned to a room for the entire conference. We help the speakers get their computers set up and call audio-visual staff for assistance if there are issues. We also verify speakers have the correct CEU number for each session and introduce the speaker. Then, we get to sit back and enjoy the session. As soon as the speaker is finished, the speaker liaison whisks the speaker to the back of the room or hall to field questions. Then, it's time to get ready for the next speaker.
Product Store
Running the product store actually begins before conference kick off. The products are purchased, branded, and shipped to the venue. There are boxes to unpack, signs to make and print, clothing to fold and hang, and items to be unwrapped and displayed. AAPC goodies are placed on tables and shelves: books, cups, mugs, hats, scarfs, blankets, bracelets, highlighters, key chains, jump drives, etc.
During conference, NAB members pitch in with restocking the store and answering members' questions. A bonus is that we can skip the gym because weightlifting, squats, and cardio are covered with this job!
"The AAPC product store is a great place to work because you come in contact with so many different people," said Ann Bina, CPC, COC, CPC-I, AAPC Fellow, NAB secretary. "You get to talk with attendees looking for a souvenir and chapter officers looking for gifts or prizes for their members. It's been a great way to expand my networking."
NAB representative Annie Boynton, RHIT, CPC, COC, CPCO, CPC-P, CPC-I, CPMA, CCS, CCS-P, AAPC Fellow, said, "We make it fun by singing, dancing, laughing, and pulling the members into the fun of conference and getting good deals."
End-of-conference Debriefing
The last day of conference, everything is torn down to be shipped back to Salt Lake City. The product store, which took a day and a half to put together, is packed up by every available AAPC employee, AAPC Chapter Association, and NAB member in less than 2 hours.
Conference is over and now it's time to share our experiences and what we've learned while it's all still fresh in our minds. This meeting is just as important as the pre-conference meeting. We discuss what worked and what didn't work, and what to keep and what to fix. We also share the feedback each of us received from AAPC members and other attendees — the compliments and the complaints. The most difficult part of the meeting is the end, when it's time to say our goodbyes.
Hard Work Pays Off
Conference is a lot of work, but it's also a lot fun. It's a treat to meet members to spend time with after sessions end for the day. Every venue offers an opportunity to coordinate dinner plans, explore entertainment options, and shop. We not only have a great time, but expand our networks, too! We hope to see you at HEALTHCON 2017 in Las Vegas, so we can add you to our list of friends.

Author bios:
Angela Jordan, CPC, COBGC, AAPC Fellow, is managing consultant at Medical Revenue Solutions, LLC, with more than 25 years of experience in the healthcare field, and has been a member of AAPC for 15 years. Her career path has taken her from a small family practice, radiology, large physician services group to a managing consultant. Jordan is on the AAPC NAB and has held many offices in the Kansas City, Mo., local chapter, including president. In 2009, she served on the AAPC Chapter Association board of directors and was the chair in 2012.
Angela Clements, CPC, CPC-I, CEMC, CGSC, COSC, CCS, AAPC Fellow, is the physician coding auditor/educator consultant at Medkoder. She has more than 17 years of experience in the healthcare industry. Clements serves on the AAPC National Advisory Board (NAB) as the member relations officer and has served on the NAB as Region 5 representative from 2013-2015, and is involved in the Covington, La., local chapter. She has extensive experience in multi-specialty coding, documentation, and auditing. Clements is a frequent speaker at local medical managers' meetings, as well as other AAPC local chapters in her region.
Latest posts by Angela Clements
(see all)