AAPC Webinars Aim to Please
April 1, 2017
Comments Off

on AAPC Webinars Aim to Please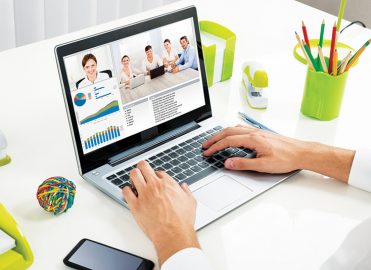 Take advantage of our high-ranking webinars to further your education and earn CEUs.
AAPC's goal is to provide members with the best educational resources in our industry. For healthcare business professionals, that means you can look to us for exam resources; networking through local chapters, conferences, and forums; coding updates and rules, compliance and auditing information; hospital and payer billing rules; continuing education units (CEUs); timely online blogs and printed articles; and much more. Because we offer so many education opportunities, many of our members forget about or overlook one of the most convenient and informative ways we offer free and low-cost CEUs: webinars. Let's take a look at how our webinars rank, and how we can customize them to suit your education needs.
Top-notch Ranking in a 5-star System
Between January 2016 and March 2017, AAPC offered members 49 webinars on a wide range of healthcare topics. We used a 5-star ranking system for attendees to rate each webinar:
5 – Best
4 – Great
3 – OK
2 – Poor
1 – Awful
Our highest ranking webinars are:
Top 5 Webinars
5 Star Rating
Peer Recommendation
1.
A&P Series; Respiratory System
Sheri Poe Bernard, COC, CPC, CPC-I
4.53
98.7 %
2.
The Good, the Bad, the Ugly: Ways to Improve E/M Documentation
Brenda Edwards, CPC, CPB, CPMA, CPC-I, CEMC, CRC
4.49
98.2 %
3.
A&P Series; The Eye
Sheri Poe Bernard, COC, CPC, CPC-I
4.47
97.8 %
4.
Risk Adjustment Coding in the Provider Office
Sheri Poe Bernard, COC, CPC, CPC-I
4.46
97.9 %
5.
Current Trends in Arthroscopic Surgery
Lynn M Anderanin, CPC, CPMA, CPPM, CPC-I, COSC
4.41
98.2 %
All but seven of the 49 webinars received more than four stars. Those seven webinars ranked with a favorable rating of 3.9, and more than 88.5 percent of the attendees said they would recommend them to their peers.
FREE Quarterly Webinars Means FREE CEUs
To provide all members with access to easy-to-obtain CEUs, AAPC offers free quarterly webinars. The topics are selected specifically for AAPC members by experts in our field. You can find them at:
www.aapc.com/freewebinar. This quarter, "MACRA Overview" is the hot and timely topic.
To earn your free CEUs for watching these free quarterly webinars, be sure you are logged into your member account before you start the webinar.
Tell Us What You Want and When
To continue providing you with top-notch webinars, we need your input. We created a survey for you to let us know what webinar topics interest you most and how we can improve upon our existing lineup: www.aapc.com/webinar-feedback. Here, you can offer suggestions for new topics, as well. Some members like to attend live webinars, rather than previously recorded ones. On the survey, you can let AAPC know which day and time work best for your schedule.
If you have a particular expertise that you'd like to share with like-minded professionals, you can offer to present a webinar through the survey, as well.
So spill the beans, and tell us how our webinars can serve you better at www.aapc.com/webinar-feedback. We look forward to fulfilling your continuing education needs through our information-rich, high-ranking webinars.
Latest posts by Michelle Dick
(see all)