Cat vs. Dog: Which Is a Coder's Best Friend?
April 1, 2017
Comments Off

on Cat vs. Dog: Which Is a Coder's Best Friend?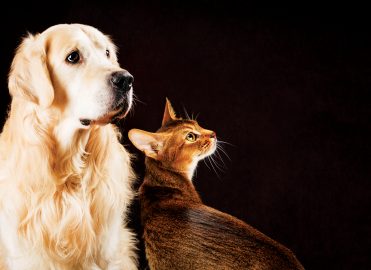 While in the coding trenches, furry companions are working behind the scenes to support us and bring comic relief.
"Cat vs. Dog" has been a long-standing rivalry for pet enthusiasts. Coding professionals bring a whole new level to the competition. Those who work remotely often rely on their faithful companions to keep them company; and they fill social media with photos of their beloved pets. If you've been on AAPC's Facebook pages, you've most likely seen a colleague or two post pictures of their affectionate cat sprawled across a codebook or their loyal dog sleeping beside their desk.
To see just how much AAPC members rely on their furry friends to get them through their coding day, we asked on Facebook the question, "Cat vs. Dog: Which Is a Coder's Best Friend?" The responses were fantastic and fun.
1. Stephanie Bartlett, CEDC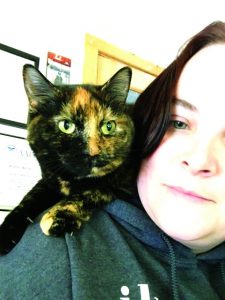 Bartlett is the owner of both cats and dogs, but feels, "Cats are the best coding companions for one simple reason: They sit on my lap and help me stay warm while I'm working, which is essential during our cold Northern Michigan winters." One of Bartlett's cats, Kalle, also loves to snuggle with her pitbull Remy while she works.
2. Deb Cramer, CPC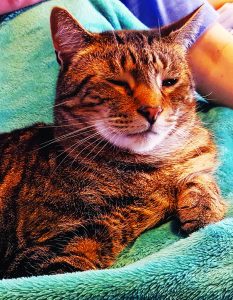 Cramer works from home and says her cat Diesel has many attributes any coworker would find ideal. He keeps her focused, relaxed, and is supportive:
… if I'm at my desk, Diesel is snuggled in my lap. He gets very indignant if I disturb him, so he ensures I stay focused on my tasks. If I'm away from my desk, he's keeping the chair warm for me. Sometimes Diesel will hop on my desk to help, but his tail doesn't have the same accuracy on the keyboard as my fingers do.
When I'm frustrated or stressed, I only have to run my hands through his soft fur to help me relax. Diesel's purr never fails to bring a smile to my face. He headbutts my chin and trills at me to let me know I'm doing a good job (at least as a human couch). Diesel's the best coworker ever!
3. Melissa Darling, CPC, CEMC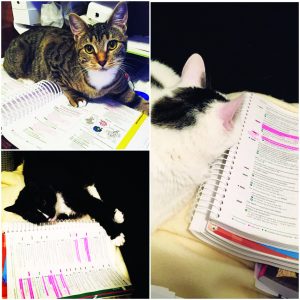 Darling has four cats and three of them love to lounge around in her office. She said, "Specifically, they like to lay near or on my coding books. I'm never alone while working or studying, and I can always count on one of them to be hanging out in my office." Darling's littlest coworker is particularly affectionate while she works. She said, "My baby kitty, Chloe, likes to cuddle with me while I am trying to work." It gives her a much needed snuggle break when she works for long stretches of time.
4. Candice Fenildo, CHC, CPC, CPMA, CPB, CENTC, CPC-I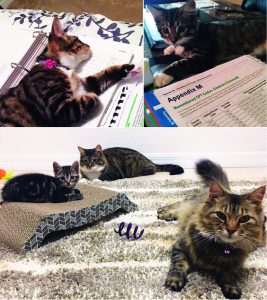 Fenildo is the proud owner of three fur babies: Penelope, Adeline, and Tris. She works from home a couple of days a week, and her cats assist. For example:
They hold down the pages in her CPT® codebook (you know, so they don't fly away);
They lay in front of her keyboard (so she doesn't type too fast and make mistakes); and
When she sits for too long, her littlest one always manages to drag a roll of toilet paper down the hall (which reminds her to take a break and get a little exercise — cleaning up the mess).
"Such good kitties they are," Fenildo said.
5. Dana Sutton, CPC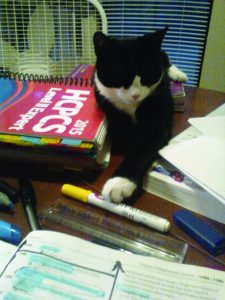 Sutton's cat Tuxy brings her stress level down so low that she gets sleepy. "While I'm studying, my Tuxy sleeps on the job; and boy, it's so tempting to join him!" she said.
6. Donnalyn Dwyer, CPC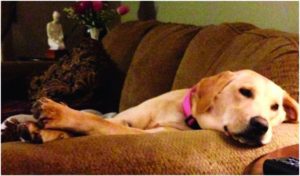 Dwyer, who owns both dogs and cats, feels dogs (particularly Sadie) are the ideal coder's best friend. She said:
"They, too, know how to sniff out the answer.
They are determined to make the exact find.
They can feel when their coder master is stressed from a long day, and can alleviate the stress with those big puppy eyes.
They are always great listeners, and hardly ever argue.
"My cats would disagree," Dwyer said. "But they are cats; they will get over it."
7. Chandra Stephenson, CPC, CIC, COC, CPB, CPCO,
CPMA, CPPM, CRC, CDEO, CPC-I, CANPC, CCC, CEMC, CFPC, CGSC, CIMC, COBGC, COSC, CCS, AAPC Fellow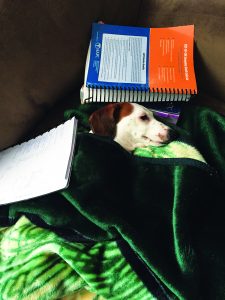 Stephenson votes for dogs as a coder's best friend. She said, "My dogs, especially Buster, are by my side (and my coding books) day in and day out." They're great at reminding her to take a break every now and then. Stephenson said, "They may not help much when it comes to getting the work done (they prefer to sleep), but they definitely help me relax and have fun when the work is finished."
Stephenson misses her two dogs when she travels. The good news is that dog lovers stick together and travel in packs. Stephenson said, "I'm especially fortunate to count many dog lovers among my friends and family, so that when I travel, I have their dogs to fill in for my crazy pair."
8. Aja Trammel, CPC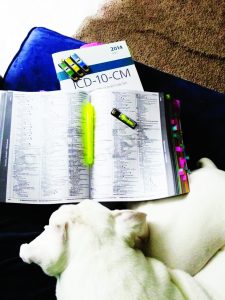 Trammel's dog Moby doesn't mind when she spouts off from coding frustration. She said, "Moby is the best study buddy! He is a deaf boxer and had no problem with me grumbling over the new ICD-10 codes when I was studying."
9. Judy Wilson, CPC, COC, CPCO, CPPM,
CPC-P, CPB, CANPC, CPC-I, AAPC Fellow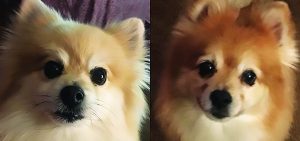 Wilson says there is NO contest here: "Dogs are your best coding buddies, for sure." Her dogs, Toofer and Krikit, lay at her feet to keep them warm as she works on coding classes. Wilson said, "They never jump on your books, like cats do." Here are a few other reasons why she says dogs have cats beat:
They love to look up at you while you explain a procedure to them, and they always agree with your coding of it.
They enjoy the quiet time while you study for a new exam, and they agree with all your answers.
They give you comfort when you don't do well on a section or a presentation.
Wilson said, "[Krikit and Toofer] might fall asleep on my lap while coding, but never on my books. They are loyal; unlike cats, who are loyal only when it's convenient for them. Any cat owner can tell you that."
You Decide
Members on both sides of the fence gave compelling arguments, but it looks like 5 out of 9 coding professionals voted that cats are a coder's best friend. As this is only a small sample of our members, the rivalry continues.

Latest posts by Michelle Dick
(see all)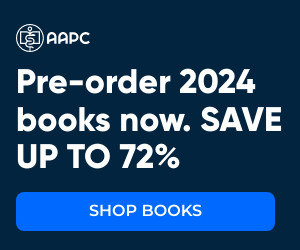 No Responses to "Cat vs. Dog: Which Is a Coder's Best Friend?"