Take Mental Health Out of Drug Screening
April 1, 2017
Comments Off

on Take Mental Health Out of Drug Screening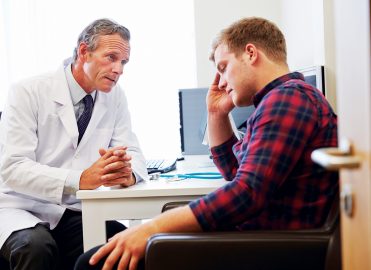 Awareness plays a role in recent and forthcoming code changes.
Over the past four years, major changes have occurred in mental health coding and drug screen services. These originated partly due to CPT® codebook changes, as well as political pressure, high profile deaths, and changes in the Centers for Disease Control and Prevention (CDC) guidelines. The evolving public awareness of mental health, parity laws, revisions to CDC guidelines, and HCPCS Level II dual coding for drug screen services prompted more changes in 2017.
History of Changes
In 2013, CPT® created separate reporting guidelines for physicians and other mental health clinicians.
Because physicians focus on the medication management of the patient, with referrals to therapists and psychologists, CPT® instructed physicians to report medication management through evaluation and management (E/M) codes (99201-99499), with psychotherapy reported as an add-on code.
For clinicians practicing only psychotherapy, CPT® created new psychotherapy codes. This prompted the creation of new guidelines, new definitions, and clarification on time reporting. Time-based psychotherapy codes began to adopt the Time Rule, which can be found in the introduction section of the CPT® codebook.
In 2015, CPT® changed drug screening services to define them as either presumptive or definitive. The Centers for Medicare & Medicaid Services (CMS) still required providers to use an appropriate HCPCS Level II code, which CMS subsequently updated in 2016.
Drug Screen Services
HCPCS Level II codes adopted by CMS in 2016 for presumptive drug screen services became popular among coders and payers, forcing CPT® to adopt these code definitions in 2017. With the adoption of the new CPT® codes, CMS deleted the dual coding methodology for presumptive drug screen services in the HCPCS Level II codebook, creating a uniformed coding system for presumptive drug screen services.
The new CPT® codes are:
80305 Drug test(s), presumptive, any number of drug classes, any number of devices or procedures (eg, immunoassay); capable of being read by direct optical observation only (eg, dipsticks, cups, cards, cartridges) includes sample validation when performed, per date of service [The old code was G0477.]
80306  … read by instrument assisted direct optical observation only (eg, dipsticks, cups, cards, cartridges) includes sample validation when performed, per date of service [The old code was G0478.]
80307 Drug test(s), presumptive, any number of drug classes, any number of devices or procedures, by instrument chemistry analyzers (eg, utilizing immunoassay [eg, EIA, ELISA, EMIT, FPIA, IA, KIMS, RIA]), chromatography (eg, GC, HPLC), and mass spectrometry either with or without chromatography, (eg, DART, DESI, GC-MS, GC-MS/MS, LC-MS, LC-MS/MS, LDTD, MALDI, TOF) includes sample validation when performed per date of service [The old code was G0479.]
Presumptive drug screening services may be performed prior to definitive drug screen testing when a provider wants to:
Rule out illicit drug uses;
Confirm the presence of a particular drug class without identifying individual drugs; or
Distinguish between structural isomers.
For example, a patient using prescription opioids for pain management may receive a randomized drug screen service to test for the presence of opioids and illicit drugs, or other prescription drugs that may cause risk to the patient when on opioids. One such risky combination, per a CDC warning, is the use of benzodiazepines with opioids.
According to CPT® guidelines, sample validation in each of the codes "may include, but are not limited to, pH, specific gravity, and nitrite." These sample validation tests are included in the drug screen services, so urinalysis, immunoassay tests, and other lab tests bundle into these codes, by definition. It is not appropriate to use modifiers 59 Distinct procedural service, XE Separate encounter, XP Separate practitioner, XS Separate structure, or XU Unusual non-overlapping service to override the bundling combination. Chapter 10 of the National Correct Coding Initiative (NCCI) Policy Manual confirms providers should not separately report the validity testing (p. X-7).
CPT® also limits each of these codes to one unit per billing. Because CPT® is adopting the CMS model, CMS advises providers to report these codes for presumptive drug screening services, and is including these codes in the Clinical Laboratory Fee Schedule.
Mental Health Services
Because substance abuse requires mental health intervention, it's important to address mental health changes, as well.
When the original psychotherapy codes were created in 2015, the term "with patient and/or family" was included in psychotherapy codes 90832-90838. This caused confusion, and may have caused coders and providers to use these codes erroneously for family psychotherapy (which should be reported with 90846-90847).
To correct this, CPT® has removed this terminology from the codes and clarified the guidelines. The guidelines now state:
Codes 90832, 90833, 90834, 90836, 90837, 90838 describe psychotherapy for the individual patient, although times are for face-to-face services with patient and may include informant(s). See codes 90846, 90847 when utilizing family psychotherapy techniques, such as focusing on family dynamics.
This clarification instructs us not to use the individual psychotherapy codes for family psychotherapy, and directs us to the correct code. Doing so ensures 90832-90838 remain as individual psychotherapy codes that may involve an informant(s) to help the clinician better treat the individual patient and their individual needs.
In making these changes and to provide consistency, CPT® made psychotherapy codes 90846 and 90847 time-based, 50-minute codes. Coders are further advised not to report family psychotherapy services less than 26 minutes in length.
Examples and Documentation Requirements
A 62-year-old individual moved from the Northeast to the Southwest to be closer to family. The individual has a long-term use of opioids for chronic regional pain syndrome (CRPS). Due to the relocation, the patient needed to find a new physician within the insurance network. The new provider referred the patient to a psychiatrist who specializes in pain management. The goal is to offer pain relief without opioid addiction.
The psychiatrist conducts a new patient evaluation and management (E/M) service and reviews the patient's records from the former pain management specialist, who was not a psychiatrist. The provider conducts a comprehensive history, including an active medication list and social history for use of illicit drugs and alcohol. A comprehensive examination focusing on the body and the patient's mental health is performed. Finally, the provider orders a urine drug screen to verify the presence of known drug classes and notes alcohol use and illicit drugs, as reported in the history.
While waiting for the results of the urine drug screen test, the psychiatrist provides 30 minutes of supportive psychotherapy, focusing on the risks of substance abuse and methods for coping with chronic pain without dependence on opioids. During this time, the drug screen dipstick is read by instrument-assisted direct optical observation, which includes a pH validation. The provider then questions the patient's spouse on medication compliance and verifies the results with the former prescriber. These informants confirm the results the drug screen test already provided. Because the drug screen test can only detect recent drug usage, the informants were able to assist in assessing long-term compliance. The physician refills the patient's hydromorphone and orders a follow up for medication management in 30 days. The physician also recommends that the patient visit the surgeon to examine potential revision or new surgery for long-term pain relief.
Based on this scenario, the provider bills:
99204 Office or other outpatient visit for the evaluation and management of a new patient, which requires these 3 key components: A comprehensive history; A comprehensive examination; Medical decision making of moderate complexity.
+90833 Psychotherapy, 30 minutes with patient when performed with an evaluation and management service (List separately in addition to the code for primary procedure)
80306
Proper Documentation for Psychotherapy Services
Documentation for determining the correct codes is essential. When reporting psychotherapy services, the documentation must clearly indicate, at minimum:
Type of psychotherapy (supportive, cognitive behavioral, insight-oriented, etc.)
Time spent performing psychotherapy
Focus of psychotherapy (individual or family dynamics/marriage)
Medical necessity (goals, mental health diagnosis, patient response/benefit to treatment)
E/M (if performed, and to determine whether the add-on code is to be used)
When reporting drug screen services, the documentation at minimum must include:
A valid order
Medical necessity (reason for test)
Results
Instrumentation used (if any, and type for reporting 80306 and 80307)
Any sample validation (if performed, not coded separately)
Documentation for Clinical Laboratory Improvements Amendment (CLIA) waiver and/or name of the performing laboratory (if the specimen is collected in the office and sent to a reference/outside laboratory)
Remember appropriate modifiers 26 Professional component, TC Technical component, and 90 Reference (outside) laboratory if the laboratory is not billing the insurance carrier.
Unanswered Questions
Time will tell what changes are to come for definitive drug screen services, given the dual set of coding under the CPT® and HCPCS Level II codebooks. It also remains to be seen how telemedicine and medical necessity policies or authorization for 60 minutes of psychotherapy will affect mental health coding.
Fraud and Abuse Potential
in Mental Health and Drug Screens
With the use of electronic healthcare records, auditors and payers are concerned about rolling templates, copy and paste, cloning, documenting to the code, and medically unnecessary services. For example, a patient who is returning for prescription management for a medication refill may not require a comprehensive history or exam, depending on the chief complaint and nature of the presenting problem. Likewise, an individual with a mental health diagnosis who is stable on medication may simply require a medication refill and no further intervention.
Auditors and payers will also be looking at coding based on time:
Did the documentation support the time spent performing the services?
Did the physician use time for both the E/M and the psychotherapy for the same encounter, against coding guidelines?
Did the clinician actually perform psychotherapy, or was only medication management performed?
Did the service meet the time criteria for the psychotherapy services?
Regarding drug screen services: Auditors and investigators look for orders, lab results, medical necessity, frequency, and custom panels. All lab studies require orders, results, and medical necessity. Frequency is important, particularly with drug screen services for an individual who is compliant with medication regimen and no risk of illicit drug use, for example. Custom panels do not provide convincing evidence of medical necessity because the ordering provider determines what tests are required. The lab should not bill for services not ordered and not deemed medically necessary. Just as a pharmacist cannot dispense a prescription not ordered, a lab cannot bill for tests not ordered.
Latest posts by Michael Strong
(see all)
No Responses to "Take Mental Health Out of Drug Screening"