Get Patients to Pay in Full
April 1, 2017
Comments Off

on Get Patients to Pay in Full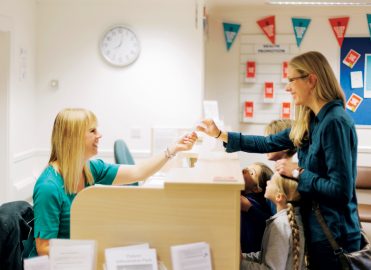 Save time and make money by updating your payment processes.
For many healthcare practitioners, collecting patient payments is a challenge. Using the proper tools, however, healthcare practitioners can implement streamlined payment acceptance practices to better sustain their business.
Don't Leave Money on the Table when Billing
According to a study from global management firm McKinsey & Company, healthcare providers expect to collect between 50 and 70 percent of a patient balance following a visit. And what is collected comes in slowly: 70 percent of providers report that it takes on average a month or longer to collect. If turned over to a collections company, providers receive a mere $15.77 of every $100 owed.
Ensure Efficient (and Profitable) Patient Payments
As a rule, the more convenient payment options are for patients, the greater the odds the provider will receive full payment for rendered services. With proper application, an omni-channel patient payment system can be a cost-effective solution to address payment needs and to ease reconciliation.
An optimized patient payment solution allows for:
Card on file (COF) – As the patient's portion of the payment becomes larger, healthcare practitioners find it advantageous to obtain their payment method at check in. A complete patient payment system must allow for the safe, secure capture of the patient's credit card or checking account information so all uncovered medical costs can be billed to and reliably collected from the patient, while also allowing for rapid processing of in-person co-pays and deductibles. With a COF solution, healthcare practitioners will see a significant decrease in uncollected patient payments over time.
Web payment self-service – Enabling patients to easily pay online on the healthcare practitioner's website is advantageous. This has become an expected payment channel, but need not be a costly investment. A comprehensive patient payment system should provide an easy, low-cost web payment capability that is integrated into the overall payment system.
Phone and mail-in payments – Remittance payments may be collected easily via a virtual terminal, with payment processing and electronic receipts instantly and securely emailed from an employee's desk to the patient. This method allows for less rework, maximizing staff efficiency, and is more secure than writing down a patient's payment account information for processing later. Make the virtual terminal capability part of your overall patient payment system reporting to ease patient account reconciliation.
In-house payment plans – As an option for large outstanding balances, practitioners should have a flexible payment system that allows for easy set up of in-house payment plans to collect larger balances. Collecting smaller amounts over several months ensures payment and offers the patient a better solution than turning them over to a collection agency, or a costly third-party financing company.
Insurance carrier payments – Increasingly, insurance carriers are paying healthcare providers with business/purchasing cards. These large dollar payments can be costly to accept. Have a complete payment system with a specialized plug-in designated to handle payments from insurance carriers. This will reduce processing fees by as much as 40 percent.
Validating patient obligation – Healthcare and payment software providers are working to integrate tools to confirm patients' insurance obligations. These estimation tools are improving in accuracy and insurance provider participation. Although the tools are costly, the ability to capture a large percent (if not all) of a patient's obligation for payment during the visit can greatly reduce outstanding receivables and write-offs.
Benefit from an Optimized
Patient Payment Solution 
Choosing the best patient payment solution for your practice or hospital will provide added, trickle-down value. Key benefits include:
Improving cash flow – Increasing the flow of patient payments will decrease the receivables that weigh down your accounting and decrease profitability.
Eliminating time spent reconciling payments – The payment system should provide comprehensive reporting so your staff no longer toils over reconciling patient payments.
Increasing security and compliance – An optimized solution will address security regulations, and provide peace of mind that your business is compliant and secure.
Increasing efficiency – With more ways to accept payments, staff won't have to wait on a handful of old payment terminals, which means less time waiting to process a payment.
Find the Patient Payment
Solution That Meets Your Needs 
Collecting payments is a necessary component of any practice or hospital. With the right tools, it does not have to be an onerous or inefficient task. If your practice is still using an outdated, low-feature payment system, explore better alternatives.
If you're uncertain whether your business has the most optimized patient payment solution, seek assistance from a knowledgeable advocate. Risk and the potential for higher payment processing fees vary from industry to industry. Likewise, it's important to perform a complete, diligent review of the contract terms of the payment processing providers to avoid unnecessary costs or penalties. Partner with an advocate who has experience with healthcare payments, and who can help to identify these risks and provide you with a tailored and cost-effective solution.
If turned over to a collections company,
providers receive a mere $15.77 of every $100 owed.

---
Steven D. Beene is a founding partner of MSP Consulting and former partner with Accenture. He has more than 25 years' experience guiding clients and bank partners in the area of payment solutions and associated technologies, specializing in deploying solutions for healthcare, franchise, and business-to-business markets. Beene has an undergraduate degree in Business Administration and Economics and an MBA in Finance from the University of Kansas.
Latest posts by Guest Contributor
(see all)