Telemedicine: A Promising Healthcare Delivery Method
April 1, 2017
Comments Off

on Telemedicine: A Promising Healthcare Delivery Method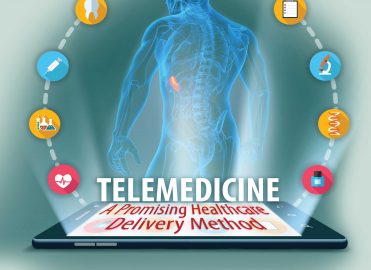 Although challenges remain, advancing technology allows providers to better care for their remote patients.
Telemedicine is expanding, and current studies and research support its effectiveness. Despite some challenges, high rates of patient and provider satisfaction have been the norm. Knowing the pros and cons of delivering healthcare via telemedicine can help you decide whether it's time for your healthcare organization to make the leap into the future of patient care.
Studies Reveal Patient Satisfaction
In one case study, "Patient Satisfaction with Physician-Patient Communication During Telemedicine," patients reported greater satisfaction with convenience for telemedicine, as compared to inpatient consultations. Despite physical separation, the study indicated that communication between the provider and patient during the session was not inferior to the communication built during inpatient consultations. In terms of video quality, "Videoconferencing for Clinical Management of Diabetes" reported the highest satisfaction rate of 100 percent.
In a July 2004 study, "Patient Satisfaction with Telemedicine," Gustke, et. al., found patient satisfaction to be 98.3 percent, possibly due to ease of obtaining care as compared to non-telemedicine settings — where factors such as appointment scheduling, travel time, and patient involvement in the physical examination often led to lower approval ratings. Patient satisfaction was also found to be high due to increased accessibility to specialist expertise and reduced wait times, according to "Telemedicine and Patient Satisfaction: Analyzing the Future."
Research was also conducted in areas without high speed internet. Using a standard telephone line, nurses and medical students were able to provide post-operative care in a patient's home while a physician supervised remotely from the office via low resolution video and high resolution pictures. These types of scenarios reported extremely high satisfaction with the home visit, a rating of 4.8 out of 5, according to "Evaluation of the Effectiveness of Portable Low-bandwidth Telemedical Applications for Postoperative Follow-up: Initial Results."
Pros and Cons of Telemedicine
There is much patient and provider satisfaction with telemedicine, but there are also challenges.
Telemedicine has experienced exponential growth, evolving from simple telephone communications to more complex algorithmic-driven, smartphone-based applications. With this, potential dangers lurk: Many developers lack medical training, and don't consult clinician experts when developing and implementing the mobile application. And many of these applications are marketed directly to consumers without proper vetting by the Food and Drug Administration or the Federal Trade Commission.
There is also some skepticism that providers can perform a thorough and accurate exam without physically touching the patient, and whether the results of a telemedicine visit equal those of a traditional office setting. Studies are positive, but reveal shortcomings.
When using commercial telecommunication tools, there is high reliability and agreement between bedside observers and telemedicine observers when assessing febrile children and children with respiratory distress, according to "Reliability of Telemedicine in the Assessment of Seriously Ill Children."
For ophthalmology, physical therapy, and cardiac auscultation, 91.2 percent of the conventional medical findings and 86.5 percent of the telemedicine findings were identical or similar to the criterion standard. For tracings and images, both conventional and telemedicine findings showed 92 percent reliability. Reliability varied with the exam, experience of the telemedicine provider, and participant knowledge of system limitations. According to "Variation in Quality of Urgent Health Care Provided During Commercial Virtual Visits," virtual physicians missed approximately 24 percent of diagnoses in 599 telemedicine cases; more seasoned telemedicine providers were correct with more than 90 percent of the patients they examined.
According to "Reliability of Telemedicine Examination," those who reported higher error rates and often missed clinical findings tended to be clinicians with little experience or providers who do not acknowledge telemedicine limitations. The study "Patient Safety and Telephone Medicine: Some Lessons from Closed Claim Case Review" reviewed 32 cases with tragic outcomes, including deaths and malpractice settlements amounting to more than $12 million. Telephone communication leading to documentation errors was implicated as a significant root cause, raising issues regarding the importance of face-to-face visits in some circumstances.
Where Telemedicine Can Make the Most Difference
By knowing the convenience, patient satisfaction, and reliability of telemedicine, as well as its limitations, we have an opportunity to effectively and safely integrate it into mainstream medical practices. Aside from standard clinical practices, there are many places we can realize the full use and capability of telemedicine.
Rural Health
A challenge for rural health facilities is attracting, affording, and retaining specialist providers. Telemedicine solves this shortage by allowing live video conferencing with specialty providers, sometimes thousands of miles away. The specialist can, in real time, exam the patient, review vital signs, review patient history, and provide an assessment, diagnosis, and treatment without the need for travel.
Correctional Facilities
To provide prison facilities with high-quality healthcare without the cost and danger of inmate transportation, there has been a substantial growth of telemedicine use in U.S. federal prison systems and correctional facilities. Telemedicine has proven to be effective for primary care, disease prevention, dental, and obstetrics/gynecology healthcare needs in these settings.
School-based Health Center
School-based health centers have also seen an exponential growth of telemedicine. This has improved the quality of healthcare, keeping children healthier, while decreasing absences due to illnesses and doctor appointments. Chronic conditions such as asthma, diabetes, and obesity are more easily managed in these settings with the help of specialists from remote locations.
Mobile Health Clinics/Disaster Relief
Although not as prevalent, these telemedicine applications can have a profound affect during times of urgent need or crisis. Quality healthcare can be dispatched quickly and efficiently to provide necessary medical expertise and emergency triage capability that would not otherwise be possible.
Industrial and Transportation
Providing telemedicine aboard cargo ships, cruise lines, commercial airplanes, mines, drilling platforms, and industrial sites allow access to advance healthcare expertise while avoiding costly evacuation and unscheduled diversions.
Bright Future
Despite challenges, telemedicine is making great strides toward being accepted into mainstream medicine. The fact that Medicare has increased reimbursement by 1.2 percent this fiscal year and is expanding the list of eligible services to Medicare patients bodes well for telemedicine. We will wait, however, to see what the new Trump administration has in store for these services.
---
Bill Wong, CPC, CPMA, CDEO, CHC, CHPC, CCS, is a senior coding and compliance auditor/educator with a large healthcare organization in the Pacific Northwest. He provides guidance to healthcare providers, administration, and medical staff on billing and coding compliance and regulatory government policies. Wong has over 20 years in clinical healthcare experience, including 13 years in private practice. He is a member of the Seattle First Hill, Wash., local chapter.

Resources
Telemed J E Health, "Patient Satisfaction with Physician-Patient
Communication During Telemedicine." Agha Z1, et al. November 2009; 15(9):830-9:
www.ncbi.nlm.nih.gov/pubmed/19919189
"Videoconferencing for Clinical Management of Diabetes," Farhad Fatehi, MD, MSc, 2015
Telemedicine Journal, "Patient Satisfaction with Telemedicine,"  Gustke S, et al. July 2004, 6(1): 5- 13.
Innovative Journal of Medical and Health Science, "Telemedicine and Patient
Satisfaction: Analyzing the Future," Khare S, Chaudhary Y, 6:3 May-June 2016:
http://innovativejournal.in/ijmhs/index.php/ijmhs/article/download/119/pdf_96
"Evaluation of the Effectiveness of Portable Low-bandwidth Telemedical Applications for Postoperative Follow Up: Initial Results," National Center for Biotechnology Information, Rosser, August 2000: www.ncbi.nlm.nih.gov/pubmed/10945365
"Telemedicine + Pediatrics, The New Kid On the Block," Siew L, MD, February 2016,
https://www.memd.me/telemedicine-pediatrics-the-new-kid-on-the-block/
"Reliability of Telemedicine in the Assessment of Seriously Ill Children," Siew L, et al, February 2016: http://pediatrics.aappublications.org/content/early/2016/02/03/peds.2015-0712
"Variation in Quality of Urgent Health Care Provided During Commercial Virtual Visits," JAMA Internal Medicine, Schoenfeld A, et al, May 2016: http://jamanetwork.com/journals/jamainternalmedicine/article-abstract/2511324
Telemedicine Journal, "Reliability of Telemedicine Examination," Nitzen, J, et al. January 2009, 3(2): 141-157: http://online.liebertpub.com/doi/abs/10.1089/tmj.1.1997.3.141
"Patient Safety and Telephone Medicine: Some Lessons From Closed Claim Case Review,"
www.ncbi.nlm.nih.gov/pubmed/18228110
Latest posts by Guest Contributor
(see all)
No Responses to "Telemedicine: A Promising Healthcare Delivery Method"