2016 Member of the Year Is AAPC's Giraffe
May 1, 2017
Comments Off

on 2016 Member of the Year Is AAPC's Giraffe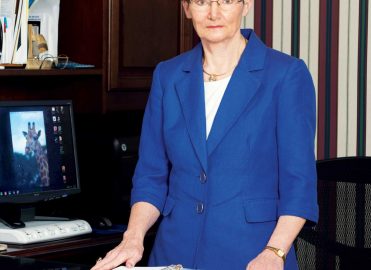 Patti Frank has passion for coding education and world travel … and she wants to be a giraffe.
Anyone who knows AAPC's 2016 Member of the Year Patti Frank, CPC, knows she loves giraffes. Someone once asked her, "If you were an animal, what animal would you be and why?" Frank said, "I would be a giraffe because then people would always look up to me." With this recognition, she is officially a giraffe to AAPC's 165,000 members worldwide.
From Speechless to
Shouting from the Rooftop
When AAPC President Bevan Erickson called Frank to tell her she was receiving the Member of the Year award, she was speechless. In fact, she was so shocked, she has no idea what she said to him. "I hope Bevan did not think I was a dolt," Frank said. She was amazed and honored to be chosen, and it took the words right out of her mouth.
After ending the phone call, Frank woke up her husband from a nap to tell him the news, but she still couldn't find the words. "I started talking and then got so choked up that I couldn't speak," she said. Once it all sunk in, however, she wanted to shout it from the rooftop. Unfortunately, she had to keep quiet because it was a secret until officially announced to AAPC members at HEALTHCON and in Healthcare Business Monthly magazine.
The Bridesmaid Becomes the Bride
AAPC asked Frank why she thought she received this award. "I would like to think I was chosen because of my passion for education," she said. In reality, it was much more than that: AAPC received 12 pages of nomination letters attesting to Frank's character and abilities, solidifying her accomplishments and dedication to the coding profession.
Frank travels a lot so she has never been able to serve as a local chapter officer. She does, however, serve as an inspiration and a key player in her chapter's success. Two years ago, Frank was named by the Kansas City, Mo., local chapter as "honorary president." She was also selected as her chapter's Coder of the Year in 2009 and Educator of the Year in 2012 and 2013. "You have heard the saying 'Always a bridesmaid, but never a bride.' Well, that is me," Frank said.
"She may not be all over social media and a household name, but she is True Blue AAPC," according to Angela Jordan, CPC, COBGC, AAPC Fellow.
Traveling Along an Adventurous Career Path
Frank has 35 years of experience as a coder and has been certified for 17 years.
Just as Frank knows her way around a map when she travels, she knows how to navigate around a healthcare organization's revenue cycle. She was first exposed to coding as a sales representative for a clinical laboratory. She then moved to Medicare as the manager of post-payment utilization review, where she learned a lot about coding and auditing. Next, Frank ventured as a consultant with a regional accounting firm helping clients with fee schedule analysis, charge description master reviews, operations reviews, and assisting clients who were audited by Medicare. She then became director of ambulatory services at Baptist Medical Center managing the family practice residency program, outpatient registration, adult healthcare clinic, gastroenterology laboratory, pain management, neurology, and hematology-oncology. Frank worked her way to become the vice president of operations in charge of six physician practices. "It was here that I studied for and received my CPC® in 2000," Frank said.
Frank has been an independent consultant for the last 16 years. As the owner of Consultants in Practice Management, she works with doctors' offices and large integrated delivery systems to perform audits and educate physicians and staff, and occasionally she does forensic auditing. Frank also is adjunct faculty at the Research Family Medicine Residency Program, where she teaches residents about coding and practice management.
Accomplishments Abound
"Patti embodies all of the attributes set forth in AAPC's ethics policy: integrity, respect, commitment, competence, fairness, and responsibility," according to Jordan. Here is what Frank has done for our organization and its members:
Assisted other local chapters in developing the same educational opportunities that the Kansas City, Mo., local chapter offers.
Organized a special evaluation and management workgroup (E/M Workgroup when WPS took over the Medicare administrative contractor contract several years ago. WPS had different opinions and guidelines that would've had a major negative impact on her area. She organized the group, scheduled meetings, and then gathered all the information from the meetings. She then, put together an E/M white paper with regional contacts and the medical director for the Centers for Medicare & Medicaid Services (CMS). Some of the information in the whitepaper was successfully used to get WPS to change some of their E/M policies.
Participated in local chapter charity work and helped to come up with ideas to solicit donations or needed items on the wish list.
Presented at the Kansas City, Mo., local chapter and surrounding local chapters, sharing her educational skills and knowledge with many coding professionals and providers.
Spent many hours developing educational materials for workshops and Certified Professional Coder (CPC®) exam preparation and study courses, just to name a few.
Worked with doctors' offices and large, integrated delivery systems to perform audits and educate physicians and staff.
Created a coding and documentation program for the Research Family Medicine Residency Program.
Taught practice management in a one-month rotation to third-year residents and added a 12-hour coding curriculum for internal medicine residents.
Maintained and updated the CPC® Review Class curriculum for the Kansas City, Mo., local chapter since 2008. She also arranged for instructors, tracked registrations, helped the education chair secure CEUs, and distributed resource materials to participants.
Created a 150-question mock exam in 2012 for her local chapter, updated it for ICD-10, and made annual changes. She proctored the exam and tracked registrations.
Created four PowerPoint presentations for the biannual E/M coding seminars and secured instructors, tracked registrations, and taught seminars.
Written articles for Healthcare Financial Management Association.
Presented at national and regional AAPC conferences, in addition to speaking for other organizations, nationally.
Attends the Kansas City, Mo., local chapter board meetings and helps at the officer retreat in the fall.
Frank is always there to fill in at the last minute if a speaker is needed at a local chapter meeting, her colleagues say.
Building an Unstoppable Support System
Frank has surrounded herself with a support system to which she says she owes a great deal of her success. She is particularly thankful for Jordan, who has been an inspiration to her. "When I first met Angela," Frank said, "she worked as a scheduler in one of the practices I managed. I have watched her earn her CPC®, present in public shaking like a leaf, and rise to be the local chapter president, AAPCCA chair, and a NAB member helping to guide this wonderful organization." Frank says Jordan is a model for all coders who dare to dream big, including herself.
Frank also recognizes Larry Rues, MD, medical director of the residency program, and the teachers who helped her obtain her CPC®, Sheila Terry, CPC, CDEO, CPMA, CPC-I, and Donna Barker, CPC, CPCO, CDEO, CPMA, CPC-I. "They are still going strong, getting additional credentials and continuing to teach future coders," Frank said. She also thanks her friend and adopted daughter Sherry Wright-Fontenot, CPC, CPCO, CPMA, CEDC, AAPC Fellow, for always being there for her and Tracy Bird, CPC, CPMA, CEMC, CPC-I, FACMPE, AAPC Fellow, for being a respected, professional role model to her.
Frank also thanks the members of the Kansas City, Mo., local chapter who have supported her personally and professionally, and her peers in the E/M Workgroup for always being there to answer difficult questions.
"If I had one piece of advice for new coders, it would be to build a network of experienced coders," Frank said. "It will be your most valuable tool."
Around the World in 114 Days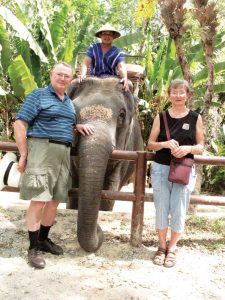 Patti Frank, CPC, has been to all seven continents with her husband of 52 years. They traveled around the world for 114 days on a cruise ship in 2015. They will be going on another 114-day trip around the world in 2018, and that will include Frank's first trip to South Africa.
Frank loves spending time with her two daughters, two sons-in-law, and three adult grandchildren. "Our family is scattered now so I cherish every moment that we are all able to be together," Frank said.
When Frank is not helping the business side of healthcare or traveling, she is reading or solving puzzles. She enjoys anything that involves numbers, like Sudoku, KenKen, and Kakuro, and loves watching soccer and basketball on TV.
Character Testimonials
A book could have been written as testament to the character of Patti Frank, CPC. Here is just a snippet of what some of her AAPC peers said about her:
I have personally and professionally known Patti for close to 15 years. During this time, I have found her to be generous in sharing her wealth of knowledge, experience, and insight by endlessly donating her time to the members of our local Kansas City chapter. The contributions that she has made to our chapter and its members over the years is invaluable. … She understands the needs of those we serve.
Former National Advisory Board (NAB) member Linda Duckworth, CPC, CHC
As a seasoned coder, Patti has been instrumental in developing curricula to assist those who've completed their education and who are waiting to test. She has a real heart for these folks who are scared and are afraid of failure.
2016 Kansas City, Mo., Local Chapter President Syd Stevens, CPC, CIMC, AAPC Fellow 
Patti is the member we know we can count on for sound advice and direction. She is sure in her words and decisions, and always instills a feeling of confidence in her opinion. She is a wealth of knowledge and is willing to go out of her way for anyone who may need it.
2017 Kansas City, Mo., Local Chapter President Tiffany Johr, CPC, CPMA, AAPC Fellow
I have had the privilege of working with Patti in helping present at … workshops, and I always find myself continually gleaning from her knowledge.
Patty York, COC, CPC, CPMA, CPC-I, CCC, CCS-P
Patti is deeply dedicated to the coding profession and demonstrates integrity in her work at every level … She offers new and innovative ideas about how our chapter can be the best resource to the membership.
Tracy Bird, CPC, CPMA, CEMC, CPC-I, FACMPE, AAPC Fellow
For years, Patti has organized much of our extra educational offerings above and beyond our chapter meetings. … We could not do it without Patti. She has been a large reason for our chapter's continued growth. She's been an active, behind-the­scenes member of our chapter for many years.
Cathy Jennings, CPC, CPC-I, CEDC, CHONC
Patti is a mentor to our chapter and our values. She is an amazing educator who has taken a valuable community role by creating an education program in the Family Practice Residency. She is a consummate healthcare professional. Her role instills values and ethics to those she teaches. Above all, she puts the role of the CPC® in front of the providers in the most positive way possible.
Sarah Reed, BSE, CPC, CPC-I, AAPC Fellow
I have known Patti for several years and have always been in awe of her knowledge, and the professionalism and passion that went along with it. … she has worked diligently behind the scenes, and humbly so, never looking for recognition for her time and efforts.
Linda Vargas, CPC, CPCO, CPMA, CPC-I, CCC, CEMC, AAPC Fellow
Latest posts by Michelle Dick
(see all)