Keratosis ICD-10 Coding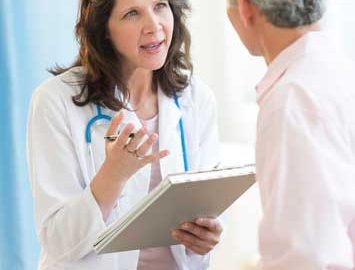 Actinic keratosis (AK) is a small, rough spot on the skin. It usually occurs in middle-aged and older individuals, and may also be called senile keratosis or solar keratosis. AK is a premalignant lesion, which may develop into skin cancer. Although clinicians generally can diagnose AK by examining the area, biopsy may be necessary.
AK typically develops on fair-skinned individuals, those with excessive sun exposure, or individuals with indoor tanning radiation. Treatment for AK is generally straightforward, and may include cryosurgery (freezing), scraping, and photodynamic therapy.
Seborrheic keratosis (SK) may present as single or multiple elevated plagues and nodules that are often hyper-pigmented (darkened) with an overgrown, greasy surface. This type of SK is benign, of unknown cause, and involves only the top layers of the epidermis. No treatment is necessary, although there is risk of irritation or infection caused by friction (such as when clothing rubs the area) or "picking," which may warrant removal by electrocautery or shave excision.
Clinical documentation of keratosis should include the type of keratosis—actinic or seborrheic—and whether the keratosis is inflamed (or not otherwise specified). The location of the growths must be noted, as should contributing factors, such as tanning bed exposure.
ICD-10-CM codes for actinic keratosis and seborrheic keratosis are in different subcategories.
Category L57.0 describes AK, including keratosis not otherwise specified, solar keratosis, and senile keratosis. Subcategory L57.0 requires that you use an additional code to identify the source of the ultraviolet radiation.
Subcategory L82 contains codes for SK, and includes dermatosis papulosa nigra and Leser-Trelat disease.
L82.0 Inflamed seborrheic keratosis
L82.1 Other seborrheic keratosis
L82 also contains an Excludes II note telling the user that codes for seborrheic dermatitis (L21-) may be cited, in addition to the L82 code, if both are supported in documentation.
Example: A 55-year-old truck driver presents with a pinkish-colored, scaly, crusting lesion on his left arm. He worries that he might have cancer because his left arm is constantly exposed to sunlight while he drives. A biopsy is performed. A diagnosis of AK is confirmed. The patient will receive cryotherapy. The correct ICD-10-CM diagnosis code is L57.0
Example: A 49-year-old female patient presents with rough, scaly, inflamed areas on her hands and back. She loves the outdoors, does not use sunscreen regularly, and has been known to use tanning beds to "start her tan." She is diagnosed with actinic keratosis, counseled on use of sunscreen, and instructed of the danger of future exposure from tanning beds.
Appropriate coding is L57.0 Actinic keratosis and W89.1XXA Exposure to tanning bed. Note that W89.1 requires a seventh character; placeholders ("X") are required because the 7th character must always be in the 7th position.
Latest posts by John Verhovshek
(see all)
One Response to "Keratosis ICD-10 Coding"