What are they saying about AAPC's Exam Prep?
We often tell prospective students, "those who complete our online training courses are twice as likely to pass their certification exam." This is evident by the thousands of AAPC members who use our training to pass their medical coding exams, each year. But don't take our word for it. Read what our former students have to say:
"I took the online CPC course with AAPC and passed on my first try."
Kristy R.
"It's a hard course but so worth it! AAPC wants to make sure you are truly prepared for the exam."
Luis E.
"I had zero coding experience and passed the first time."
Rachel P.
"I took AAPC's online course and passed on the first time! The course's questions prepare you perfectly for the exam."
Mary O.
"I took the CPC exam after completing the AAPC course and passed!"
Lori A.
"I think having taken the course through AAPC gave me a leg up. The exam is very similar to the chapter tests and final, thus I knew what I was in for. Others who took courses through tech schools or community colleges didn't have the luxury of having their courses setup just like the test."
Paula A.
"I completed two courses through AAPC. I liked the flexibility. There's great support when needed."
Kim M.
"For online I prefer the AAPC. I took an onsite course for my CPC but took the online course for my COC. I loved that I could study whenever worked for me. I completed half of the course, sat for the exam and passed. I'm now trying using just study guides for the CPB and CPMA."
Samantha P.
"I went through AAPC for my course. A coworker did not. She used an alternative online site. I can say my course and preparedness for the exam was much better."
Diane N.
"I did the CPC course through AAPC and LOVED it. Challenging but I loved it!"
Nicole H.
Now is the best time to get certified! Save now when you enroll in one of our certification training courses.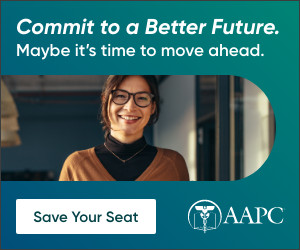 Latest posts by admin aapc
(see all)
6 Responses to "What are they saying about AAPC's Exam Prep?"