Don't Wait for the Storm
June 1, 2017
Comments Off

on Don't Wait for the Storm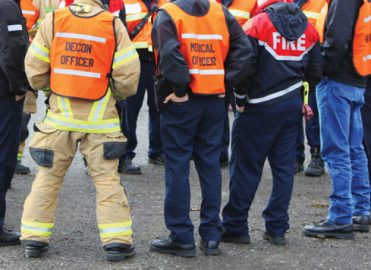 Prepare to comply with the CMS Emergency Preparedness rule now.
According to the National Oceanic and Atmospheric Administration, 2015 marked the eighth consecutive year that disaster from extreme weather cost the U.S. economy more than $10 billion. Last year, this trend continued with the massive snowstorms in the Northeast, flooding in Baton Rouge, and earthquakes, forest fires, tornadoes, and hurricanes across the country. Business owners are more aware than ever of the financial necessity of preparing their businesses for the unexpected. (Source: www.ncdc.noaa.gov/billions/events)
Implement the Rule with a Preparedness Plan
Natural and manmade disasters have put public health and safety at risk, spurring the Centers for Medicare & Medicaid Services (CMS) to issue a rule:
To establish consistent emergency preparedness requirements for healthcare providers participating in Medicare and Medicaid;
To increase patient safety during emergencies; and
To establish a more coordinated response to natural and manmade disasters.
In September 2016, CMS issued the final Emergency Preparedness Rule that outlines the requirements for all providers and suppliers regarding planning, preparing, and training for emergency situations. The rule includes emergency plans, communication and accountability requirements, and the training of staff to ensure that facilities are adequately prepared to meet the needs of their patients during emergency situations.
Healthcare providers and suppliers affected by this rule must comply and implement all regulations one year after the effective date, on Nov. 16, 2017. Failure to comply means you will not be paid by Medicare.
The final rule requires Medicare and Medicaid participating providers and suppliers to meet the following four common and well-known best practice standards in the industry:
Emergency plan: Based on a risk assessment, develop an emergency plan using an all-hazards approach focusing on capacities and capabilities that are critical to preparedness for a full spectrum of emergencies or disasters specific to the location of a provider or supplier.
Policies and procedures: Develop and implement policies and procedures based on the plan and risk assessment.
Communication plan: Develop and maintain a communication plan that complies with both federal and state laws. Patient care must be well coordinated within the facility, across healthcare providers, and with state and local public health departments and emergency systems.
Training and testing program: Develop and maintain training and testing programs, including initial and annual trainings, and conduct drills and exercises or participate in an actual incident that tests the plan.
Minimize the Impact of Emergencies
There are four actions you should take to minimize the impact of emergencies and natural disasters on operations and financial health, regardless of whether you are required to adhere to the Emergency Preparedness Rule:
Create a disaster preparedness plan.
Test the disaster preparedness plan.
Emphasize communication and offer the ability to work remotely.
Leverage the cloud.
Tap into Supportive Resources
The final rule includes local and national resources related to emergency preparedness, such as helpful reports, toolkits, and samples. Healthcare providers and suppliers can choose to participate in their local healthcare coalitions, which provide an opportunity to share resources and expertise in developing an emergency plan and support during an emergency.
CMS does not expect to develop training specifically for providers and suppliers. Healthcare associations and state, local, and other federal healthcare agencies may provide training for providers and suppliers. Training provided by these organizations, however, is only a tool to assist facilities in preparing for implementing the rule, and does not mean that a provider or supplier is compliant by having received the training.
---
Resources
For a document that includes information to assist facilities in
planning for continuity of operations, go to:
www.phe.gov/Preparedness/planning/hpp/reports/Documents/hc-coop2-recovery.pdf.
For a listing of accrediting organizations, see: www.cms.gov/Medicare/Provider-Enrollment-and-Certification/SurveyCertificationGenInfo/Downloads/Accrediting-Organization-Contacts-for-Prospective-Clients-.pdf.
For more information, see Assistant Secretary for Preparedness and Response Nicole Lurie's, MD, MSPH blog on www.phe.gov.
To review the final rule, see the CMS Survey & Certification – Emergency Preparedness webpage: www.cms.gov/Medicare/Provider-Enrollment-and-Certification/SurveyCertEmergPrep/index.html.
---
Debra Cascardo, MA, MPA, CFP, started her healthcare career as a professional in speech, language and hearing pathology. Her academic credentials include postgraduate degrees in Communication Sciences and Health Policy Planning and Administration, as well as a Certificate in Financial Planning. In 2005, Cascardo was honored as a Fellow of the New York Academy of Medicine. In 2011, she became an Overseas Fellow of the Royal Society of Medicine.
Latest posts by Guest Contributor
(see all)