Peers and Coding in Las Vegas
By Brad Ericson
July 10, 2017
Comments Off

on Peers and Coding in Las Vegas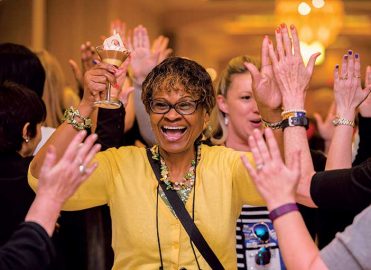 AAPC's national conference brings us together.
This year's AAPC HEALTHCON national conference proved to be everything it was promised to be — a venue to learn and teach, a forum for discussion, and place to make and renew friendships. Very little of what happened there will be left in the desert oasis (despite what Las Vegas' advertising campaign says) because what
was discussed is so important to our day-to-day work and future.
Revenue Stream's Hub
More than 2,500 members attended the three-day event at the Rio Hotel and Casino, which included over 90 informative sessions, pre- and post-sessions, and events. Presenters spoke about all aspects of the revenue cycle, from coding to regulations, Obamacare repeal to Medicare Access and CHIP Reauthorization Act (MACRA), compliance to quality measures, and personal growth to our role in a reformed healthcare system.
That was the theme of the whole conference: It's important to grow as professionals because we are key to the successful repair of our healthcare system.
AAPC President Bevan Erickson emphasized the opportunities for personal and professional growth in his welcoming speech. AAPC continues to look for ways to serve and empower members, he said, providing several examples. Most importantly, he asserted, it's up to us to pursue growth through:
Networking via local chapters, conferences, and social media;
Continuing education opportunities AAPC and other sources provide; and
Being watchful for changes to healthcare from which we can each benefit.
Brian Ingles followed with a powerful presentation on emotional intelligence, a skill essential to achieving the growth Erickson encourages. The ability to know ourselves helps us to understand others, discern our potential, and manage our futures, he explained.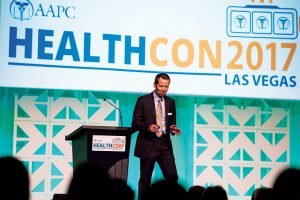 AAPC President Bevan Erickson started HEALTHCON on a high note.
Mike and Raemarie Explain It All
Former U.S. Department of Health and Human Services Secretary and Governor of Utah Mike Leavitt opened the next morning with an explanation and a surprisingly calm assessment of the evolution
of our healthcare system (See "HEALTHCON: A Challenge to Lead"). We learned about what's happening in Washington, that we're only so far in the process, how the industry is "mothering-up," and that AAPC members are key players to make it happen.
Where Leavitt showed us the map, Raemarie Jimenez, CPC, CDEO, CPB, CPMA, CPPM, CPC-I, CANPC, CRHC, vice president of member services at AAPC, led us down the trail of the immediate future, detailing the mechanics and deciphering the acronyms of MACRA and other initiatives that will help our providers to understand and master the changes. She introduced wide-eyed audience members to the features of our new quality-based reimbursement world.
The take-away from this conference? Coders and the roles we perform in practices and facilities are a core component of the country's healthcare system and its reform. It may be unsettling and slow, and we don't know what it will look like in the future, but we are the hub of its development and implementation. We will interpret the changes, implement them, educate providers, and help commercial and federal payers to understand what works.
Where Peer Pressure Is a Good Thing
The Rio conference center is an island amidst Las Vegas' garden of earthly delights. It's a reminder how small-town you are when you mistake the over-the-top restrooms for the over-the-top elevator lobbies. And it's exciting to be at the event. It's easy — even if you're reserved and introverted — to find a hug. And even without assistance, inhibitions drop. Friends greet friends, strangers greet strangers, and laughter is constant. Introductions are easy and promises to keep in touch run rampant throughout the hallways. Peer pressure prompts members to attend sessions outside their comfort zone.
Judy Wilson, COC, CPC, CPCO, CPC-P, CPB, CPPM, CPC-I, CANPC, AAPC Fellow, told Healthcare Business Monthly, "Of all the conferences I have attended over the last 10-15 years, this was by far the best one to date. The speakers were awesome and gave very much needed information on an advanced scale. I heard nothing but good remarks from the attendees about the conference. There were a lot of new attendees; and with the Facebook page, they could connect and network while at conference. Kudos to the whole conference team."
There was a fun-run and other events off-site. There was the casino and entertainment. There was food and a lot of giggling. And if you asked somber, business-like members if they were having fun, the answer was usually accompanied by a wink.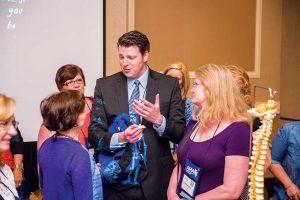 Evan Gwilliam, MBA, DC, CPC, CPMA, CPC-I, CCPC, captivates his audience during the "We've Got Your Back" session.
Breakout Sessions for Everyone
At HEALTHCON, clinical sessions were balanced by sessions about career growth, such as a presentation by C.J. Wolfe, MD, on how to become an auditor. Basic coding and billing sessions competed for attention with abstract issues or specific topics such as cardiology changes in ICD-10-PCS.
And special trainings, such as Anatomy Expo, helped to cement the real reason to be there — enhanced competency and career growth.
The breakout sessions are the protein of the conference, fueling participants' minds with expertise. Menu items in the conference program covered nearly every coder's need and curiosity. Evaluation and management, documentation, chargemaster, integrity plans, and compliance joined sessions on new physical therapy, diabetes, and cardiovascular codes. UPIC, NCCI, MACRA, MIPS, OPPS, and other acronyms kept attention from wandering.
Teresa Bartrom, CPC, CPB, said, "I think the 2017 HEALTHCON was one of the best received conferences ever." She added, "As a door greeter, I was amazed at how many attendees at general sessions reached out and touched us, thanking us and wanting us to let AAPC know how pleased they were with this conference." Bartrom observed that the sessions were more interactive in some cases, and attendees liked that. "They loved the panels, the food, and their options for after-hours entertainment," she said.
A Village Grows in Vegas
It takes AAPC's village to put HEATLHCON on. AAPC Live
Events staff Melanie Mestas, Amy Evans, Kira Golding, Rachel Momeni, and Taylor Traveller spent the year organizing the logistics, and they managed the conference. AAPC customer care, IT, sales, marketing, CEU, and publishing departments assist with various parts of preparation. And the National Advisory Board (NAB) and AAPC Chapter Association board of directors help the Live Events team make things happen. Rachel Momeni manages the store. Local chapters participate in chapter events and raising funds for the scholarships and other funds supporting disadvantaged members. Local chapter members pitch in, as do some partners. The mix of plans, volunteers, presenters, and members comes together to assure we're all prepared for the future.
2016 Member of the Year Patti Frank, CPC, and Chapter of the Year, Tulsa, Okla., were recognized at Wednesday's member luncheon, and departing participants expressed their satisfaction with HEALTHCON this year. Bartrom told Healthcare Business Monthly that she heard attendees comment on, "how well everything was set up, the registration process, the great product store, the Meet the NAB session, the great quilt with Hardship Scholarship Fund, and the Run4One event," She said attendees were excited because they were "already thinking about next year as they exited the NAB and AAPCCA's 'send-off tunnel of cheers' when they left the final luncheon on Wednesday."
Applying HEALTHCON
There's so much learned and shared, it's hard not to rush into work and start implementing what you've brought back. It's a chance to educate management at your practice or facility, speak at your local chapter, and share your newfound knowledge with coworkers and students.
Back home, when the piles of conference clothing are sorted in the laundry room, the HEALTHCON bag emptied, and session notes filed, it's difficult to go back to a less friendly day-to-day existence. Just remember: In this village, you're never really alone.
Editor's Note: The village will band together later this year at regional conferences in Honolulu, Hawaii; St. Louis, Mo.; and Salt Lake City, Utah. Find out more at www.aapc.com.

Latest posts by Brad Ericson
(see all)