Interview with Confidence
By Judy Wilson
July 1, 2017
Comments Off

on Interview with Confidence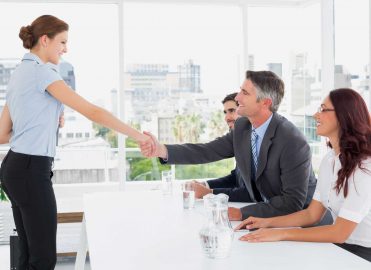 Five tips to move you ahead of other job applicants.
You created the perfect cover letter and resume, and submitted it with a job application for that coding, billing, or practice management position you really want. And now, your golden opportunity has come: You've been called back for an interview. Here are five tips that will help you ace the interview and get that job.
1. Do Your Research
The most qualified applicant is not always the one who is hired. Qualifications matter, but so does self-presentation.
Interviewing successfully starts by having knowledge and understanding of the employer. Research the facility or practice, know the job requirements, and get some background on the person who will be interviewing you. The more information you have on the organization, and the more you understand the employer, the better you will do in the interview. It will also prepare you to ask questions that are relevant to the job.
In the interview, try to maintain composure and provide concise answers that focus on specific examples and accomplishments you've achieved. Don't memorize your responses ahead of time, or you'll seem like a robot; rather, come with a mental outline of the specific points that highlight your skills and job-related attributes.
2. Dress the Part
We've all heard the advice, "Dress for success." The goal is to present yourself as a professional. Plan what you'll wear and make sure it's appropriate based on the organization's dress code. Keep jewelry to a minimum, and use little or no perfume. Strong scents can be unpleasant, and may cause allergic reactions or exacerbate asthma for some people.
3. Be on Time and Be Prepared
There is never an excuse for arriving late to an interview. It is wise to arrive approximately 15 minutes before your interview time, in case there is paperwork or testing you need to complete prior to the interview. It also gives you time to settle down and take a breath before the interview. Use this time to observe the workplace and see how everyone interacts with each other.
Make sure to have extra resumes on hand, and bring pens and paper for note-taking.
Turn off your cell phone — completely. A vibrating phone can be just as distracting and rude as a ringing phone.
4. Be Polite, Honest, and
Aware of Your Body Language
Always be polite and greet everyone you meet — from the receptionist to the hiring manager. How interviewees treat office staff matters. Hiring administrators will note how you interact with others.
First impressions matter, too. When someone comes to bring you into the interview, stand, smile, and offer a handshake. Most importantly, make eye contact. During the interview, have a positive attitude, and be enthusiastic about the job and the possibility of working at that office. Usually, a hiring manager makes a decision within the first 15 minutes of the interview.
Be truthful when responding to interviewers' questions, and don't stray from the subject. Focus your answers so they showcase your job-related skills and experiences. The goal is to show that you're a good fit for the healthcare organization, and that you're a team player who also can work independently, when needed. Most importantly, never "bad mouth" your previous or present employer, supervisor, or co-workers.
It's also important to pay attention to your body language. Don't fidget or look around the room during the interview. Keep eye contact with your interviewer, and smile. Pay attention to your posture (attentive but comfortable, not slouching), and show that you're a good listener.
As the interview ends, ask when a decision will be made on the position.
5. Be Grateful
Finally, make sure to thank the interviewer at the end of the interview. As soon as you can, send the interviewer a thank you email, followed by a Thank You note in the mail. Being kind and gracious might put you in first place for the job, especially if the other applicants don't take this step.
Latest posts by Judy Wilson
(see all)