Make Cleft Lip and Palate Repair a Priority in July
July 6, 2017
Comments Off

on Make Cleft Lip and Palate Repair a Priority in July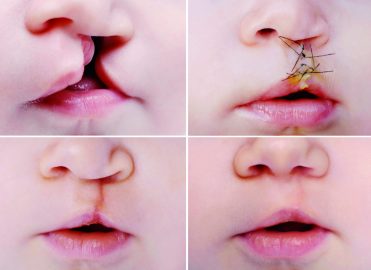 You'll need a strong background in anatomy and medical terminology to code it right.
July is National Cleft and Craniofacial Awareness and Prevention Month, making this a great time to learn more about these types of birth defects and how to code the surgical procedures surgeons perform to repair them.
Know the Facts About Craniofacial Defects
Orofacial clefts (clefts of the lip and palate) are the second-most common birth defects in the United States (Down syndrome is the first). A study published by the Centers for Disease Control and Prevention (CDC) and the National Birth Defects Prevention Network concluded that, between 2004-2006, one in 1,574 babies was born with a cleft palate and one in 940 babies was born with a cleft lip.
A "cleft" is a gap between the baby's upper lip and/or palate where cells and tissues didn't join properly during the embryonic period. A baby's facial features are formed by the end of the first trimester, making a cleft easy to detect in an anatomy screening ultrasound, generally between 18 and 26 weeks gestation.
A cleft lip, as shown in Figure A (on page 22), can be a small slit (incomplete) or a large opening that goes through the lip into the nose (complete). And it can be on one side (unilateral) or both sides (bilateral) of the lip or, rarely, in the middle of the lip. A cleft palate, as shown in Figure B (on page 22), may involve both the front (hard) and back (soft) parts of the palate, or just one part. Left-sided clefts are more common than right-sided clefts. Approximately one-third of clefts involve the lip and alveolar ridge. Two-thirds extend through the entire palate. Some clefts may involve the lip and hard palate, but not the soft palate.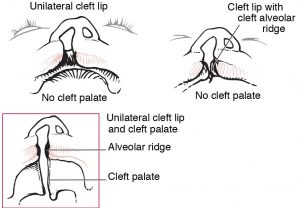 Less common craniofacial defects are craniosynostosis (the baby's skull fuses too early); microtia (the external portion of the ear does not form properly); and anotia (the external portion of the ear is missing).
Complications Associated with Orofacial Defects
After a diagnosis of a cleft lip and/or palate is made, there is nothing to do but wait. After the baby is born, surgery to repair the orofacial defect is necessary to allow for normal functions of the mouth — to eat and speak, for example. Other complications associated with clefts include ear infections, hearing loss, and misplaced teeth.
Surgeons generally work with a care team to address these issues in a coordinated way. A care team may include: a surgeon, a speech-language pathologist, a pediatric dentist, an orthodontist, a geneticist, a nurse, a psychologist, an audiologist, a pediatrician, and other specialists.
Clinton Morrison, MD, team leader at the Cleft and Craniofacial Center, University of Rochester Medicine's Golisano Children's Hospital, in Rochester, N.Y., says it's important for coders to understand that surgery is medically necessary and not just cosmetic.
"I think there is a common misconception that the issues surrounding cleft lip and palate are handled entirely at the initial operations, and that secondary issues are largely cosmetic," Morrison said. "Really, many of the secondary surgeries are staged at specific intervals revolving around growth and development and intentionally not handled at the primary operations such as the nasal deformity, bony reconstruction of the gum line, and orthognathic jaw surgery. These secondary surgeries are medically necessary and related to the underlying congenital deformity."
Confirm Proper Procedure Coding
Surgery to repair a cleft lip usually occurs in the first three to four months of life and is recommended within the first 12 months of life. Surgery to repair a cleft palate is recommended within the first 18 months of life, or earlier if possible.
Medical codes for cleft lip and palate repairs are found under the Digestive System in the Surgery section of the CPT® codebook.
Coding from the Operative Report
Following is an operative report for surgery to repair a left, complete cleft lip and palate. The highlighted text provides the necessary information to properly code the procedure.
Date of Surgery: ***
Surgeon: ***, MD
Assistants: ***, MD
Pre-operative Diagnosis: Left complete cleft lip and palate
Post-operative Diagnosis: Same
Operative Procedure:  Left primary cleft lip repair with tip rhinoplasty and septal repositioning
Anesthesia: General.
Indication for Procedure: 
*** is an 18 wk.o. male who has been diagnosed with left complete cleft lip and palate. *** is being taken to the operating room today for elective lip repair. Risks and benefits of the procedure were discussed. All questions were addressed. The family was eager to proceed.
Findings: Left complete cleft lip and palate with associated cleft nasal deformity
Complications: None
Immediate Postop Condition: Stable to PACU
Disposition: PACU, admit
Estimated Blood Loss: 5 cc
IV Fluids Given: 50 cc
Urine Output: Not recorded
Drains/Implants: None
Specimens: None
Antibiotics: Ancef
DVT Prophylaxis: Not indicated for age
Description of Procedure: 
The patient was taken to the operating room and placed supine on the operating table. After the smooth and routine induction of general anesthesia, the patient was prepped and draped in the usual sterile fashion. A formal time-out was performed in the room and all were in agreement.
I began by marking out a Fisher anatomical subunit cleft lip repair. This included a 3 mm substitution triangle above the white roll, as well as a Nordhoff type dry vermillion substitution triangle. Once I was happy with my markings, I tattooed the key points with ink and injected Marcaine with epinephrine for hemostasis. I inserted a throat pack. After waiting appropriately for hemostasis, I began with the medial lip incisions, including the back cut above the white roll. I then continued incision intraorally mucosally to the cleft margin. I then trimmed the marginal tissues.
I then performed a limited muscle dissection medially taking care not to disrupt the marginal component of the orbicularis. I also freed the abnormal medial muscle attachments to the anterior nasal spine.
Subsequently, I performed my cutaneous lateral lip incisions, heading to the cleft margin intraorally, and then extending along the alveolus laterally to allow the mucosa to advance. I elevated the abnormal muscle attachments to the maxilla in a supraperiosteal place, taking care to preserve the infraorbital nerves. I also released the muscle from the lateral ala. I then performed muscle dissection on the cutaneous and mucosal segments to free this up for approximation.
Next, I dissected the anterior nasal spine to find the nasal septum, and performed a limited anterior septoplasty. I freed the septum from its abnormal attachments pulling it to the non-cleft side, and brought it to midline. I held this in its new location with a 4.0 PDS suture anchored to periosteum.
I continued dissection into the nose elevating nasal mucosal flaps for nasal lining closure. I performed a limited tip rhinoplasty freeing the lower lateral cartilages from the skin envelope on the cleft side and performed interdomal sutures with 4.0 PDS to elevate the cleft alar cartilage and improve nasal projection.
I then set about closing the cleft lip proper. I closed the oral mucosa with 5.0 interrupted chromic sutures. I also inset the Nordhoff flap with 5.0 chromic. I closed the nasal floor with 5.0 Monocryl interrupted sutures, and performed muscle closure with 4.0 Monocryl interrupted sutures. I then inset the cutaneous lip with 5.0 Monocryl. 8-0 Vicryl was used for cutaneous closure of the Fisher triangle and white roll. Dermabond was used for the vertical limb of closure.
Using 5-0 PDS, I performed lower lateral redraping sutures in buried fashion.
The wound was cleaned, the throat pack was removed, and he was transferred back to anesthesia for extubation.
*** tolerated the procedure well and was transferred to the recovery room awake and in good condition. I was present and scrubbed throughout the entire operation.
Based on this documentation, coding is: 40700, 30460
Lip Repair (Cheiloplasty)
CPT® code 40700 Plastic repair of cleft lip/nasal deformity; primary, partial or complete, unilateral describes a partial or complete repair of a cleft lip on one side. If the cleft lip affects both sides and is repaired in a single surgery, report 40701 Plastic repair of cleft lip/nasal deformity; primary bilateral 1-stage procedure. If the repair will require a second surgery, report 40702 Plastic repair of cleft lip/nasal deformity; primary bilateral, 1 of 2 stages for the first surgery and 40720 Plastic repair of cleft lip/nasal deformity; secondary, by recreation of defect and reclosure for the second surgery. If the secondary procedure is performed on both sides of the face, append modifier 50 Bilateral procedure to 40720.
A parenthetical note instructs, "To report rhinoplasty only for nasal deformity secondary to congenital cleft lip, see 30460 [Rhinoplasty for nasal deformity secondary to congenital cleft lip and/or palate, including columellar lengthening; tip only], 30462 [Rhinoplasty for nasal deformity secondary to congenital cleft lip and/or palate, including columellar lengthening; tip, septum, osteotomies]."
CPT® Assistant (December 2014, Vol. 24, Issue 12) elaborates on when it's appropriate to use these codes:
Question: A physician performs a primary lip and nose repair on an infant for cleft lip and palate deformity. Does the assignment of code 40700 … include the lip repair as well as repair and reshaping of the nose (rhinoplasty)?
Answer: No. Code 40700 does not include cleft lip rhinoplasty, which may be reported separately with codes 30460 or 30462. In a cleft lip repair, because the defect is closed, the nostril sill [… ] is re-established and the nostril is narrowed. This procedure is referred to as the cleft lip/nasal deformity (ie, the soft tissue of the nose that may be corrected with the cleft lip repair) and it is included in code 40700. Codes 30460 … and 30462 … are used to report cleft lip rhinoplasty procedures involving cartilaginous work and columellar lengthening. These procedures are not considered an inclusive component of the plastic repair of cleft lip codes (40700-40720), and can be reported separately with codes 30460 and 30462, when performed.
Palate and Uvula Repair
Coding cleft palate repairs is more complicated because the structure is more complicated. The codes are:
42200 Palatoplasty for cleft palate, soft and/or hard palate only
42205 Palatoplasty for cleft palate, with closure of alveolar ridge; soft tissue only
42210 with bone graft to alveolar ridge (includes obtaining graft)
42215 Palatoplasty for cleft palate; major revision
42220 secondary lengthening procedure
42225 attachment pharyngeal flap
42235 Repair of anterior palate, including vomer flap
CPT® Assistant (July 2014, Vol. 24, Issue 7) clarifies use of some of these codes in a Q&A.
Question: Our surgeon performed 2-flap palatoplasty to repair a bilateral cleft palate. The surgeon repaired the hard palate using vomer flaps and during the same session performed an intravelar veloplasty to repair the soft palate. Alloderm was placed over the nasal lining around the junction of the soft and hard palate. Should we report both 42200 and 42235, or should we report 42200 alone (along with the unlisted code for the Alloderm placement)?
Answer: If both the hard and soft palates (secondary palate) are repaired concomitantly, report code 42200 … because this includes the maneuvers necessary to effect closure of the hard and soft palates posterior to the incisive foramen. Code 42235 … is reported for the primary palate (anterior to the incisive foramen) and would not be appropriate to report in this case. The Alloderm placement is reported with code 42299, Unlisted procedure, palate, uvula. When reporting an unlisted code to describe a procedure or service, it is necessary to submit supporting documentation (eg, procedure report) along with the claim to provide an adequate description of the nature, extent, and the need for the procedure, as well as the time, effort, and equipment necessary to provide the service.
Verify Diagnosis Codes
Diagnosis codes for cleft lip and cleft palate are in the Q35-Q37 range in chapter 17 of the ICD-10-CM codebook. Selection is based on the location and extent of the defect. For example, coding for the adjacent operative note is Q36.9 Cleft lip, unilateral and Q30.2 Fissured, notched and cleft nose.
Be Aware of Your Environment
Craniofacial birth defects can be genetic or environmental. A 2014 surgeon general's report confirmed that maternal smoking during early pregnancy can cause orofacial clefts in babies. According to the CDC, approximately 6 percent of orofacial clefts in the United Sates are caused by smoking during early pregnancy (i.e., first five weeks). "This means that over 400 babies could be born without orofacial clefts each year in the United States if women did not smoke early in pregnancy," the CDC said.
Resources
Parker S.E., Mai C.T., Canfield M.A., Rickard R., Wang Y., Meyer R.E., for the National Birth Defects Prevention Network. Updated national birth prevalence estimates for selected birth defects in the United States, 2004-2006. Birth Defects Research Part A: Clinical and Molecular Teratology. 2010; 88:1008–16
MedlinePlus.com https://medlineplus.gov/cleftlipandpalate.html
CDC Features, Life Stages & Population: www.cdc.gov/features/cleft-lip-prevention



Latest posts by Renee Dustman
(see all)