Get Control of the Patient Portion of Accounts Receivable
August 1, 2017
Comments Off

on Get Control of the Patient Portion of Accounts Receivable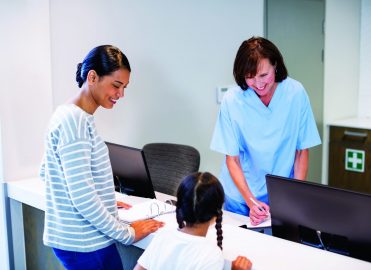 Tighten up the turnaround time for patient payment and see the financial benefits to your practice.
By Teresa D. Skipper, CPC, CHCA
The number of days that claims are in accounts receivable (A/R) is climbing. Is it any wonder? Patients no longer have $500 yearly deductibles with 80/20 policies and low copays. Deductibles have increased to $3,000 or higher. With no relief in sight, practices must take steps to gain control of the patient responsibility of outstanding A/R.
Check Eligibility from the Get-go
Eligibility checks can be done easily for each patient prior to the visit. If it's a patient's first visit, collect insurance information when setting up the appointment and verify eligibility before the patient arrives. This is the first step in controlling collections: The more prepared you are ahead of time the better the collection process. This may mean training your schedulers, who may not be in the habit of asking for the information needed to verify eligibility.
Engaging and educating your entire staff on the collections process is important. Collecting of outstanding balances is no longer the responsibility of just the billing staff.
Implement Financial Policies
When was the last time you looked at your financial policy? Do you even have one?
Financial policies allow for patient engagement. If patients are aware of and understand the policies in your office, and you follow them, they are less likely to step out of the office without paying their portion of the bill. Collecting copays at check-in or check-out is your responsibility. Leaving collection of copays in the hands of billing staff can result in costly monthly statements and time-consuming collections.
Again, train your staff. Consider hiring a financial counselor who can privately discuss outstanding balances with patients, preferably before appointments.
Offer and Negotiate Payment Plans
Consider setting up payment plans for patients with high deductibles. This can be part of your financial plan with the inclusion of a simple statement such as, "For payment plans please schedule a meeting with the financial counselor." There is no need to go into details because payment arrangements usually are made on a case-by-case basis.
When setting up a payment plan for a patient, review the balance due, and consider future service costs. Be realistic about payment amounts: Is it worth collecting $10 a month on a balance of $3,000? The statement cost alone negates the payment. For a balance of $500-$1,000, for example, negotiate with the patient to pay the amount in two months, in either monthly installments or weekly payments, whichever is easier for the patient.
Know When to Call in a Collection Agency 
If you're keeping old A/R on the books and trying to collect from non-responding patients, it's time to review your internal collections process and tighten up the turnaround time. It also may be time to send overdue accounts to a collection agency.
There will always be patients who fail to pay their balances. Rather than hang on to them, get these accounts to the collection agency as soon as you identify them. Work with the collection agency on percentages and expectations, and consider pre-collect letters. Remember: The longer you wait, the less money (if any) you'll receive. Determine when you'll turn an account over to a collection agency — for example, after you've sent two statements without a reply from the patient — and put it in writing.
---
Teresa D. Skipper, CPC, CHCA, is an AAPC Associate and a director of implementation for Gateway Electronic Medical Management System, Inc. (GEMMS). Her 38-year healthcare career began in hospital coding. She went on to work as a compliance officer, a practice management consultant for coding, training, and chart auditing, and she has managed/directed all areas of billing and collections for several multi-specialty physician groups. Skipper is a member of the Indianapolis, Ind., local chapter.
Latest posts by Guest Contributor
(see all)