Keep It Fresh While Presenting
By Lori Cox
August 1, 2017
Comments Off

on Keep It Fresh While Presenting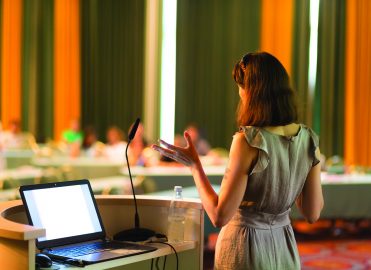 Use these tips to captivate an audience.
One of the many great things about AAPC is that we welcome fresh voices at local chapters, HEALTHCON, and regional conferences. It's this open-door policy that makes these events so diverse and informative. Everyone has something to offer and AAPC encourages sharing. When you're ready to give back to your peers, here are some tips for creating a successful presentation.
Choose a Topic of Interest
Choosing a topic that will appeal to a diverse group can be a little unnerving. To get the ideas flowing, ask yourself these questions:
What do you do daily? If you code for a specialty, for example, consider presenting on the code combinations you use.
What is a hot topic in your office? Was there a coding situation that occurred recently you could explain and share with others?
Is there something your coworkers would like to learn more about?
Is a new or emerging trend in healthcare affecting you? We all know that the only thing constant in healthcare is change.
You can also use AAPC as a resource for ideas. Look on the AAPC website at the agendas for upcoming conferences, for example. Maybe one of the educational sessions being presented at a conference is something you could speak about at your local chapter. You can also reach out to your local AAPC Chapter Association or National Advisory Board (NAB) representative for ideas. That's how I got the idea for this article.
Remember to look to your strengths. Maybe you have a great way of counting bullet points for evaluation and management levels, or you've perfected a way to speak to physicians about their audits. These are skills worth sharing.
Alternatively, you might choose to speak on a topic that you know nothing about, but have always wanted to learn. You'll be a subject-matter expert by the time you've researched the topic and created your presentation.
Brainstorm Ideas for
Presenting Your Topic
After you've chosen a topic, it's time to put together the presentation. Visual aids are important when presenting. Even if you don't have access to a computer during your big moment, build the presentation on paper to hand out to attendees. Remember to think of your audience: If presenting to providers, an anatomy picture is not necessary. For coders, however, it's useful to see the body part. Paper handouts also give the audience a place to take notes during the presentation.
Brainstorming ideas for your presentation will get the creative juices flowing. Here's how to do it in an organized manner:
Get out a piece of paper, or open your favorite document program on your computer, and note your topic at the top of the page. It doesn't have to be a catchy headline, yet — just the main idea.
Write or type everything that comes to mind when you think about that topic. Don't worry about making sense or sounding silly. Let the ideas flow freely.
Organize all those random thoughts, perhaps by grouping them together by theme.
Put your groupings in order based on how you want to present them. Don't spend too much time on this; you can rearrange the order later, if necessary.
Create Your Presentation
If possible, use PowerPoint or a similar product to create a visual presentation of your topic that can be projected onto a large screen for everyone to see. PowerPoint can be a fun learning experience if you've never used it. If you are a frequent user, you can create very entertaining presentations. For your first presentation, however, don't worry so much about the graphics and animations, which can be distracting to attendees if done incorrectly. Save the bells and whistles for when you become an expert user.
Presentation tips for the slide order:
The first slide is for your headline, which should describe your topic in a few short words. This slide should also include your name and credentials, and possibly your company and title, if applicable.
The second slide is usually reserved for a disclaimer, if necessary. If presenting at a company meeting you can probably get by without this. If you are presenting to a large audience, such as HEALTHCON or a webinar, however, it's a good idea to include a disclaimer to take responsibility off you in the event someone misinterprets or misuses the information you provide. A disclaimer generally says that the speaker is not responsible or liable for misinterpretation or misuse by the attendees; identifies that the information was current at the time the presentation was prepared; and states that the information you are providing should not be substituted for actual guidelines.
The third slide should list your agenda — the order in which you'll present your topic.
Beginning with the first theme, create slides with the theme at the top, and your information from your brainstorming session that goes along with it.
After you have all your themes on slides, create a summary or a closing slide. List a few of the highlights of the presentation here.
Your last slide should thank your attendees, ask for questions, and provide your contact information and the important continuing education unit code. Your attendees will not be happy if you don't have that code.
Make Slides Short and Engaging
Here is where people differ on the way they present. Some people write entire sentences on their slides and others create bullet points. One suggestion for bullets is to use the rule of four bullet points with five words each
(4 x 5 rule). Each slide should have less than 40 words. Attendees complain when presenters just read their slides. We are coders; we can read — unless there is so much text on the slide that the type is too small to see from a distance, or the font is too hard to read
(a sans serif font, such as Helvetica, is best).
Present just the main ideas on the slide, and then discuss them in detail during the session. PowerPoint has a notes feature, which allows you to type sentences or notes for your presentation. Your attendees won't be able to see these notes unless you want them to. Try to give attendees time to ask questions. Interactive information keeps the audience engaged.
Proofread Your Presentation
Proofread, proofread, proofread! After you have created your presentation, wait a day or so before proofreading. You will spot mistakes more easily when the presentation is less fresh in your mind. Be sure to check spelling and grammar, but remember: The automated software functions don't catch everything. Double-check those tricky "there, their, and they're" words. Have a good friend read through the slides, too; they always catch something.
Did I mention that you need to proofread?
Practice Makes Perfect
Practice, practice, practice! PowerPoint has a timing feature, allowing you to time yourself while giving the presentation. Pause here and there for possible questions, and run through the presentation at least twice. If you find that your presentation is too long, cut back on a few themes or ideas, or put in your notes not to spend too much time on each slide. If this is your first time presenting, ask a friend or mentor if you can go through the presentation with them.
Present with Confidence
It's normal to be nervous; even those who are seasoned presenters get butterflies before going on stage. You'll do fine, even if you're scared to death. Remind yourself that your purpose is to share something with fellow coders who have likely shared something with you. Be confident in yourself and in your material. And if you need to, picture the audience in their underwear.
Speaking of underwear, remember that how you dress is very important. Presenting in jeans and a T-shirt (even if it's AAPC garb) is not professional enough. Think business casual: dress pants and a nice shirt, knee-length skirt with a blouse and blazer, or a polo-style shirt with your business name are all good choices.
If you are interested in speaking at conferences, there is a call-for-speakers prompt on the HEALTHCON webpage (www.healthcon.com), which ends on Sept. 1, or contact your NAB representative.
I can't wait to see what you come up with!
---
Resources
www.virtualsalt.com/powerpoint.htm