Reducing Work Stress Starts at Home
August 1, 2017
Comments Off

on Reducing Work Stress Starts at Home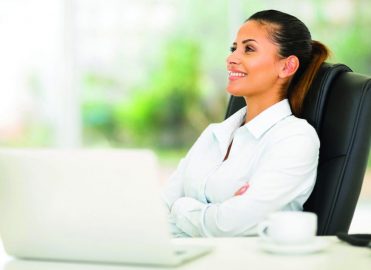 Job-related anxiety and inactivity can take its toll on your mind, body, and spirit; having good habits at home can help.
You may know steps to take on the job to be healthier and less stressed (if you don't, be sure to read the articles listed in the sidebar, "Combat Office Stress and Unhealthy Habits at Work"), but you may not know that decreasing work-related stress and offsetting unhealthy work habits starts at home.
Leave Work at the Office
When you are at home, be sure you can fully decompress from a stressful workday. That way, you can regroup and be refreshed for tomorrow's work challenges. Let home be your sanctuary. Here are a few ways to leave your work stress at the office:
Don't check your work email at home.
Don't bring office work home.
If you work from home, set designated times to start and stop working. Do your best to stop working when that designated time is fulfilled.
Don't answer work-related calls on your cell phone when you are not working. Let your voicemail answer the phone during non-work hours (unless it's urgent, or a patient).
Take Note of Stressful Situations
Sometimes it's difficult to leave your work at work when a nagging, stressful work scenario keeps playing over in your head. Perhaps you're worried about talking with a physician about questionable documentation or a denial from an insurance company, for example. When this happens, try the following fill-in-the-blank technique: "If _____ happens at work, I'll do _____." Then, write it down, pack it with the stuff you are bringing to work the next day, and then forget about it. If the scenario plays out at work, you already have a solution.
Get a Good Night's Sleep and Proper Nourishment
Coders know how important it is to get a good night's sleep before a certification exam; this holds true for your work day, too. If your body is dragging, it affects productivity. You want your body and mind to be at top performance so you can make quick decisions and work well with others. A refreshed demeanor and a good attitude play a huge factor in stress levels.
Eating a healthy breakfast is important, as well. Eat healthy portions of balanced food groups, but nothing too heavy; a plate of bacon, two eggs over easy, and a side of hash browns will weigh you down and make you sluggish. Bring light snacks and water to keep energized; and don't skip lunch. If you arrive at work hungry, that hunger can quickly turn to hangry,* especially after a few cups of coffee. No one wants to be around a hangry person, especially co-workers who want to work.
*han·gry /'haNGgrē/: Bad-tempered or irritable as a result of hunger.
Take a Vacation
"About 57% of working Americans had unused vacation time at the end of 2011, and most of them left an average of 11 days on the table – or nearly 70 percent of their allotted time off," according to a study performed by Harris Interactive for JetBlue.
One of the biggest reasons employees don't go on vacation is because of a heavy workload, and there is no back up to fill in when the employee is away. Kyra Mancine, a catalog copywriter in Rochester, N.Y., said, "I worry that if I'm gone for an extended vacation, the work won't get done and I'll come back to a huge pile-up of projects. I hate coming back to hundreds of emails," (CNN Money, May 2012). A solution is to train a fellow employee on what you do so you have someone to fill in while you are away.
Another reason that Americans aren't taking vacations is because it's not worth the stress of paying off the cost of travel. If cost is an issue, consider the cheaper option of a staycation. When you plan your staycation, however, be sure you don't waste the vacation time running errands or making appointments, use it to sight see local attractions and actually relax.
If your company offers paid time off, use it, because not everyone gets paid vacation time. According to MarketWatch, "Roughly one in four workers don't get any paid vacation from their employers." If you don't take a vacation for yourself, take it to honor those who don't have the luxury of vacation time and desperately want it.
Here are some startling statistics that show how the stress of not taking a break from work and skipping vacations is dangerous for your ticker, according to AARP:
One study of men at high risk for coronary artery disease found that those who failed to take annual vacations were 32 percent more likely to die of a heart attack. And in the long-running Framingham Heart Study, women who vacationed just once every six years were eight times more likely to develop coronary artery disease or have a heart attack than women who vacationed twice a year.
Get Moving
Most coders sit all day at a desk. Being sedentary contributes to weight gain, poor heart function, and mood disorders. According to NPR News, "Research in adults has shown exercise can boost blood flow, which can lead to improved focus and attention — not to mention a mood lift." (Your Health, Feb. 1, 2010). The Anxiety and Depression Association of America agrees with this, and says exercise can also be used as a mechanism to cope with stress and anxiety:
… physically active people have lower rates of anxiety and depression than sedentary people. Exercise may improve mental health by helping the brain cope better with stress. In one study, researchers found that those who got regular vigorous exercise were 25 percent less likely to develop depression or an anxiety disorder …
When you are home, counteract the impact of 8-hour inactivity by walking and exercising as much as you can to help your job performance, physical well-being, as well as stress levels. At work, move as much as your work schedule will allow. Walk during your work breaks. And if your employer has a fitness room, use it to clear your mind, lift your mood, and get your heart pumping.
By incorporating these healthful measures, you will soon see several changes: You'll feel better, be happier, and maybe even advance in your career.
Combat Office Stress and Unhealthy Habits at Work
Read these past Healthcare Business Monthly articles to learn in-office techniques for reducing job-related stress:
• "Healthy Habits for Working at Home"
• "Feng Shui Your Workspace to Help Achieve Success"
• "Boost Your Immune System with Office Yoga"
• "Improve Productivity with Office Yoga"
• "Your Office Could Be Making Employees Sick"
• "Wellness Apps That Help You Regain Focus"
• "Snack Attack? Fight Back!"
---
Resources
CNN Money, "Vacation? No Thanks, Boss," Annalyn Censky (May 18, 2012)
Market Watch, "Overworked Americans are stuck in a financial groundhog day," Quentin Fottrell (Feb. 2, 2017)
AARP Bulletin, "50 Ways to Live a Longer, Healthier Life," Nick Ferrari
NPR News, Your Health, "How Revving Up Your Heart Rate, Even A Bit, Pays Off," Allison Aubrey (Feb. 1, 2010)
Anxiety and Depression Association of America, "Exercise for Stress and Anxiety" (July 2014)
Latest posts by Michelle Dick
(see all)