Exclusive Interview! Get the Scoop on Medical Coding and Training
August 24, 2017
Comments Off

on Exclusive Interview! Get the Scoop on Medical Coding and Training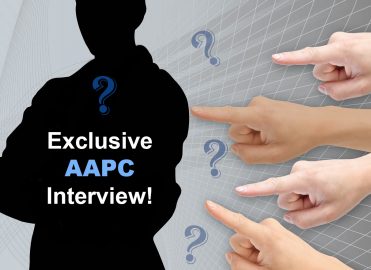 AAPC's Vice President of Member and Certification Development Raemarie Jimenez, CPC, CDEO, CPB, CPMA, CPPM, CPC-I, CANPC, CRHC, CCS, AAPC Fellow, is the go-to-girl for all things related to certification at AAPC. You may even say she is an AAPC celebrity with all the answers. Let's see how she answers some of the FAQs our members have about obtaining medical coding certification and exams.
Q: What are some of your favorite codes?
Some of my favorite codes are the hanger-on codes in the external cause codes. For example, category V86.21 Person on outside of ambulance or fire engine injured in traffic accident. Another one of my favorites is G44.82 Headache associated with sexual activity. This might seem like a risque' code, but ladies, the diagnosis is real.
Q: If I'd like to become a certified medical coder, what are my education options?
Don't even get me started. But, since you asked… There are so many options for training, depending on the experience level of the student:
Students new to the healthcare industry should start with medical terminology and anatomy. Then, they can start the comprehensive coding course.
Students with previous clinical experience or who have taken medical terminology and anatomy, can start the comprehensive coding course.
Experienced coders can take the Certified Professional Coder (CPC®) exam review which is an 8-hour online review focusing on the competencies tested on the CPC® exam, most missed coding concepts, and test strategies. This is an excellent review regardless of where you received your education.
There are study guides, which include additional practice test questions to help you gain confidence in what you know and understand what you don't know.
Practice exams provide exam questions that mimic the certification exam.
Q: Which is better medical coding (CPC) or medical billing (CPB)?
CPC®. JUST KIDDING! They both have amazing opportunities, and it depends on your career aspirations and experience. Here is the difference: CPCs® review medical records and translate the information into codes submitted to payers. It requires you to have a strong foundation in medical terminology and anatomy. You need to know how to review medical records, abstract important information, and determine the appropriate codes. Certified Professional Billers (CPBs®), on the other hand, process claims with the correct demographic, insurance, and coding information. They post payments and resolve insurance denials.
Q: What are the chances of someone passing the CPC® exam the first time?
Students who complete the online AAPC CPC® exam preparation course have an 88 percent pass rate.
Q: How long do I have access to online Practice Exams?
Practice exams can be accessed for one year from the date of purchase and can be retaken as many times as you want. This is an excellent tool for test preparation. If you take all three practice exams and allow for 5 hours and 40 minutes to complete all three practice exams, it will help you gauge your time for the certification exam. Time is challenging for most test takers.
Q: Why can't I take the exam online?
AAPC does not offer online testing, partly because we don't want to reduce the prestige of our credentials. Exams are proctored and can be taken through your local chapter or an approved test site.
Q: What are some things you do (did) to help relax before a big exam?  
I do something I love to help me relax. For example, you can read non-coding related books, watch a movie, snuggle with your pet, or go for a run. Just make sure you are not studying. Cramming the night before the exam is not productive. In your study schedule, give yourself the night off before the exam.
Q: When taking the exam, what is allowed in our books and do proctors check them?
Code book checks are performed by proctors prior to the exam. Handwritten notes are acceptable in the coding books, only if they pertain to daily coding activities. Questions from the study guides, practice exams, or the exam itself are prohibited. Only tabs (no dividers) may be inserted, taped, pasted, glued, or stapled in the manuals, as long as the intent is to earmark a page with words or numbers, not supplement information in the book.
Q: Can I cancel the exam if I can't make it the day it's scheduled, and is it refundable?
If you need to cancel an exam and reschedule, do it 21 days prior to the test date and there is no charge. If you cancel within 21 days from the test date, there is a fee ($100 for the United States, $150 for international exams). If you just don't show up for an exam, it's not refundable.
Q: I'm on pins and needles waiting for my exam results. When and how will I receive them? 
Although we are pretty quick compared to most credentialing organizations, waiting still stinks. You can check your results online by logging into the AAPC website and click on "Exams" on the left navigation. There you can review the results. Results typically take 7-10 business days. Some students just keep hitting the refresh button, that's how anxious they are to see the results.
Q: I passed the exam, and now I have that pesky "Apprentice" after my credential. How do I make it go away?
Although the "A" may feel like you are wearing the Scarlet Letter when applying for a job, there are two ways to remove it, which will give you two years' worth of hands-on coding experience. Here's how:
For the first year, complete a comprehensive coding course (minimum of 80 hours) to receive one year toward the two years' experience requirement to remove the apprentice designation.
The second-year requirement can be accomplished by working one year on the job in a coding-related position or completing Practicode, which includes 660 operative and progress notes that provide real coding cases.
Complete two years of hands-on experience in a coding-related career position.
Latest posts by Michelle Dick
(see all)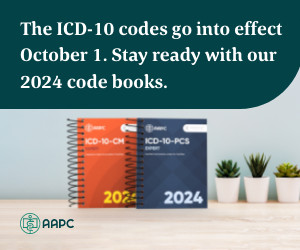 No Responses to "Exclusive Interview! Get the Scoop on Medical Coding and Training"