Keep Up with Current Treatment for Ovarian Cancer
September 1, 2017
Comments Off

on Keep Up with Current Treatment for Ovarian Cancer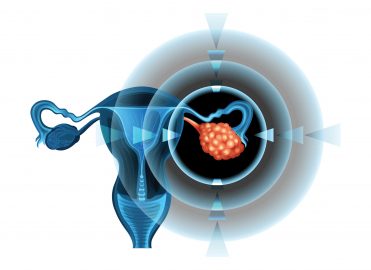 September is National Ovarian Cancer Awareness month, and a good time to focus on detection, treatment, and coding.
Ovarian cancer is a growth of abnormal malignant cells that begins in the ovaries. Fallopian tubes are also a site of origin in a fraction of ovarian cancers. Ovarian cancer ranks fifth in cancer-related deaths among women and is the deadliest of the gynecologic cancers, with a five-year survival rate of just 46.2 percent.
Due to the location of the ovaries in the body, most ovarian cancers are not diagnosed until the late stages. When diagnosed in the early stages, the percentage of survival is much higher, at 91.2 percent. A typical woman's lifetime risk for developing ovarian cancer is one in 75. In 2016, 22,280 cases were diagnosed and 14,240 women died from ovarian cancer, according to Ovarian Cancer Research Fund Alliance (OCRFA). These statistics show why it's important to understand the signs and symptoms of ovarian cancer.
BEAT Cancer
Ovarian cancer can be hard to detect, but it does have signs and symptoms. An easy way to identify and remember the symptoms is with the acronym BEAT:
Bloating that is persistent
Eating less, feeling fuller
Abdominal and/or back pain
Trouble with your bladder and bowels
If you have these signs and symptoms, make an appointment with your gynecologist.
This image is provided courtesy of Norma Leah Ovarian Cancer Infinitive.
Standard of Treatment
The standard of treatment for most ovarian cancer patients starts with a debulking surgery performed by a gynecologic oncologist. During the surgery, as much of the cancer is removed as possible. The tumors taken out during the debulking surgery are then used to determine staging.
CPT® codes for debulking surgery:
58953 Bilateral salpingo-oophorectomy with omentectomy, total abdominal hysterectomy and radical dissection for debulking;
58954 with pelvic lymphadenectomy and limited para-aortic lymphadenectomy
Following debulking surgery, the preferred standard of care is six weeks of chemotherapy. Front line chemotherapy drugs for ovarian cancer treatment are a combined treatment of a platinum-based drug and a taxane. A study published in July 2013 in the American College of Obstetricians and Gynecologists found that only 37 percent of patients receive the preferred standard of treatment, despite evidence showing that it is the most effective.
Code Chemotherapy Drugs
Platinum-based drugs include:
J9060 Injection, cisplatin, powder or solution, 10 mg
The trade name for cisplatin is Platinol AQ.
J9045 Injection, carboplatin, 50 mg
The trade name for caraboplatin is Paraplatin.®
Taxanes code:
J9264 Injection, paclitaxel protein-bound particles, 1 mg
The trade names for paclitaxel include Onxol® and Taxol.
J9171 Injection, docetaxel, 1 mg
The trade name for docetaxel is Taxotere.
There are also combination chemotherapy drugs J9040 Injection, bleomycin sulfate, 15 units and J9181 Injection, etoposide, 10 mg, which are used for germ cell tumors, not epithelial ovarian cancer. Germ cell tumors make up about 5 percent of ovarian cancers and are often benign.
Chemotherapy is administered based on the stage of the disease. In 2006, the National Cancer Institute announced that women with advanced stages of disease should be treated with a combination of chemotherapy administered intravenously and through an intraperitoneal (IP) port.
An IP port is a catheter that is surgically implanted into the peritoneum, or abdominal cavity. The catheter connects to a port that a surgeon implants between a rib and an abdominal muscle. The chemotherapy is administered through the IP port and bathes the internal organs in the abdominal cavity. The IP port is usually implanted during the debulking surgery (OCRFA).
Intravenous chemotherapy can also be administered through a port or through a peripherally-inserted central catheter (PICC line). This port connects to a large vein in the chest or upper arm. A PICC line also connects to a large vein, but it is a catheter that sticks out of the skin and does not need to be surgically implanted, as do ports (American Cancer Society).
CPT® codes for chemotherapy administration:
96413 Chemotherapy administration, intravenous infusion technique, up to 1 hour, single or initial substance/drug
96415 Chemotherapy administration, intravenous infusion technique each additional hour (list separately in addition to code for primary procedure)
96446 Chemotherapy administration into the peritoneal cavity via indwelling port or catheter
Change the Future
Clinical trials are looking for better frontline treatment options for ovarian cancer, as well as better treatments for recurrence. They could potentially change the future of what we now consider the standard of treatment. With high recurrence, finding the best initial treatment is key. Recurrence is common with ovarian cancer, and the chances of recurrence changes depending on initial staging of the disease. According to OCRFA:
Patients diagnosed in stage I have a 10 percent chance of recurrence.
Patients diagnosed in stage II have a 30 percent chance of recurrence.
Patients diagnosed in stage III have a 70 to 90 percent chance of recurrence.
Patients diagnosed in stage IV have a 90 to 95 percent chance of recurrence.
During this ovarian cancer awareness month, share the acronym BEAT with the women in your lives, and let's raise awareness together!
---
Resources
American Cancer Society (July 2015):
www.cancer.org/treatment/treatments-and-side-effects/central-venous-catheters.html
Norma Leah Ovarian Cancer Initiative. (July 2017): http://normaleah.org/
OCRFA (July 2017): https://ocrfa.org/patients/about-ovarian-cancer/treatment/chemotherapy/
Latest posts by Bridget Toomey
(see all)