Educate New Providers to Make the Most of HCCs
September 1, 2017
Comments Off

on Educate New Providers to Make the Most of HCCs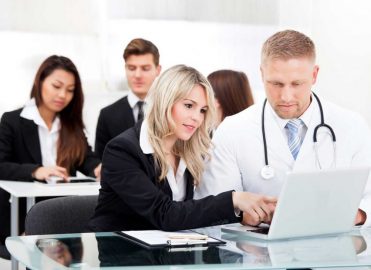 With understanding comes proper reimbursement and compliance.
Hierarchical category condition (HCC) coding is the risk model that the Centers for Medicare & Medicaid Services (CMS) uses to determine the acuity of Medicare Advantage (MA) patients. It is a major factor influencing reimbursement for patients. Despite its importance, the methodology is not well known among physicians. An educational program for new physicians can provide the tools needed for them to confidently capture HCC codes and ensure a high level of compliance.
Educating New Providers
Establishing an orientation to HCC coding for recently hired physicians is important because many aspects of HCC coding are not intuitive for them. They should be made aware that not all chronic conditions contribute to the risk adjustment factor (RAF) calculation. For example, conditions known to affect clinical mortality, such as hypertension, coronary artery disease, hypercholesterolemia, and dementia, do not affect the RAF, in most cases. Addressing, documenting, and coding for these conditions are integral to high-value care, but don't figure into HCC coding.
On the other hand, new physicians often address conditions such as diabetes-causing peripheral neuropathy, but may fail to document and code the complication because it is difficult to find a more specific code in the electronic health record (EHR). Without documenting and coding diabetes-causing complications (which has a higher RAF), only diabetes without complications (which has a lower RAF) can be submitted. Educating new doctors helps them understand the loss of RAF caused by failing to document and code the more specific condition.
New physicians should learn that RAF scores are calculated every year, so relevant, present health conditions must be coded every year to maintain that patient's RAF, regardless of what seems obvious even to non-clinicians. For example, if a patient with a below-knee amputation (which is an HCC code) does not have the condition recoded every calendar year, to CMS, it's as if that patient's leg grew back.
Teach starting physicians that documenting beyond just the chief compliant is important, not just for general coding, but also for HCCs. Many new physicians do not document chronic conditions affecting the evaluation and management of a patient's reason for presentation. For example, a patient may have come in for a cough, but if the physician recommends a sugar-free cough syrup because of the patient's diabetes, the physician should document and code the diabetes, as well.
Use Audits as a Learning Tool
With any aspect of coding, new physicians should be audited and given feedback on their coding performance until they exhibit some level of compliance. The same is true for HCC coding. The auditing should have the dual focus of capturing all the appropriate HCC conditions and complying with all the necessary supporting documentation.
Although coders are indispensable, getting feedback from an HCC physician champion can have an even bigger impact. Group educational sessions are helpful for new physicians to understand they are not alone in their struggle to learn HCC coding. Interactive discussions with clarifying questions can be helpful. Having a physician champion present the material lends additional weight to the importance of HCC coding. Face-to-face education is highly effective, as well. Younger physicians are often comfortable with electronic forms of communication. Webinars can be used if physician offices are far from each other.
Lastly, educate new physicians on the clinical importance of addressing HCC conditions. By addressing all their patients' meaningful chronic conditions, physicians ensure they are not overlooking a condition that should be addressed on a periodic basis.
---
Jeffery Lee, MD, CPC, oversees coding compliance and serves as assistant medical director at Facey Medical Group, a multi-specialty, staff model group of over 200 providers in southern California. He is a fellow with the American College of Physicians, board-certified in internal medicine, a graduate of Boston University School of Medicine, and has practiced primary care for over 13 years. Lee is a member of the Mission Hills, Calif., chapter.
Latest posts by Guest Contributor
(see all)