AAPC Members Unite to Help Houston Area
August 31, 2017
Comments Off

on AAPC Members Unite to Help Houston Area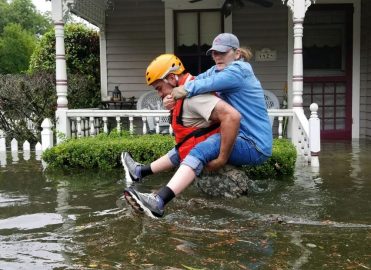 A staggering 20 trillion gallons of rain have fallen on the Houston area since Hurricane Harvey made landfall less than a week ago. The storm has taken at least 31 lives and destroyed an estimated 30,000 – 40,000 homes in the region. Over 32,000 people are in shelters across the state. The devastation is breaking records left and right.
AAPC in Houston
AAPC has about 1,800 members in the Houston, Texas, chapter, and another 750 in neighboring chapters. Reports of personal property loss are starting to come in, accompanied by individual scenarios of unimaginable difficulties they now face.
There is some light peering through the clouds, though. As with every national disaster, the rescue and rebuilding efforts are made together. FEMA has delivered 80 loads of emergency supplies already, including cots, blankets, meals, comfort kits, kitchen necessities, and cleaning materials. In addition, 24,000 National Guard troops have been deployed to assist in the relief efforts, and this service is expected to continue for months.
Support Our Colleagues
To support AAPC members, a GoFundMe campaign has been created to replace home essentials and professional resources. All donations received will be administered by the AAPC Chapter Association, to be coordinated through local chapter leaders for the best distribution of necessary items.
If you'd like to contribute and share this campaign, visit the GoFundMe page at https://www.gofundme.com/aapc-cares-about-houston.
For those in the Houston area with needs, please apply to Project AAPC at https://www.aapc.com/memberarea/chapters/scholarship-application.aspx/ If you can't apply online for any reason, call AAPC at 1-800-626-2633; a customer service representative will fill out the application on your behalf.
Latest posts by Dave Blackmer, MSC
(see all)