HCCs Point to Risk Adjustment Compliance
October 1, 2017
Comments Off

on HCCs Point to Risk Adjustment Compliance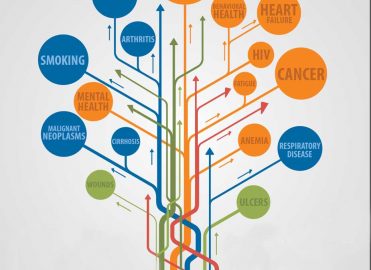 Understand the factors that contribute to health plan payment determination.
Risk adjustment is a process by which health plans factor in expenditures associated with their enrollees' (beneficiary/patient) individual health status. Most health plans involved in risk adjustment receive federal funding to provide health insurance to individuals who are considered high risk due to chronic conditions. The more chronic conditions a patient has, the more severe their health status, the more money the health plan receives each month.
Here's a hypothetical example: Two patients begin the year without chronic conditions assigned. Each patient is allocated $1,000 for care. But if Patient A develops a chronic condition, the complexity (and cost) of their care will become greater, and $1,500 may be allocated for their care. Patient B, who has no chronic conditions, continues to have $1,000 allocated.
Is Risk Adjustment New?
Risk adjustment has been around for many years and, as shown in the above example, affects how health plans are reimbursed. In the past, your provider may have received a letter from a health plan stating that certain diagnosis codes were not included on their claim. At that time, providers were paid regardless of whether this information was included. Coders used to tell providers to only report the conditions affecting the patient that day.
Risk adjustment coding enables health plans to account for chronic conditions that could affect the patient. These conditions do not need to be reported at every visit, but must be reported annually, at a minimum. Some plans may request this information more frequently.
Why Report Conditions Annually?
Certain conditions, such as amputation and transplant status, may seem like a non-issue after a while and eventually "disappear" from the medical record, but there is a valid reason for reporting these chronic conditions anew, each year. Health plans "wipe the slate clean" at the end of each year; and in doing so, every patient begins the new year with the same base risk score. As such, failing to report a patient's chronic conditions annually is essentially misrepresenting their health status.
Which Health Plans Are Involved?
When you hear risk adjustment discussed, you also may hear a reference to "HCCs," which stands for hierarchical condition categories. HCCs, represented by HCC codes, are used by the Centers for Medicare & Medicaid Services (CMS) to categorize members in Medicare Advantage (MA) plans. MA plans are managed-care health plans administered by an MA organization. A commercial carrier (e.g., Humana Gold Choice, Empire Medicare Advantage) may sponsor these health plans. In the world of risk adjustment, MA plans have been around the longest.
MA plans are not the only risk adjustment health plans, however. The Affordable Care Act's marketplace health plans and many Medicaid-managed care plans are also risk adjustment-based plans with a risk adjustment payment methodology (e.g., U.S. Department of Health & Human Services-Hierarchical Condition Categories (HHS-HCC) and Chronic Illness and Disability Payment System (CDPS)).
Where Does Coding Fit In?
Provider documentation drives risk adjustment. Many providers contract with health plans and agree to be paid for their services based on a fee schedule. The health plan, if a risk adjustment plan, receives its funding from another source (usually a federal healthcare system, such as CMS, which in turn collects monies from health plans not participating in risk adjustment).
The provider submits a claim to the health plan to request payment for rendered services. The health plan processes the provider's claim to determine payment. Any HCC codes reported by the provider are used by the health plan to help determine how many and which chronic conditions a patient has. The health plan may request records from the provider for review to ensure all of a patient's chronic conditions and the status of those chronic conditions have been captured using HCC codes. The health plan reports the patient's health status (based primarily on chronic conditions) to their funding source to request payment determination. The funding source, like CMS, pays the health plan based on the enrolled patient's health status. The payment received by the health plan is used to pay the provider claims, per the contracted fee schedule.
What Determines the Payment Amount Per Patient?
The primary driver of the patient health status is any chronic condition or combination of chronic conditions affecting a patient. Additional factors include the patient's age, gender, geographic location, etc. The specific items determining the payment amount may vary based on the specific payment methodology used for each health plan. For example, the HCC payment methodology uses a "risk score" to represent the patient's health status. The risk score is determined based on the patient's chronic conditions, age, gender, institutionalization status, Medicaid status, current reason for Medicare eligibility, and the original reason for entitlement to Medicare.
Tip: See how each of these areas directly affects a risk score, and consequently the health plan payment, using a risk score calculator. SCAN Health Plan's HCC University (http://www.hccuniversity.com/risk-score-calculator/) risk score calculator is free.
Do All Chronic Conditions Affect Payment?
Each risk adjustment payment methodology outlines the specific chronic conditions impacting the status/score. Sometimes, the payment methodology includes a ranking of the conditions. The HCC payment methodology, for example, includes a hierarchy of conditions; whereby, if a patient has multiple conditions, one condition may "out rank" another. The associated adjustment represents both conditions, requiring you to report only the more significant condition.
Some acute conditions also may contribute to a patient's health status/risk score. For example, for some payment methodologies, conditions such as acute hepatic failure carry an associated score adjustment. For a sample list of conditions affecting risk scores in the 2016 HCC payment methodology, go to: www.hccuniversity.com/asset/b9b5deb0-79b3-484a-8099-da1992592e74.
Risky Business
Provider documentation of a patient's health status drives not only the provider's payment, but the risk adjustment payment received by the health plan insuring that patient. That, in turn, affects the patient's insurance premium. A number of factors contribute to the overall payment determination, but the primary driver is the patient's health status — specifically, the conditions affecting the patient.
---
Co-written by: Brenda Edwards, CPC, CDEO, CPB, CPMA, CPC-I, CEMC, CRC, AAPC Fellow, is senior managing consultant for SCBI. She has worked in healthcare for 30 years. Edwards presents at conferences, local chapter meetings, workshops, and webinars. She is past chair and served on the AAPC Chapter Association board of directors from 2010-2014. Mentoring fellow members of AAPC is Edwards' passion. She co-founded the Northeast Kansas (NEKAAPC) local chapter.
Latest posts by Chandra Stephenson
(see all)