ICD-10-CM Coding for Anxiety
In Coding
October 9, 2017
Comments Off

on ICD-10-CM Coding for Anxiety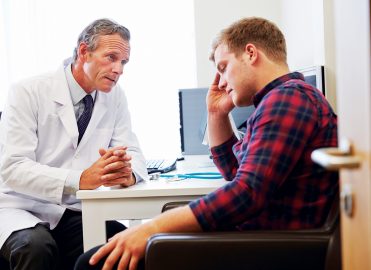 Generalized anxiety disorder (GAD) is excessive fear and worry that an individual finds difficult to control. The disorder develops gradually, and can begin at any age.
According to the Fifth Edition of the Diagnostic and Statistical Manual of Mental Disorders (DSM-5), the anxiety and worry are associated with three (or more) of the following six symptoms (with at least some symptoms having been present for more days than not, for the past six months):
Restlessness or feeling keyed up or on edge
Being easily fatigued
Difficulty concentrating or mind going blank
Irritability
Muscle tension
Sleep disturbance
The fear associated with GAD interferes with the person's ability to sleep, think, or function in some other way. Symptoms are emotional or behavioral. The direct cause of anxiety disorders is still unknown, but there are factors that put people at risk of an anxiety disorder:
Chemical imbalances
Long-lasting stress
Family history of anxiety
Trauma
Abuse of biological agents such as alcohol, drugs, or prescription medication
In ICD-10-CM, GAD is coded to F41:
F41.0 Panic disorder without agoraphobia
F41.1 Generalized anxiety disorder
F41.3 Other mixed anxiety disorder
F41.8 Other specified anxiety disorder
F41.9 Anxiety disorder, unspecified
Excludes 2, Anxiety in:

Acute stress reaction
Transient adjustment reaction
Neurasthenia
Psychophysiologic disorders
Separation anxiety
Example: A 30-year-old woman comes to her internist with a chief complaint of muscle tension. She states that she has experienced a considerable amount of muscle tension during her entire life, but that it has become increasingly worse over the past 7 months. She describes herself as a worrier, and since her first child was born last year, her worrying has increased. She is unable to stop worrying even when she actively tries to do so. She worries about a whole host of issues, the status of U.S. relations with other countries, whether or not she and her husband can afford to put their child through college, her husband's health, and the stock market. The patient reports symptoms of insomnia and restlessness. She can fall asleep without a problem but wakes up in the middle of the night and cannot fall asleep again. She describes her mood as "okay" and denies any substance use other than an occasional glass of wine on the weekends.
The physician diagnoses her with GAD. The correct ICD-10-CM code is F41.1 Generalized anxiety disorder.
Latest posts by John Verhovshek
(see all)
No Responses to "ICD-10-CM Coding for Anxiety"