Feds Appoint Telehealth Centers as Telemedicine Grows
By Brad Ericson
In CMS
October 9, 2017
Comments Off

on Feds Appoint Telehealth Centers as Telemedicine Grows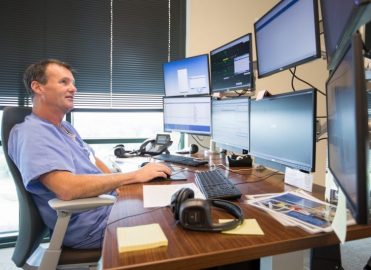 Medical centers in Mississippi and South Carolina have been named Telehealth Centers of Excellence by the Health Resources and Services Administration (HRSA), making them Department of Health and Human Services (HHS) primary research facilities for telemedicine. Each organization receives $600,000 in initial grants with the opportunity to receive $2 million in funding for two years. The awards coincide with Senate approval of a bill that would expand Medicare coverage of telehealth for chronically ill patients.
Telehealth in Mississippi
The University of Mississippi Medical Center (UMMC) established its Center for Telehealth 14 years ago to provide care for the state's rural population. A UMMC press release said more than 500,000 patient visits in 69 of the state's 82 counties have been recorded since the center began with just three sites, expanding to more than 200 sites today, not including the homes of patients. The center connects patients and caregivers to Medical Center health care providers remotely, in real time, using video calls and interactive tools.
The Center for Telehealth provides remote, on-site access to caregivers in more than 35 specialties, including urgent care, trauma, mental health, dermatology, cardiology, infectious diseases, and Alzheimer's and dementia care.  Pediatric telehealth specialties include remote concussion evaluation, cardiology, neurology, psychiatry, genetics and urology.
Telehealth nurse practitioners are stationed in the emergency departments of 17 rural Mississippi hospitals to treat patients via a multidisciplinary team that includes a certified emergency medicine physician on the UMMC campus.
Telehealth in South Carolina
The Medical University of South Carolina (MUSC) provides telehealth services to more than 200 location statewide, although its MUSC Health Center of Telehealth is two years old. As a founding member of the state's South Carolina Telehealth Alliance, a state-wide consortium serving "a state with largely rural areas and high rates of chronic disease among a particularly impoverished and medically underserved population.
CHRONIC Care Act and Telehealth
The HRSA grants were announced the same week the Senate passed Orrin Hatch's (R-UT) Creating High-quality Results and Outcomes Necessary to improve Chronic Care Act (CHRONIC). The act expands home-based care and cements managed and accountable care launched as part of the Affordable Care Act (ACA or Obamacare). It also includes language dedicated to expanding access to telehealth. Medicare currently limits the availability of telehealth to beneficiaries located in rural areas. The act includes four Medicare expansions:
First – Patients on home dialysis would be able to receive required monthly clinical assessments via telehealth from home or their dialysis center without geographic restrictions.
Second – Patients presenting with stroke symptoms can access telehealth services regarding geographic area.
Third – Medicare Advantage plans would build expanded telehealth coverage into their base plans.
Fourth – Accountable Care Organizations (ACOs) could provide telehealth services to patients regardless of geographic locations.

Latest posts by Brad Ericson
(see all)