November Is National COPD Awareness Month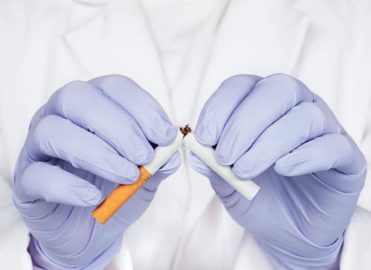 Chronic obstructive pulmonary disease (COPD) is a blanket term for progressive diseases of the lower respiratory tract — most commonly, chronic bronchitis and emphysema. Approximately 15.7 million men and women in the United States were reportedly diagnosed with COPD in 2015; millions more are believed to go undiagnosed every year, according to the Centers for Disease Control and Prevention (CDC).
Everyone plays a role in battling COPD: Patients must be vigilant in receiving annual wellness exams; practitioners must educate patients on the causes and early signs of COPD; and medical coders must ensure patient diagnoses are reported with the utmost specificity.
Chronic Lower Respiratory Diseases
An individual diagnosed with chronic obstructive pulmonary disease (COPD) may have one or both of these chronic lower respiratory diseases:
Emphysema – Walls of alveoli (air sacs in the lungs) are destroyed, reducing the exchange levels of oxygen and carbon dioxide.
Chronic bronchitis – Inflamed bronchial tubes lose their shape and become clogged with mucus.
Annual Wellness Exams Allow Early Detection
Preliminary warning signs of COPD are easy to miss, but important to catch. Although there is no cure for this life-threatening disease, early diagnosis, education, and treatment can slow its progression.
Global Initiative for Chronic Obstructive Lung Disease (GOLD) guidelines map out the different stages of COPD:
Stage 1 – The patient has very mild COPD with an FEV1 (forced expiratory volume in one second) of 80 percent or higher of normal. Reduced airflow often goes unnoticed or is written off to "getting older."
Stage 2 – The patient has moderate COPD with an FEV1 between 50 and 80 percent of normal. The patient develops chronic coughing, wheezing, and shortness of breath.
Stage 3 – The patient has severe emphysema with FEV1 between 30 and 50 percent of normal. Symptoms worsen and may impede normal activity.
Stage 4 – The patient has very severe, or "end stage," COPD with a lower FEV1 than stage 3, or has stage 3 FEV1 and low blood oxygen levels. Lung function has deteriorated to life-threatening levels.
Education Is Key
Although pulmonary function tests (PFT) can confirm COPD, even at stage 1, Medicare does not deem PFT reasonable and necessary when a diagnosis or evaluation can be made clinically, or when test results are not necessary to manage the patient's disease.
With or without PFT, the clinician should document any risk factors (e.g., age, race, gender, family history), symptoms (e.g., shortness of breath, wheezing, cough, abnormal sputum), and physical exam findings (e.g., hypoxia, muscle wasting, tachypnea, tachycardia, jugular vein distension). This documentation will help track the progression of the disease and prove future PFT and therapies reasonable and necessary.
Clinicians also should educate patients about COPD and recommend smoking cessation counseling, if applicable. Influenza, pneumococcal, and Tdap vaccinations should be recommended, as well, to protect patients against acute upper and lower respiratory viral infections. Approximately 174,000 emergency room visits related to acute exacerbation of COPD occur every year, according to the CDC.
Code COPD Clearly
If a definitive diagnosis of COPD is not made, code only the symptoms. When COPD is confirmed, report J44.x Other chronic obstructive pulmonary disease, the type of asthma, if applicable (J45.x Asthma), as well as a Z code to identify any documented factors influencing the patient's health status. Although smoking cigarettes is the leading cause of COPD, one out of six individuals diagnosed with COPD has never smoked. Exposure to environmental or occupational irritants (e.g., Z57.2 Occupational exposure to dust) or genetics can factor in, too.
Coding Tip: Follow-up testing may be appropriate to monitor acute exacerbation of interstitial lung disease. Per ICD-10 guidelines, "If the same condition is described as both acute (subacute) and chronic, and separate subentries exist in the Alphabetic Index at the same indention level, code both and sequence the a
Upon Diagnosis, There Is Treatment
Although COPD causes irreversible lung damage, therapies beneficial in improving quality of life include (in order of severity):
Self-management and smoking cessation (if applicable)
Bronchodilator
Medication (e.g., inhaled corticosteroid)
Pulmonary rehabilitation
Oxygen
Surgery
Medicare covers pulmonary rehabilitation for moderate to severe COPD.
Consider Quality Reporting
COPD: Long-acting Inhaled Bronchodilator Therapy is a quality measure (NQF 0102) in the Merit-based Incentive Payment System (MIPS). Although, it's not a high-priority measure, it's easy enough to fulfill submission requirements, especially if your practice sees a lot of Medicare patients. Simply report the percentage of symptomatic patients aged 18 years and older with a diagnosis of COPD who have an FEV1 less than 60 percent predicted and who were prescribed a long-acting inhaled bronchodilator. Clinicians who are ineligible to participate in MIPS may report this data voluntarily (without penalty).
The ABCs of PFTs 
Pulmonary function tests (PFTs) measure the mechanical ability to move air in and out of the lungs and the effectiveness of getting oxygen in to, and carbon dioxide out of, the body. PFTs include:
Spirometry
Lung volume
Diffusion capacity
Lung compliance
Pulmonary studies during exercise testing
Pulmonary diagnostic testing and therapy services are reported using CPT® codes 94010-94799, which include laboratory procedures and interpretation of the results.
To support PFT services, the provider must document the presence or absence of lung dysfunction, suggested by history or clinically significant physical signs and symptoms, or by other diagnostic tests. There also must be a referral on file; and all studies require an interpretation with written report.
Refer to your Medicare administrative contractor's (MAC) local coverage determination (LCD) for PFT for a list of ICD-10 codes that support use of these procedure codes.
Note: MACs have updated their LCDs for PFTs. Noridian Medicare, for example, has made the following changes to their LCD for PFT (L34247), effective Oct. 1, 2017:
Added: I27.20-I27.24, I27.29, I27.83
Deleted from Group 1 codes that support medical necessity: I27.2
Revised: M33.01, M33.02, M33.09, M33.11, M33.12, M33.19
Resources
Summary Health Statistics: National Health Interview Survey, 2015, https://ftp.cdc.gov/pub/Health_Statistics/NCHS/NHIS/SHS/2015_SHS_Table_A-2.pdf
www.cdc.gov/nchs/fastats/copd.htm

https://med.noridianmedicare.com/documents/10525/5321621/Local+Coverage+Determination+for+Pulmonary+Function+Testing+%28L34247%29
Latest posts by Renee Dustman
(see all)
One Response to "November Is National COPD Awareness Month"