Look for Gregory L. Schnitzer in the Stars
November 1, 2017
Comments Off

on Look for Gregory L. Schnitzer in the Stars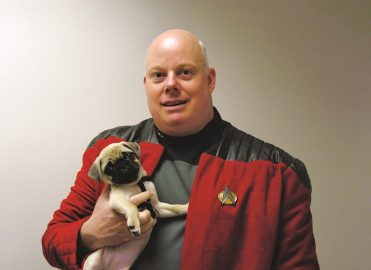 … "Where no man has gone before."
— Star Trek, 2nd Pilot Episode, William Shatner as Captain James Kirk
On Sept. 15, AAPC members lost a friend and long-time supporter of our organization, Gregory Schnitzer, RN, CPC, CPC-H, CCS, CCS-P, RCC, CHC. He was a dedicated father and husband, true gentleman, medical coder, scholar, and Star Trek enthusiast and Web series actor.
Barbara Cobuzzi, MBA, CPC, COC, CPC-P, CPC-I, CENTC, CPCO, AAPC Fellow, a long-time friend of Schnitzer's, said she was "struck and saddened that he has passed." Schnitzer, she said, "gave coding advice to a lot of people, and was a pillar of the coding community." She recalls fondly:
I first met [Greg] many years ago, in the 1990s … Like me, he was an early, heavy contributor in the old Part B Listserv, the first internet forum where coders networked and were there for each other in the late 1990s. He then was a heavy contributor to the CRN Listserv and forums in the early 2000s. He never was reticent about researching and helping a fellow coder, even complete strangers.
Greg was a guy who paid it forward and you could always count on to answer your email questions, not only with the answer, but with where it was in writing, fully supporting his answer. He was a Six Sigma Black Belt way before almost anyone in healthcare was.
Jean Stoner, CPC, feels the loss of Schnitzer, as well. He was a friend and colleague of hers at CodeRyte, where he worked from 1999-2009. She said:
"Seasoned" coders remember his messages on the Part B Listserv, RBMA coding forums, and other coding support forums. He always provided the most impeccably researched coding advice and only used the official resources for information. You always knew his coding advice would be correct, compliant, and with a dash of humor. You knew that when you met him, he'd greet you with a hug.
Schnitzer also made lasting impressions on other colleagues at CodeRyte, who shared their anonymous sentiments and stories, which reflect his generosity and uniqueness:
I asked Greg about learning more on how to become a Six Sigma Black Belt, as he was. I expressed interest in courses and getting books. He asked me how much it would cost, so I sent him the website/info. The next thing I know, he sent me a card in the mail with a $600 check of his own money as a gift. I simply could not accept it as it was such a generous gift, and returned it with a card and phone call, thanking him for thinking of me and my personal/work growth.
One of my favorite memories was back in CodeRyte days: When he was busy, he always had an IM tag line of "Buried under heavy furniture." He had such a sense of humor while being so serious at times — you never expected it. He was a wealth of knowledge in the coding world, and a true friend. … I am so thankful I picked up the phone that day and heard his voice on the other end offering me a job at CodeRyte. Thank you, Greg!
I fondly recall Greg teaching me about coding, the CodeRyte application, the history, and everything CodeRyte. I also recall him telling me about how he got to work on the fan-produced Star Trek episodes by agreeing to be the "set nurse." It was very Greg to find a way to contribute to that labor of love project by leveraging whatever skills were at his disposal.
There is a saying, "A good manager is a person who isn't worried about his own career but rather the careers of those who work for him." Greg was truly one of those good managers. … He understood the meaning of the word "team." He was never afraid of speaking out for his team members. He was hard-working, honest, well organized, easy to work with, a good listener, motivator, caring, and had a great sense of humor. Greg will be remembered for his sweet and caring nature, his many contributions, his personal integrity, and for his friendship. May God bless him with peace and continue to use him to affect others around him.
Little Known Facts About Gregory L. Schnitzer
Born and raised in North Hollywood California
Devoted husband to Sarah and father to two daughters, Olivia and Julia
Six Sigma Black Belt
Knowledgeable fan of the Star Trek universe, particularly the original series
Co-producer, make-up, actor, and props manager for the fan-created, Web-based series Star Trek New Voyages
Psychiatric and ICU nurse background
Former audit specialist for the University of Pennsylvania
Frequent contributor to coding and compliance journals
Owner of many Star Trek uniforms and props
Maintained an IMDb page
Skilled at Judo
Harry Potter fan
Knowledgeable about NASA missions, particularly Gemini, Apollo, and Space Shuttle missions
Collected NASA mission badges
Camp counselor at the East Valley YMCA in North Hollywood
Encompassing Schnitzer's love for "Space, the final frontier," Stoner said, "We all miss you Greg, and we'll look for you in the stars." Thanks for all you've done.
Latest posts by Michelle Dick
(see all)