Myocardial Infarction: Don't Skip a Beat in Dx Coding
November 1, 2017
Comments Off

on Myocardial Infarction: Don't Skip a Beat in Dx Coding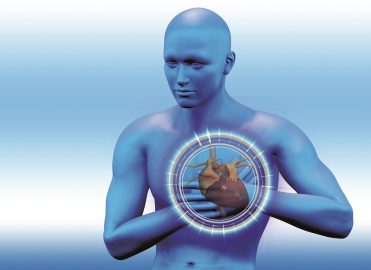 ICD-10 updates for 2018 acknowledge two types of acute myocardial infarction to differentiate, document, and code.
By Artemio Castillejos, CPC, CPMA, CCVTC, CCS, CL6SGB
Proper documentation and coding of conditions are vital to recognizing clinical significance and prognostication, communicating with other clinicians, and receiving appropriate reimbursement for resource utilization. Starting Oct. 1, 2017, you can select a specific ICD-10-CM code for a patient admitted with acute myocardial infarction (AMI) type 1 or type 2. The new guidelines imply a type 1 myocardial infarction (MI) is different than a type 2 MI.
Clinical Review of Types 1 and 2
Type 1 MI is caused by an acute atherothrombotic coronary event. This is usually secondary to atherosclerotic plaque rupture, ulceration, fissuring, erosion, or dissection resulting in intraluminal thrombus.
Type 2 MI is a cell death in a non-anatomical distribution based on supply (e.g., hypoxemia, anemia, and hypotension) and demand (e.g. tachycardia, hypertension) mismatch. A coronary vasospasm and/or endothelial dysfunction have also the potential to cause type 2 AMI. The Third Universal Definition of Myocardial Infarction defines type 2 AMI as instances other than coronary artery disease (CAD) in which an oxygen supply/demand imbalance leads to myocardial injury with necrosis that is not caused by acute coronary syndrome, including arrhythmias, aortic dissection, severe aortic valve disease, hypertrophic, cardiomyopathy, shock, respiratory failure, severe anemia, hypertension with or without left ventricular hypertrophy, coronary spasm, coronary embolism or vasculitis, and coronary endothelial dysfunction.
Coding Guidelines Changes
The ICD-10-CM codes for AMI are in chapter 9, Diseases of the Circulatory System, and are coded by site (such as the anterolateral wall or true posterior wall), type (ST-elevation myocardial infarction (STEMI) or non-STEMI (NSTEMI)) and temporal parameter (initial, subsequent, or old).
A type 1 MI described as acute or with a duration of four weeks or less with STEMI is classified in categories:
I21.0 ST elevation (STEMI) myocardial infarction of anterior wall
I21.1 ST elevation (STEMI) myocardial infarction of inferior wall
I21.2 ST elevation (STEMI) myocardial infarction of other sites
I21.3 ST elevation (STEMI) myocardial infarction of unspecified site
The fourth digit indicates the wall involved. A NSTEMI is coded with I21.4 Non-ST elevation (NSTEMI) myocardial infarction. A new unspecified code in 2018 from the same subcategory (I21.9 Acute myocardial infarction, unspecified) should not be assigned unless no information regarding the site and type is documented. If only the type 1 STEMI or transmural MI without the site is documented, assign code I21.3.
New guidelines (I.C.9.e.4) specify that a code from category I22 Subsequent ST elevation (STEMI) and non-ST elevation (NSTEMI) myocardial infarction is only assigned for patients admitted with a new type 1 or unspecified AMI any time during the first four weeks' time frame after the initial AMI occurred and should not be used for type 2 AMI. For subsequent type 2 AMI, use only code I21.A1 Myocardial infarction type 2.
For MI due to demand ischemia or secondary to ischemic balance, assign I21.A1 (type 2 MI) and not I24.8 Other forms of acute ischemic heart disease (I.C.9.e.5).
Artery site specification does not need to be documented to code type 2 MI because that is not relevant. It is important, however, to document a serious prognosis as to the cause of the underlying condition. The "code also the underlying cause, if known and applicable" instructional note has been added to the type 2 MI. This note includes an example of conditions such as anemia, chronic obstructive pulmonary disease, heart failure, paroxysmal tachycardia, renal failure, and shock. For example, if a patient is admitted for an MI, and has any of these other conditions, the underlying cause is also coded in addition to the code for type 2 AMI. Sequencing of type 2 AMI or the underlying cause depends on the circumstances of admission. When the documentation specifically describes the type 2 AMI as NSTEMI or STEMI, assign I21.A1, not I21.1-I21.4 (which are only for type 1 AMI).
For other documented types of AMI (types 3, 4a, 4b, 4c and 5) assign I21.A9 Other myocardial infarction type.
Examples Put MI
Coding Skills to the Test
Example 1:
A 54-year-old female is treated for a type 2 acute STEMI that she suffered five days ago. She also has atrial fibrillation.
Code it: 
I21.A1 Myocardial infarction type 2
Myocardial infarction due to demand ischemia
Myocardial infarction secondary to ischemic imbalance
I48.91 Unspecified atrial fibrillation
Rationale: 
Per ICD-10 guidelines, "When a type 2 AMI code is described as NSTEMI or STEMI, only assign code I21.A1. Codes I21.0-I21.4 should not only be assigned for type 1 AMIs."
Example 2:
The same patient from Example 1 presented to the emergency department two weeks later and was diagnosed with a type 2 acute STEMI. She is still being monitored following her initial heart attack two weeks earlier and continues to have atrial fibrillation. She will be transferred to a larger facility for a cardiac catheterization and possible further intervention.
Code it:
I21.A1, I48.91
Rationale: 
Per ICD-10-CM guidelines, "Do not assign code I22 for subsequent myocardial infarction other than type 1 or unspecified. For subsequent type 2 AMI, assign only code I21A1. For subsequent type 4 or type 5 AMI, assign only code I21.A9."
Health information management professionals in every setting and role should review the newest official guidelines for coding and reporting. This is not only a responsibility but also assists in coding accurately for proper reimbursement.
Resources
2018 ICD-10-CM Official Guidelines for Coding and Reporting
CMS, 2018 ICD-10 CM and GEMs: www.cms.gov/Medicare/Coding/ICD10/2018-ICD-10-CM-and-GEMs.html
www.cdc.gov/nchs/data/icd/10cmguidelines_fy2018_final.pdf
Cleveland Clinic, Acute Myocardial Infarction, definition and etiology: www.clevelandclinicmeded.com/medicalpubs/diseasemanagement/cardiology/acute-myocardial-infarction/
Thygesen K, Alpert JS, Jaffe AS, et al. Third Universal definition of myocardial infarction. J Am Coll Cardiol. 2012; 60:1581-1598: www.sciencedirect.com/science/article/pii/S0735109712028963
---
Artemio Castillejos, CPC, CPMA, CCVTC, CCS, CL6SGB, is a Healthcare Information Management professional and an AHIMA World Congress Board Member with more than four years of extensive experience in outsourced or offshored projects. He is specialized in cardiology, cardiothoracic and vascular, evaluation and management, and surgical coding. Castillejos is a member of the Makati, Philippines, local chapter.
Latest posts by Guest Contributor
(see all)
No Responses to "Myocardial Infarction: Don't Skip a Beat in Dx Coding"