Training Is Key to Risk Adjustment Success
December 5, 2017
Comments Off

on Training Is Key to Risk Adjustment Success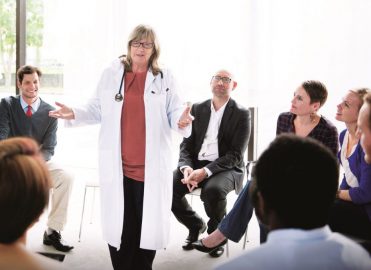 Meet the needs of payment model programs through provider training.
By Mary E. Wood, CPC, CPC-I
Risk adjustment payment models have become more common, but the various programs do not have cohesive or consistent guidelines. Let's consider the educational needs this creates in your facility or practice, and steps you can take to meet those needs.
Risks of Risk Adjustment
There is no uniform risk adjustment model. For example, the Centers for Medicare & Medicaid Services (CMS) has created a risk-adjusted model that pays plans based on a person's demographics and age, with additional payment made per qualifying diagnosis. But states approved to operate a state-based exchange in the federal healthcare initiative do not have to establish a risk adjustment program using the federal methodology. They may propose alternate risk adjustment methodologies for certification by the U.S. Department of Health and Human Services (HHS). In other words, state and federal requirements may not match. For example, plans may have different documentation requirements to support hierarchical condition categories (HCCs).
Example 1: Organization A requires the physician to document the condition under assessment and plan, as well as any prescribed medication or ordered lab work.
Example 2: Organization B requires the condition to be reported in the assessment and plan, as well as a medication list and a problem list in the encounter to show the condition is active and being treated.
As if keeping track of the different risk-adjustment models isn't challenge enough, they keep changing: Every year, on April 15, CMS updates the HCC conditions they recognize and reimburse. And each group can choose the conditions it wants to reimburse; a single update may not apply across payers.
Risk adjustment payment models present other challenges. The thought processes and coding guidelines of fee-for-service (the system most used) do not translate easily to risk-adjusted documentation and guidelines:
How do you train coders to know which conditions are "codeable" and which aren't?
How much documentation is required?
How do you centralize materials to update coders/auditors and physicians?
Put Someone in Charge of Training
If you haven't identified someone to manage training, consider doing so. Annual training is an effective tool to update physicians and mid-level providers about the conditions they should report and the required documentation. Job aids (see Figure A for an example) are an effective way to provide concise information and easily update physicians or departments struggling to capture certain conditions.
Figure A:



For example, each risk-adjusted provider can choose what kind of encounter a physician must schedule to capture a condition. CMS and some state-based exchanges require a face-to-face encounter. Other state exchanges allow video visits. Some self-insured plans allow telephone encounters or other forms of communication. A strong training program ensures physicians and mid-level providers are on the same page as your auditors regarding documentation expectations for these visits.
Building a Training Team
Depending on the size of your organization, you may need one or more individuals whose total focus is training and supporting physicians and mid-level providers. Training responsibilities should be two-fold:
Onboard and train new physicians and midlevel providers: The newcomers' training should be an introduction to how the physician will use the electronic health record to code appropriately with an emphasis on the physician's specialty. This training should include documentation, encounter types, diagnoses, and procedures.
Annual training: This training should happen at the beginning of the year and cover coding issues within that department, new HCC conditions and the necessary documentation to support those conditions, as well as any issues that the department needs training on. Refresher training should happen throughout the year as compliance and auditing discover coding opportunities.
Trainers are responsible for creating and updating training materials and job aids. This material is stored on a shared drive so it can be accessed as needed by physician leads.
Trainers also should communicate and consult with compliance and auditing/billing to look at trends in coding and documentation. The creation of training materials and training opportunities are much more effective when addressing current issues with physicians' documentation and coding.
The last responsibility of a trainer is to create positive working relationships with department chiefs or physician leads. This step allows the training process to be successful. It is often difficult to establish trust when you're part of the process to constantly assess and correct physicians' actions. Having physician support at department meetings builds trust that the instructional materials are correct and supported by leadership.
Finally, have a certified, experienced trainer support both the physician and the materials being presented. The trainer should make sure the materials presented by the physician have been reviewed and discussed prior to presentation.
---
Mary E. Wood, CPC, CPC-I, has 30 years of coding, auditing, and consulting experience. She traveled extensively for five years as a consultant, and gained experience on a variety of projects. Wood is a U.S. Air Force veteran and teaches retired veterans and military spouses medical coding. She is active in various veterans' groups and is a member of the Sacramento, Calif., local chapter.
Latest posts by Guest Contributor
(see all)
No Responses to "Training Is Key to Risk Adjustment Success"