Must-have AAPC Resources 
In AAPC News
December 5, 2017
Comments Off

on Must-have AAPC Resources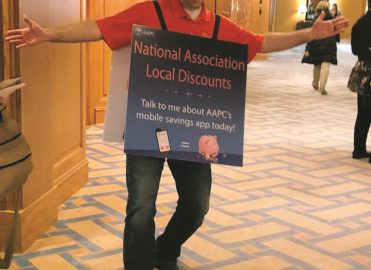 Don't miss out on all that membership has to offer you.
During a September National Advisory Board (NAB) committee call, the topic of AAPC member benefits, resources, and tools came up, and a lively conversation ensued. Angela Clements, CPC, CPC-I, CEMC, CGSC, COSC, CCS, AAPC Fellow, then asked the board, "Is there an AAPC benefit, tool, or resource you can't live without?"
Great question! Some obvious membership benefits include networking, education, acknowledgement, savings, events, and advocacy; but there are so many tools and resources on www.aapc.com, I was curious to hear how my colleagues would respond.
Local Chapters
Local chapters are the one benefit I can't live without. Everyone who has access to a local chapter needs to tap into this benefit. My local chapter has been a great source of low-cost continuing education units (CEUs) for me, and the networking has provided me with contacts who have helped me to advance my career. These contacts provided the support and encouragement I needed to build up confidence in my skills to speak at local chapter meetings. This has allowed me to network with professionals across different specialties and to speak for other organizations such as the Medical Group Management Association.
Here's what some of the other NAB members had to say.
AAPC Coder 
Ellen Wood, CPC, CMPE, CPMA
I love, love, love AAPC Coder. I have learned to depend on it, so now I can't live without it. It has everything I need all wrapped up into one beautiful package: National Correct Coding Initiative edits by locations, national and local coverage determinations, CPT® code descriptions, relative value units, fee schedules, and code assist are just a few of my favorite things. Having a single program that does so much is my little piece of heaven in this crazy business.
Webinar Subscription
Colleen Gianatasio, CPC, CPC-P,
CPMA, CPC-I, CRC, AAPC Fellow
Without a doubt, the AAPC resource I just can't live without is my webinar subscription. It allows me to learn what I need to know when it is most convenient for me. I can always count on the presentations to be relevant and thorough, whether it is an anatomy/physiology review, a yearly update, or a specialty specific topic. My company has a corporate subscription to make sure all of our coders in the organization are kept up to date on their coding knowledge and CEU requirements.
Knowledge Center
Christina LaRosse, CPC, AAPC Fellow
Give the Knowledge Center (www.aapc.com/blog/) a try, and you will want to add it to your tool box of resources. Going to the Knowledge Center on AAPC's website is like going to your newsfeed on Facebook. You will find featured posts, blogs, and current events. For example, after the recent hurricanes, the Knowledge Center provided resources and guidance for individuals affected by the hurricane. Also listed were resources from Medicare relating to waivers and modifications.
In the Knowledge Center, you can easily find hot topics related to revenue management, quality payment programs, career growth, etc. You can participate in the weekly poll. There is updated coding information with links to the Medicare Learning Network, providing you with guidelines and payment rates. Try out the Knowledge Center: Jump on and dig in!
Healthcare Business Monthly Archives
Leonta (Lee) Williams, RHIT, CPCO, CPC, CHONC, CEMC, CCS, CCDS, AAPC Fellow
I like that I can locate past issues of Healthcare Business Monthly on the AAPC website. There have been times when I'm looking for information and I remember someone wrote an article on that very topic. If I can't remember which issue the article was in, I can search Knowledge Center for it because all of the articles are posted there, as well. When I find the information I need, I then cross-reference with cited source documents.
Tip: You can now receive Healthcare Business Monthly magazine and Knowledge Center blog articles right to your phone by downloading the new AAPC Content app.
Explore the Resources Tab
There are many other tools of the trade on the Resources tab: ICD-9 to ICD-10 Code Converter, E/M Analyzer, CPT® RVU Calculator, Risk Adjustment Search, PQRS Measure Search, Health Plan/Provider Policy Search, and more — all in one quick and easy location.
And don't forget the Savings Center, which provides members with national discounts to insurance, retail, travel, and much more. Plus, you know the saying, "There's an app for that!" Download the AAPC Savings Connection app and start saving!
A misconception is that you must hold an AAPC certification to be a member and take advantage of AAPC's many benefits, tools, and resources. That is not the case. AAPC supports everyone working in the business of healthcare, regardless of their affiliation with other societies or specialty associations.
---
Angela Jordan, CPC, COBGC, AAPC Fellow, is senior managing consultant at Soerries Coding and Billing Institute. Her 25 years' experience includes coding and compliance management for a large physician network, and coding auditor for a nationwide hospital management organization. Jordan speaks at regional and national AAPC conferences, writes for coding publications, and develops coding workshops. She is a member of AAPC's NAB, has served on the AAPC Chapter Association, and was the 2012 chair. She is a member and past president of the Kansas City, Mo., local chapter.
Latest posts by Guest Contributor
(see all)