Relieve Pulmonary Hypertension Coding Pressures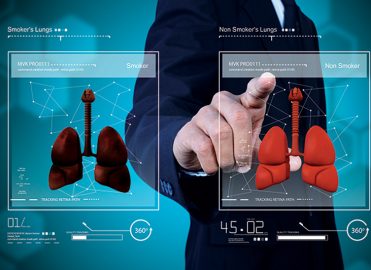 2018 ICD-10-CM coding updates expand your options for specificity.
For 2018, ICD-10-CM Chapter 9: Diseases of the Circulatory System (I00-I99) includes expanded code choices for pulmonary hypertension. Let's review what you need to know to report these conditions appropriately.
Understand Hypertension
Hypertension (high blood pressure) is when the force of the blood against the artery wall is too high. In ICD-10-CM, hypertension (I10 Essential (primary) hypertension) is synonymous with arterial, benign, essential, malignant, primary, or systemic hypertension.
Pulmonary hypertension, also called pulmonary arterial hypertension (PAH), refers specifically to high blood pressure in the arteries that supply the lungs. This occurs when the blood vessels carrying oxygen-poor blood to your lungs from your heart become hard and narrow. As blood pressure builds, the heart is forced to work harder to pump blood to the lungs. The heart weakens over time and can develop heart failure. Primary pulmonary hypertension develops without a known cause. Secondary pulmonary hypertension develops because of other disease. Secondary pulmonary hypertension is often associated with congenital heart disorders, liver disease, HIV, collagen vascular disease, and emphysema and other forms of chronic obstructive pulmonary disease (COPD).
Hypertension Groupings
The World Health Organization (WHO) classifies pulmonary hypertension within five diagnostic groups:
Group 1 – Pulmonary Arterial Hypertension: This group includes all causes that lead to structural narrowing of the pulmonary vessel and PAH. This classification is subdivided into four smaller groups: idiopathic PAH, heritable, drug and toxin induced, and associated with other systemic diseases.
Group 2 – Pulmonary Hypertension Due to Left Heart Disease: This group of classification is characterized by left heart disease, including valve disorder, diastolic dysfunction, and cardiomyopathy. Specific subgroups include left ventricular systolic dysfunction, left ventricular diastolic dysfunction, congenital cardiomyopathies, inflow and outflow obstruction of left heart not due to valvular disease, and valvular heart disease.
Group 3 – Pulmonary Hypertension Due to Lung Disease: This classification includes problems related to shortage of oxygen in the body (hypoxia). COPD that includes emphysema, chronic bronchitis, scarring in the lungs, and pulmonary fibrosis caused by lung disease are common diseases within this classification.
Group 4 – Chronic Thromboembolic Pulmonary Hypertension (CTEPH): This group classification refers to pulmonary hypertension secondary to blood clot that blocks the flow of blood through the pulmonary arteries.
Group 5 – Pulmonary Hypertension with Unclear or Multifactorial Mechanism: This group classification includes rare disorders that do not fit into any of the other four groups. Most of the diseases in this group include hematologic disorders, systemic disorders with lung involvement, metabolic disorders, and other disease not classified elsewhere.
Note New Codes for Pulmonary Hypertension
ICD-10-CM 2017 had a limited number of pulmonary hypertension codes: one for primary pulmonary hypertension and another for secondary pulmonary hypertension. ICD-10-CM 2018 expands the code selection for "other secondary pulmonary hypertension" to include the Group I through Group V classifications (see Hypertension Groupings section). These groups allow you to classify and select the specific ICD-10-CM code for a patient admitted with pulmonary hypertension due to an underlying condition.
Primary pulmonary hypertension — also called heritable PAH, idiopathic PAH, primary group 1 pulmonary hypertension, and primary PAH — is reported using I27.0 Primary pulmonary hypertension. The physician or other qualified healthcare professional must document primary or idiopathic hypertension to report this condition.
Note that I27.0 excludes persistent pulmonary hypertension of newborn, pulmonary hypertension not otherwise specified (NOS), secondary PAH, and secondary pulmonary hypertension. Do not report these conditions using I27.0.
To report secondary pulmonary hypertension and NOS diagnoses, use the secondary code I27.2 Other secondary pulmonary hypertension. Note that I27.2 instructs you to code also any associated underlying condition, but does not provide sequencing direction.
As shown in Table A, code I27.2 is expanded to report more detail for other secondary pulmonary hypertension.
Table A:
New ICD-10-CM codes allow you to report pulmonary hypertension due to an underlying condition.
New Codes
Description
I27.20
Pulmonary hypertension, unspecified
Pulmonary hypertension NOS
I27.21
Secondary pulmonary arterial hypertension (Associated) (drug-induced) (toxin-induced) pulmonary arterial hypertension NOS (Associated) drug-induced) (toxin-induced) (secondary) group 1 pulmonary hypertension
I27.22
Pulmonary hypertension due to left heart disease
Group 2 pulmonary hypertension
I27.23
Pulmonary hypertension due to lung diseases and hypoxia
Group 3 pulmonary hypertension
I27.24
Chronic thromboembolic pulmonary hypertension
Group 4 pulmonary hypertension
I27.29
Other secondary pulmonary hypertension
Group 5 pulmonary hypertension
Examples Illustrate Proper Coding
The below scenarios illustrate the impact of code assignment against documentation, and are not intended to represent any official advice or official sequencing instruction.
Scenario 1:
A 50-year-old male patient presents with congestive heart failure. He has persistent pulmonary hypertension despite normalization of the LV filling pressure.
I27.22 Pulmonary hypertension due to left heart
Group 2 pulmonary hypertension
Code also:
associated left heart disease, if known, such as:
multiple valve disease (I08.-)
rheumatic mitral valve disease (I05.-)
rheumatic aortic valve disease (I06.-)
Scenario 2:
A 63-year-old female patient is seen today for pulmonary hypertension secondary to interstitial lung disease.
J84.9 Interstitial pulmonary disease, unspecified
Interstitial pneumonia NOS
I27.23 Pulmonary hypertension due to lung disease and hypoxia
Group 3 pulmonary hypertension
Code also:
associated lung disease, if known, such as:
bronchiectasis (J47.-)
cystic fibrosis with pulmonary manifestation (E84.0)
interstitial lung disease (J84.-)
pleural effusion (J90)
sleep apnea (G47.3-)
Note that ICD-10-CM guideline I.C.9.a.11 Pulmonary Hypertension provides instruction for coding primary and secondary pulmonary hypertension and associated conditions, or adverse effects of drugs or toxins.
For new guidelines on a lower threshold for stage 1 and stage 2 hypertension, read the accompanying sidebar "Guidelines Make 30 Million More Americans Hypertensive."
---
Resources
American Heart Association, Pulmonary Hypertension, May 23, 2017: www.heart.org/HEARTORG/Conditions/CongenitalHeartDefects/TheImpactofCongenitalHeartDefects/Pulmonary-Hypertension_UCM_307044_Article.jsp#.VqrgL1MrKqA
University of Wisconsin Foundation, Primary and Secondary Hypertension: www.uwhealth.org/thoracic-surgery/primary-and-secondary-pulmonary-hypertension/11358
National Center for Biotechnology Information, U.S. National Library of Medicine. The WHO classification of pulmonary hypertension: A case-based imaging compendium: www.ncbi.nlm.nih.gov/pmc/articles/PMC3342739/
2018 ICD-10-CM Code Set and ICD-10-CM Official Guidelines for Coding and Reporting: www.cdc.gov/nchs/icd/icd10cm.htm
---
Artemio Castillejos, CPC, CPMA, CCVTC, CCS, CL6SGB, is a healthcare information management (HIM) professional, a licensed financial consultant, and an AHIMA World Congress Board Member with more than four years of extensive experience in outsourced or offshored projects. He is a medical coding trainer at UST Global Manila Philippines. Castillejos is specialized in cardiology, cardiothoracic and vascular, evaluation and management (E/M), and surgical coding. He is a member of the Makati, Philippines, local chapter.
Sidebar
New Guidelines Make 30 Million More Americans Hypertensive
Brad Ericson, MPC, CPC, COSC
If you're one of 30 million Americans diagnosed with pre-hypertension, then the decision to lower the threshold for primary hypertension might make your blood boil.
In November, the American College of Cardiology (ACC) published new guidelines lowering the threshold for stage 1 hypertension to 130-139/80-89 mmHg and hypertension stage 2 to 140/90. The provider must document this twice on two different occasions before officially diagnosing the patient.
Behind the new guidelines, the ACC explained, is the fact that for a 45-year-old adult without hypertension, the 40-year risk of developing the disease is 93 percent for African Americans, 86 percent for whites, and 84 percent for Chinese.
Hypertension damages the heart and kidneys, and it's a major contributor to strokes. For blood pressure between 130/80 and 140/90, the provider will now diagnose the patient with stage 1 or primary hypertension and suggest losing weight, exercising, cutting salt, and eating a healthy diet.
Experts estimate the number of hypertensive American adults will rise from 72 million irritable adults to 103 million due to the new guidelines.
Why the Change in Hypertension Dx?
AAPC's Education Project Manager Craig Laursen, CPC, said, "There is significant clinical and public health leverage behind the changes. Eighty years of cardiovascular disease (CVD) as the leading cause of death in the U.S., and over 30 percent of adults in the U.S. categorized as hypertensive are weighty statistics alone, without adding the fact that those numbers are not getting any better." Obesity is an epidemic, Americans are becoming more sedentary, and overall health is declining, while the incidence of risk factors for CVD — with hypertension playing a lead role — continue to increase, he explained.
Laursen said the report informs readers that lowering the threshold is not intended to cause an increase in prescriptions for medication that reduce high blood pressure. The idea is for the "elevated" and "stage 1" categories to be levels where providers can recommend lifestyle changes and provide education to patients for making long-term, beneficial choices that will decrease their risk for progression into serious disease.
The Effect on Code Assignment
"The ACC's newly defined clinical classifications for hypertension (elevated, stage 1, and stage 2) will soon begin to make their way into provider documentation," predicted Laursen. "Once widely accepted, the new categories will make their way into ICD-10-CM classification as expansions of the single I-10 code for primary hypertension and the classifications for hypertensive comorbid conditions. Influence on evaluation and management code assignment will be evident in the increase of hypertension diagnoses and their impact on providers' medical decision-making."
Monitor the Vitals
Senior Managing Consultant for SCBI Brenda Edwards, CPC, CDEO, CPB, CPMA, CRC, CPC-I, CEMC, AAPC Fellow, says the guidelines raise many issues for coders and auditors. AAPC members will need to watch documentation closely to ensure blood pressure readings of 130/80 are recorded as hypertension. "There could be confusion since the ICD-10-CM category of prehypertension is being eliminated; that does not eliminate the elevated category, and it would continue to be coded with the new lower readings," she said. "I can see questions being asked such as, 'When do the guidelines take effect?' and 'Will the ACC guidelines prompt new ICD-10-CM codes before Oct. 1, 2018?'"
Keep a Finger on the Pulse
Both Laursen and Edwards recommend we watch for changes in payer definitions and requirements, and pepper providers and payers with queries about documentation, guidelines and rules, and changes to reporting. Vigilance when reviewing documentation and payer guidelines will help prevent surprises as the guidelines gain purchase.
How commercial payers and Medicare respond regarding paying for counseling and medications remains to be seen, but the guidelines will no doubt raise someone's blood pressure somewhere.
---
Resource
Read the new guidance at www.acc.org/latest-in-cardiology/ten-points-to-remember/2017/11/09/11/41/2017-guideline-for-high-blood-pressure-in-adults
Latest posts by Guest Contributor
(see all)
One Response to "Relieve Pulmonary Hypertension Coding Pressures"