Maximize Your Revenue Management Team's Efficiency
January 2, 2018
Comments Off

on Maximize Your Revenue Management Team's Efficiency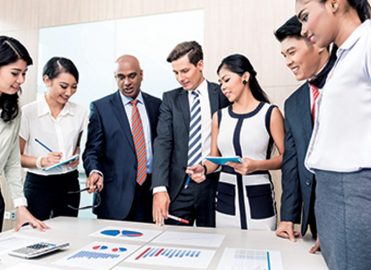 From front-end to back-end, see where your team can save the most time and money.
An efficient revenue management team is vital to your practice's financial health and sustainability, but it's critical to have well-documented procedures in place.
Realities of Desktop Medicine
If you're spending too much time on administration, you're not alone. According to a study published in Health Affairs, today's physicians are spending the same amount of time with patients as they are conducting electronic medical tasks. Researchers analyzed 31 million electronic health record transactions from 471 primary care physicians between 2011 and 2014 and found that physicians spent an average of 3.08 hours with patients and 3.17 hours on "desktop medicine," each day. The study defines desktop medicine as, "activities such as communicating with patients through a secure patient portal, responding to patients' online requests for prescription refills or medical advice, ordering tests, sending staff messages, and reviewing test results."
Revenue Cycle Management
The healthcare revenue cycle encompasses all administrative and clinical functions that contribute to capturing, managing, and collecting patient services revenue. The cycle traditionally includes three distinct areas that often function separately: front-end; middle; and back-end.
Each component includes its own departments, staff, and policies to drive revenue through the cycle. Unfortunately, there tends to be little coordination. As a result, revenue cycle management staff typically misses the big picture, including how patient responsibilities are calculated and what is needed to process a claim. Your revenue management team also must educate. Most patients don't understand their medical bills, so it's important for your staff to understand their role as educators.
The tasks of each segment of the revenue cycle are:
Front-end steps:
Patient registration
Patient forms
Scheduling provider
Insurance and eligibility verification
Authorization
Co-payments and self-pay collections
Payment plans and payment structures
Middle steps:
Billing and claims
Claims edits
Charge reconciliation
Coding and auditing
Provider documentation
Issuance issues
Back-end steps:
Denials
Accounts receivables (A/R) follow-up
Self-pay balances
Outstanding copays
Collections
Contractual adjustments
Payment posting
None of these steps can be achieved without tight controls coordinating the efforts between the back, middle, and front-end office staff.
Adding a revenue integrity team maximizes operational efficiency, maintains compliance, and guarantees optimal earned reimbursement. Members of the staff who are familiar with the details of the entire revenue cycle build the team. They collaborate with each other and are the glue holding together the revenue cycle, operations, and the financial health of the practice. By fostering collaboration among front- and back-end staff, revenue cycle management becomes a smoother process and patient collections should increase significantly.
How to Create a Revenue Integrity Team Mentality
To create a culture that works, first ask yourself these questions:
What are your biggest financial challenges?
What are your front-end challenges?
What are your back-end challenges?
Are you billing all your charges?
Do the providers always know what they can and cannot bill?
Are you addressing these challenges on a regular basis with your staff?
The key is training and provider coding education. The training of staff involves billing requirements and reimbursement updates, operation metrics, and job expectations. Provider coding education includes, at minimum, quarterly meetings and chart reviews.
Maintaining reconciliation reports will help you stay on target. Developing templates and tip sheets for billers, coders, and providers reduces denials, increases operational efficiencies, and enhances the patient experience.
Clinical Documentation Improvement (CDI)
Physicians must document more specific information to assure coders completely capture what services were provided. Coders cannot disregard physician documentation and decide on their own whether a condition should be coded: The physician must document or they must query.
When providers complete a patient visit and perform clinical documentation and coding responsibilities, the revenue cycle continues to the middle steps. As part of the back-end, revenue cycle management staff engages in claims management and medical billing.
After a patient visit, employees perform charge capture responsibilities, translating services and physician time into billable charges. Most healthcare organizations employ a chargemaster that links clinical codes to a price. Inadequate clinical documentation can result in inaccurate charge capture and revenue leakage. Organizations often employ several staff members to flag charge capture issues and rework the charges; however, using a system that trends charge capture data may improve back-end revenue cycle processes.
With billable fees, staff can then create and submit claims to payers. From ICD-10 and HCPCS Level II codes to patient data and health coverage information, staff must ensure all necessary information is on a claim prior to submitting it to payers.
Back-end staff manages claims for a wide range of payers. The complex web of different payer requirements can make claim submission a challenge.
Clean claims are ideal, but often staff must scrub submissions to prevent denials. Staff should:
Verify clinical documentation and charge capture accuracy;
Ensure patient and health information is correct; and
Check that appropriate codes and modifiers are present.
Inevitably, back-end staff will see claims come back as denials. Employees should review denials and attempt to rework the claims to recoup reimbursement.
When claims are adjudicated, any remaining balance on a patient account should be sent to collections. Medical billing staff should create and send bills to patients, as well as work with patients to get the full financial responsibility. Providers can improve patient collections by offering electronic payment options through their patient portals.
CMS' Comparative Billing Report Educational Letter
The Centers for Medicare & Medicaid Services (CMS) has recently contracted with eGlobalTech to conduct an analysis of physician claims for services provided from April 1, 2016, to March 31, 2017. Specifically, eGlobalTech is analyzing the use of evaluation and management (E/M) codes appended with modifier 25 Significant, separately identifiable evaluation and management service by the same physician or other qualified health care professional on the same day of the procedure or other service and sending their analyses to providers in the form of comparative billing reports (CBRs). The CBR letters are educational tools for providers regarding their billing patterns, and include only services where the rendering provider national provider identification (NPI) number specialty is denoted in the claim lines.
The CBR letter states:
Your billing patterns are significantly higher compared to peer patterns for the same services in your state and nationwide;
You received this CBR because your billing patterns differ from your peers in your state or across the nation. Receiving this CBR is not an indication or precursor to an audit; and
No reply is necessary, as this report is for educational purposes.
Regardless of the reimbursement processes that Medicare and other payers request, it's important that their regulations are understood and followed, and that all services provided are well documented to assure timely payments. To minimize billing reimbursement time, submitting clean claims with the correct documentation will result in quicker reimbursement and improved cash flow.
The revenue integrity team plays a significant role in the organization. All members should be crossed trained and know what tools (technology, coder application, audit materials, etc.) they need for their jobs. Make sure your entire staff knows the rules and procedures.
sidebar
Know Your Job Functions
Every billing employee must know their functions, in detail. Below is a sample, but the list must be customized to your practice with a focus on your specialty.
Sample job responsibilities for the front-end:
Greet and register patients in a prompt and pleasant manner.
Instruct patients to complete registration, history, and HIPAA acknowledgement forms.
Request updates on established patients.
Collect and enter all insurance referrals.
Make copies of patient forms and insurance cards.
Enter all demographic information and off-bill comments into billing system.
Call insurance carriers and patients for follow-up information to complete registration as needed.
Have knowledge of different insurance carriers and plan types.
Instruct patients about referral and payment processes as needed.
Notify other departments of patient arrival.
Pull and file patient encounters.
Schedule and re-schedule appointments for patients.
Take messages and respond to requests.
Perform expediter and call center duties, as needed.
Ensures all HIPAA regulations are adhered to.
---
Resources
Healthcare Informatics, "Physicians' Time Evenly Split Between Seeing Patients and 'Desktop Medicine,'" April 4, 2017: www.healthcare-informatics.com/news-item/ehr/health-affairs-physicians-time-evenly-split-between-seeing-patients-and-desktop
eGlobalTech (www.cbrinfo.net), CBR sample: www.cbrinfo.net/sites/default/files/2017-10/cbr201709-sample-cbr_0.pdf
---
Debra C. Cascardo, MA, MPA, CFP, principal of the Cascardo Consulting Group, is a practice management consultant and business advisor helping large physician groups, HMOs, other healthcare professionals, and alternate site providers to best manage their goals. Focusing on operational systems and organizational development, she works with private and academic practices, as well as networks, ACOs, and managed-care organizations. Cascardo is a Fellow of the New York Academy of Medicine and an award-winning healthcare journalist.
Latest posts by Guest Contributor
(see all)