300K Clinicians Will See Downward Payment Adjustments in 2018
In CMS
January 18, 2018
Comments Off

on 300K Clinicians Will See Downward Payment Adjustments in 2018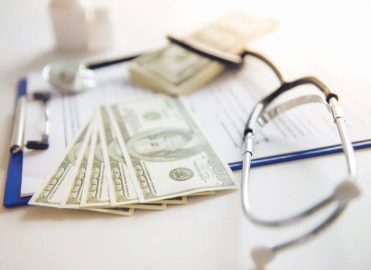 The 2016 Value Modifier (VM) performance results and 2018 payment adjustment factor are now available: Out of over 1 million clinicians, only approximately 20,000 will see an upward VM payment adjustment in their Medicare Physician Fee Schedule (MPFS) payments this year. This may not be a good time to ask for that raise.
Table A shows the breakdown of upward, neutral, and downward payment adjustments by number and percentage of practices and clinicians.
Table A: History of Performance and Value Modifier Payment Adjustments Since Inception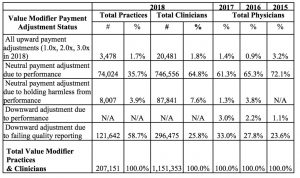 Bank On This
The 2018 payment adjustment factor is 6.6 percent. This factor is multiplied by either 1, 2, or 3, as shown in Table B, to determine the amount of the payment adjustment. Clinicians who were able to keep costs down the most will see an increase as high as 19.9 percent thanks to the VM program being budget neutral.
Table B: Breakdown of the number of clinicians subject to the 2018 VM in practices that met minimum quality reporting requirement.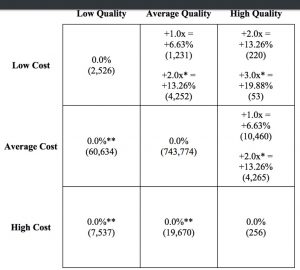 Quality Data Is a Team Effort
If the physicians, physician assistants, nurse practitioners, clinical nurse specialists, and certified registered nurse anesthetists you work for are among the high performers, they have you to thank for ensuring their work was fully captured and coded correctly. No doubt you made sure their documentation will hold up in an audit, as well. You will need to continue that effort.
Quality Reporting Isn't Optional
Although this is the last year the VM will apply, the Centers for Medicare & Medicaid Services isn't giving up the ship. The new Merit-based Incentive Payment System (MIPS), which began in 2017, will determine 2019 payment adjustments. Cost did not factor into the equation last year, but carries a 10 percent weight in performance this year, and will impact Medicare Part B payment adjustments in 2020.
But not as much as not participating at all. Clinicians who were eligible to participate in quality reporting and chose not to are clearly the losers this year, and they will be again next year if they do not submit at least some data under MIPS by March 31, 2018. MIPS eligible clinicians need only submit one quality measure for one patient for one day in 2017 to avoid a negative 4 percent payment adjustment to their Medicare Part B claims in 2019.
Check out AAPC's deep dive on the Medicare Access and CHIP Reauthorization Act (MACRA) for more information about MIPS.
Source: CMS 2018 Fact Sheet
Latest posts by Renee Dustman
(see all)