Develop a Winning Audit Program Proposal
February 2, 2018
Comments Off

on Develop a Winning Audit Program Proposal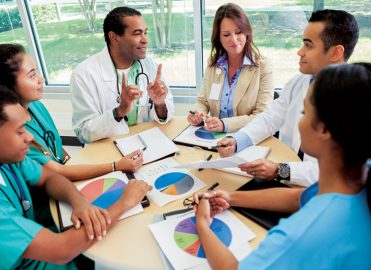 Chart a course for a healthy revenue cycle in tumultuous times.
Medical auditing is critical to a compliant and profitable physician practice. This, along with the increased specificity of ICD-10 and the end of the one-year grace period for using non-specific codes without denials, means that well-structured coding compliance and auditing programs are on the rise. Physician and hospital management companies, insurance companies, and physician practices are devoting significant resources to developing these departments and teams.
Depending on the size of the audit, the number of physicians and mid-levels to be audited, the scope, and the education necessary, an audit program can cost hundreds of thousands of dollars. Take, for instance, a physician group with 270 employed providers (physicians and mid-levels) — not taking into consideration education or follow-up audits conducted within a single year — the cost is approximately $150,000 (outsourced) and $100,000 (in-house). Add follow-up audits and new providers on-boarded throughout the year, and costs can rise by 140 percent (plus provider and coder education costs). That's a lot to sell, but a thorough, well-thought out proposal will persuade decision-makers to advance your audit program.
Where to Start?
Organization is pivotal to any proposal or development plan. Not only do your thoughts need to be organized, so does the structure of your plan. Key elements will improve the documentation of the proposal and allow it to become the instrument of persuasion you want.
Include the Key Elements
Definitions: Not everyone reading your proposal will be well-versed in coding, documentation, and the revenue cycle. Although it may seem pandering to do so, define even the simplest terms — including "audit." You don't want confusion or assumptions made about what you are talking about. By including a definitions section, you are providing the meaning behind the terms you are using and eliminating misunderstanding.
Rationale: Although you probably have some level of buy-in for your audit program, the rationale section solidifies those reasons. This section is where you really fight for why this program needs to happen. Include information such as statistics and real dollar amounts on fraud and abuse judgments from the U.S. Department of Health and Human Services and the Justice Healthcare Fraud and Abuse Control Program; quality of care initiatives; and information on the outcomes of infractions that are self-disclosed versus discovery by an outside source. Improper payments — both over- and underpayments — happen for many reasons, and audits should be viewed as a catalyst for change, rather than a negative experience.
General Description: Here, you'll describe what an internal claims audit review of coding and documentation accomplishes. Some examples include:
Identifying incorrect coding and billing practices;
Protecting against fraudulent claims; and
Identifying and correcting problem areas.
Objective: This section develops your purpose. An example of an objective might be to ensure fair and equitable coding and billing practices by all providers. State your objective and then dive into how you will accomplish it.
General Process: Define the structure of the program — from beginning to end. Explain how:
The encounters are chosen (retrospective or prospective);
The auditor requests and accesses the documentation and coding for the encounter;
The auditor performs the audit, and how results are distributed and when;
Disputes are handled, and how education is determined and executed;
Follow-up audit thresholds and schedules are established; and
Where the audit information will be stored.
This section can become very dense, very quickly, so it's important to make sure the information is conveyed in a way that can be easily deciphered. The use of bulleted lists, flow charts, and clip art can make a big difference in making your information user-friendly.
Goals: You probably want providers and coders to meet a certain standard determined by your establishment, but what else are you looking for the program to do? Figure that out in this section. Decide whether you want to accomplish 100 percent participation in educational programs, reduction in billing or claim errors, improvement in coding and documentation compliance, or all of the above. By setting goals for the program in the proposal, everyone will know what the program is working toward.
Development: By this step in the proposal you may feel as though you've hit every point on what needs to be done. The development section is where you will outline what is left. Areas for development may include a coding compliance code of conduct or a coding compliance committee; a structured education plan with both internal and external resources; and a budget.
Summary: In this section, do not rehash the information and processes, but rather summarize what the audit program can do for the company. An audit program will not make the company millions, but it can differentiate you from other organizations; this is the place to show that. Build on the benefits of audit programs to create a strong closing argument.
Audits Can Change an Organization
Through accurate coding and documentation, providers can receive appropriate payments in a timely manner, while improving the quality of care for their patients. Developing an audit program proposal that is thorough and captures the essence of why we audit will pave the way for future and continuing success of the healthcare organization.
---
Amanda Turner, CPC, CPB, CPMA, CRC, is the Coding Integrity and Auditing manager at Independence Physician Management. Past experience includes performing quality assurance and provider education for risk adjustment audits. Turner holds a Bachelor of Arts in Professional Writing from Penn State University and is studying at Temple University for a Master of Business Administration in Innovation Management. She is a member of the Blue Bell, Pa., local chapter.
Latest posts by Guest Contributor
(see all)