Satisfy Incident-to and Physician Extender Requirements
By Pam Brooks
In Coding
February 2, 2018
Comments Off

on Satisfy Incident-to and Physician Extender Requirements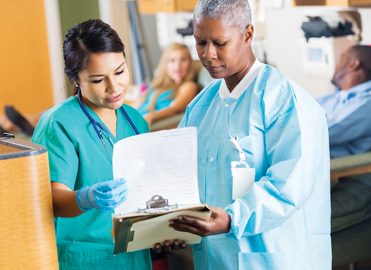 Understand federal and state scope-of-practice rules to ensure proper billing.
Incident-to billing is a cost-efficient way for physician extenders, such as nurse practitioners and physician assistants (PAs), to deliver patient care because they can provide quality patient care at a lower salary than a physician, and often follow up on surgical patients during the non-billable global days. But to realize the financial benefits, you must follow the rules carefully. Here's what you should know.
Defining Incident-to
Incident-to applies specifically to Medicare outpatient billing. In these circumstances, incident-to describes services furnished by a non-physician practitioner (NPP), as directed in advance by a physician, to a patient with an established care plan for whom the provider is regularly and actively following for ongoing care.
To meet incident-to guidelines, the physician must evaluate the patient and document that the ongoing care provided by the NPP is integral to the course of treatment for that patient. Any service performed by an NPP and billed incident-to a physician must be deemed reasonable and necessary, and within the scope of Medicare coverage.
A patient new to the practice is not eligible to receive incident-to services because the physician must initiate treatment. If an established patient with an established problem and treatment plan presents to a NPP for care, do not bill the service incident-to:
If a change in the treatment plan is determined;
If the provider is not actively involved in the patient's ongoing care; or
If a new problem arises during the encounter.
Advantages of Incident-to
NPPs can perform office procedures, handle bundled post-operative follow-up visits, follow up with patients who require ongoing care, and see same-day patients who present for minor or uncomplicated acute issues — all at a lower salary than a physician.
Depending on the state in which they practice, NPPs can be credentialed by Medicare and commercial payers, and may submit claims under their own National Provider Identifier (NPI); however, claims billed under an NPP's NPI typically are not reimbursed at the full amount. Medicare, for example, pays claims reported under an NPP's NPI at 85 percent of the allowable benefit.
By comparison, NPP claims reported incident-to a physician's services are reimbursed at the full fee schedule amount. For example, Medicare reimbursement for 99214 (national) is $109.44 for a physician and $93.02 for an NPP (billing under their NPI). For practices running on a narrow profit margin, and based on significant volume, this could represent a deficit over time.
Scope of Practice and Employment Requirements
NPPs who furnish services incident-to a physician are responsible to ensure the work they are directed to do (as an incident-to service) falls within their state's scope of practice. The employed NPP may not have a practice scope outside, or above, the defined scope of practice of the supervising physician.
NPPs must have an employment arrangement with the practice for which they provide the incident-to services. Allowable arrangements include W-2 employees and leased or contracted employees.
Be sure to differentiate between NPPs and non-physician employees, such as registered nurses, medical assistants, and licensed practical nurses. These employees are restricted to billing a level 1 established patient, outpatient visit (99211 Office or other outpatient visit for the evaluation and management of an established patient, that may not require the presence of a physician or other qualified health care professional. Usually, the presenting problem(s) are minimal. Typically, 5 minutes are spent performing or supervising these services.) in an incident-to circumstance.
Incident-to Supervision Requirements
The supervising physician under whom the incident-to service is billed does not need to be in the exam room with when the NPP performs the service, but does need to be within the walls of the practice suite. Physicians in a group practice may share supervision duties, but a solo practitioner must be physically available at the office suite when the NPP provides incident-to services. Finally, if the provider's practice/office location is within a hospital facility, the provider must remain within the defined practice space — not in the operating room, on the floor, or in the hospital cafeteria.
Incident-to services may be performed at the patient's home; however, this may not be an efficient use of NPP or physician time because both providers need to be personally present (except in certain medically underserved areas).
Although the supervising provider's co-signature in the documentation for the incident-to service is not a requirement, the documentation must support evidence that a supervising physician is present and available. The NPP should enter the name and credentials of the supervising physician who was available during the visit.
It's inappropriate for the physician to document an attestation, such as is done in a teaching facility. In fact, Novitas (Medicare carrier for many of the Atlantic and southwest states) has noted an increased instance of this sort of attestation documentation, and issued an updated guideline in March 2017. Novitas also provides an excellent decision tree tool to help determine whether incident-to is appropriate under applicable circumstances (see the Resources section for the link).
Incident-to Claim Form Requirements
Incident-to rules are explained in the Medicare Claims Processing Manual, Chapter 26 – Completing and Processing Form CMS-1500 Data Set (Revise 3762, April 27, 2017). The manual indicates that when a service is billed incident-to the service of a physician, the name of the physician who performs the initial service and orders the non-physician service must appear on the CMS-1500 form in Item 17; the qualifier DQ Ordering provider must appear left of the dotted vertical line on Item 17. The supervising provider's name is reported in Item 31, and the supervising provider's NPI is reported in the lower unshaded portion of Item 24J.
Incident-to in Action
Here is an example of the incident-to billing concept:
Example1: Laura is being treated for sub-clinical hyperthyroidism. She is an established patient of Dr. Plante, an endocrinologist, who meets with her periodically to assess her ongoing condition. When she first met with Dr. Plante, he evaluated her condition, and ordered and reviewed lab work (TSH, T3, and T4). He advised her to follow up every three months for surveillance of her scheduled lab work, and to report any new symptoms.
Laura is followed by Dr. Plante's PA, Melanie. Melanie performs an expanded problem-focused history and exam, and determines straightforward medical decision-making: she has reviewed recent lab work, and noted no changes in Laura's condition. She notes that Dr. Plante is supervising Laura's care and is present in the office suite. No medications are prescribed at this point, and no changes are needed to the treatment plan. Laura will continue as recommended to follow up quarterly.
This visit can be billed incident-to Dr. Plante, although performed by Melanie.  As an incident-to service, this would be reimbursed at $44.64. Had it been billed under Melanie's NPI, the reimbursement would have been only $37.94.
Example 2: When Laura presents for her visit with Melanie, she reports new symptoms. Her heart is racing, she has lost 10 pounds over the past four weeks, and she has difficulty sleeping. When reviewing her lab work, Melanie notes that Laura's recent TSH is 0.1, which is low. She immediately consults with Dr. Plante to determine how the treatment plan is expected to change.
Melanie cannot bill incident-to the provider because there has been an exacerbation of Laura's condition, which results in a treatment plan change that must be first evaluated and initiated by Dr. Plante. There are two solutions to this scenario, depending on practice policy:
Dr. Plante can resume the remainder of the visit by performing his own history, exam, and decision-making; adjusting the treatment plan and billing under his own NPI.
Melanie can update the treatment plan, and bill the service under her NPI. Because the treatment plan was updated by Melanie, all follow-up visits based on this new treatment plan also must continue to be billed under Melanie's NPI. The treatment plan no longer originates from the doctor, for whom incident-to services are indicated. Reimbursement will be less, but this may be the only alternative if the practice doesn't have the flexibility for a physician to be called into office visits at a moment's notice.
Services that Are Never Incident-to
Not every service can be billed incident-to. Some services billed under a supervising provider, such as office-based labs, radiology, and vaccinations, are not considered true incident-to examples. These services have their own statutory benefit categories, and are subject to those rules (many are found in the Medicare Claims Processing Manual, Chapter 12).
In the hospital — including place of service 19, 20, 21, 22, or 23 — incident-to services are not separately billable under the Medicare Physician Fee Schedule. The concept of a shared/split visit may be used, but it's an inefficient use of NPPs. The Centers for Medicare & Medicaid Services (CMS) defines a split/shared visit as occurring when a physician and an NPP each personally perform a substantive portion of the evaluation and management (E/M) visit, face-to-face on the same day. Each provider must document, sign, and date their portion of the visit. Otherwise, according to Medicare, NPPs must bill under their own NPI.
Details Do Matter
Failing to follow incident-to guidelines when billing for NPPs under the supervising physician is fraudulent billing.
A report issued by the Office of Inspector General (OIG) illustrates abuse of the guidelines: Over the course of five years a physician in New Jersey, who was the owner of a physical medicine practice, billed under his name and NPI for physical therapy services provided in locations where he was not only unavailable for supervision, but also not licensed to practice. As a result, he was fined $1.5 million in assessments and penalties, and has been excluded from participation in any federal healthcare program for 15 years.
Through the years incident-to has been added and removed from the OIG's work plan, but is always on the radar because of the potential for improper reimbursement.
Commercial Payers May Have Different Billing Rules
Not all commercial payers follow incident-to guidelines, and some will not recognize certain NPPs. Your practice's commercial contracts should be clear as to whether services provided by employed NPPs can and should be billed under a supervising physician, and whether that payer follows incident-to guidelines.
For example, in the northeast, Anthem does not recognize or credential PAs. They also do not recognize Medicare's incident-to guidelines. When billing for services provided by PAs, Anthem instructs a supervising physician to be noted in Item 31 on the claim form. They also indicate the provider must be only a phone call away, and a PA may provide services to new patients while billing under the supervising provider.
You Might Decide It Isn't Worth the Trouble
Understanding and operationalizing the rules and requirements surrounding incident-to can be too much for some organizations to manage — particularly for those with larger, centralized coding or billing departments where there is no ability to verify whether a visit meets the incident-to guidelines. As a result, some organizations avoid billing incident-to when submitting claims for their NPPs, choosing instead to absorb the 15 percent decrease in Medicare payments rather than run the risk of collecting improper payments that may have to be returned (with a substantial fine).
Whatever your practice decides, it's essential for you to have a complete understanding of the incident-to guidelines. Solid practice policies help to ensure that billing is correct and reimbursement is fair.
---
Resources
CMS Manual System, Pub. 100-4, Medicare Claims Processing. Transmittal 178, Change Request 2321: www.cms.gov/Regulations-and-Guidance/Guidance/Transmittals/downloads/r178cp.pdf
Medicare Benefit Policy Manual IOM Pub. 100-02, Chapter 15, Sections 60.1, 60.2, 60.3
Medicare Claims Processing Manual, Chapter 26 – Completing and Processing Form CMS-1500 Data Set (Revise 3762, April 27, 2017): www.cms.gov/Regulations-and-Guidance/Guidance/Manuals/Downloads/clm104c26.pdf
Novitas Solutions. Incident to Self-Service Tool: www. novitas-solutions.com/webcenter/portal/MedicareJH/IncidentTool?_afrLoop=662346219716073#!%40%40%3F_afrLoop%3D662346219716073%26_adf.ctrl-state%3Dnom4k0dzi_17
National Government Services, Policy Education Topics, (Incident-to Guidelines)
Novitas Solutions. "Incident to" and the Initial Visit-Evaluation & Management Service Guidelines. www.novitas-solutions.com/webcenter/portal/MedicareJH/pagebyid?contentId=00004947&_adf.ctrl-state=gerhnj12r_29&_afrLoop=1513494110419390#!
Latest posts by Pam Brooks
(see all)
No Responses to "Satisfy Incident-to and Physician Extender Requirements"