Capture the Most Specific Pregnancy Diagnosis Codes
In Coding
February 2, 2018
Comments Off

on Capture the Most Specific Pregnancy Diagnosis Codes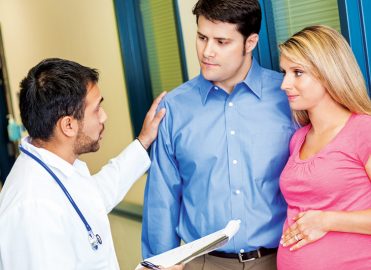 When coding, consider all documented factors such as current and pre-existing conditions, trimester, and age.
To capture pregnancy diagnosis codes correctly, documentation must specify the type and trimester of the pregnancy, as well as all related, present co-conditions in the mother. It's not appropriate to use Z34.00 Encounter for supervision of normal first pregnancy, unspecified trimester for every visit until the patient delivers, or for a patient who has pre-existing conditions or who develops conditions during her pregnancy.
Pregnancy Affects Medical Decision Making
When a patient is pregnant, anything done for the mother may affect the baby. This, in turn, affects the provider's medical decision making (MDM), as does any condition(s) the mother had prior to her pregnancy. Not only must the providers account for pre-existing conditions, you must be sure they are coding that information.
For example, if a woman with pre-existing asthma becomes pregnant, the provider must consider how the pregnancy affects the asthma, and vice versa. Does a fetus pressing on the woman's rib cage or a growing belly make it hard to breathe — meaning she may need to increase the use of steroids? What will steroids do to the fetus? If the mother is not getting enough oxygen, what damage will occur to the fetus?
What if the pregnant patient has a body mass index (BMI) over 30.0? Per Outsource Strategies International's Medical Coding News, High-Risk Pregnancy – ICD-10 Coding Changes in 2017:
More than 50 percent of pregnant women in the U.S. are overweight or obese, according to the American Congress of Obstetricians and Gynecologists. Being obese raises the risk for high blood pressure, preeclampsia, gestational diabetes, stillbirth, neural tube defects, and cesarean delivery. Studies have found that maternal obesity can increase infants' risk of heart problems at birth by 15 percent.
Unless the woman's BMI is documented, however, the provider may not get credit for the additional work and medical decision-making involved in caring for the patient (and fetus).
Developing Conditions May Affect Coding
Coding may change for a patient depending on whether a condition was present before pregnancy, occurred during pregnancy, or is a result/complication of pregnancy, or if a new condition or injury develops for the mother.
For example, coding for hypertension (HTN) that develops during pregnancy (gestational HTN, O13.1- O13.5) is different than coding for hypertension that exists prior to pregnancy (unspecified pre-existing hypertension complicating pregnancy, O10.911- O10.913). The provider must be careful to document when a condition develops, and how it relates to the pregnancy. Simply documenting "HTN" in a pregnant patient is insufficient.
Patient Behavior May Affect Pregnancy Status
Anything a patient experiences — a cold, a slip and fall resulting in a sprained ankle, an asthma attack, having champagne on New Year's Eve — may require code(s) from category O09 Supervision of high risk pregnancy.
ICD-10 chapter 15 guidelines tell us that if the patient used any drug or alcohol during her pregnancy, use the appropriate codes from category O09. For example, if the patient smoked marijuana and tobacco until she found out she was four months pregnant, report tobacco use during pregnancy O99.332 Smoking (tobacco) complicating pregnancy, second trimester (the final character depends on the trimester) and F17.2 Nicotine dependence. You should also code for the type of tobacco, as well as the number of weeks pregnant. For marijuana use, assign O99.321-O99.323 Drug use complicating pregnancy (last character depends on trimester) and, depending on documentation, a code in the F12.90 Cannabis use, unspecified, uncomplicated range.
If the mother had an occasional glass of wine throughout the pregnancy, report O99.311-O99.313 Alcohol use complicating pregnancy (last character depends on trimester). Depending on the documentation, additional codes may include Z72.89 Other problems related to lifestyle for alcohol use not otherwise specified, or if supported, a code from the F10 Alcohol related disorders range (alcohol use with, or alcohol abuse, or alcohol dependence).
These circumstances may be coded only if documented. If medical necessity is not documented, the higher level of care needed for this type of patient can't be substantiated for billing.
Don't Forget Trimester Coding
Providers should document the specific weeks of gestation. If they fail to do so, report Z3A.00 Weeks of gestation of pregnancy not specified.
Capturing this diagnosis specificity is imperative. Quality measures are developed using this type of information. For example, suppose everyone uses the normal pregnancy code. Suddenly, patients' deliveries include long lists of complications, but standards of care cannot be developed accurately due to the missing information.
Consider an obese patient who develops gestational diabetes. Does it develop at week 26 or week three? The fetus is at a higher risk of death the earlier the condition develops. For patients who develop preeclampsia or placenta previa, the specific week of gestation when the condition occurs matters for both the mother and baby.
Age Can Be a Factor
Don't forget about the age of your pregnant patient: Is she under 16 years of age, or over 35 years of age (or will be, at the time of expected delivery)? In such cases, a high-risk code for "young" or "elderly" mother must be assigned.
Why It All Matters
Many people think the only reason we code services is to get reimbursed. This is one reason, but it's not the only reason. Accurate coding matters because many organizations and associations gather this information and track the patterns of complications, whether in the mother, the fetus, or both. For example, per the Centers for Disease Control and Prevention's (CDC) Reproductive Health Web page:
CDC's Division of Reproductive Health conducts research to better understand pregnancy-related problems, with the aims of making pregnancy healthier, preventing or managing complications, and reducing poor pregnancy outcomes, including death—the most extreme adverse outcome. There are approximately 6 million pregnancies each year in the United States. Small advances in preventing pregnancy-related complications can improve the quality of life for thousands of pregnant women. We can further the development of evidence-based public health prevention with improved sources of maternal health data, and methods for measuring and studying the data.
Collected data also helps to develop costs attributed to hierarchal condition categories (HCCs). This assists in determining what quality measures can help reduce expenses, and what area the government may need to put higher on their lists of conditions and related complications. Data is only as good as the codes we assign. The World Health Organization and the CDC are working to develop better outcomes and developing tools and resources to reduce complications and mortality statistics. Do your part to help correctly capture pregnancy diagnosis codes and report the relevant data.
Tips for Improvement
Many hospitals have clinical documentation improvement (CDI) programs for pregnancy inpatient visits; however, the industry sees a need for documentation improvement in provider and outpatient services, as well. If a documentation improvement program is not an option, there are internal measures you can take (these suggestions would benefit large entities, as well).
Measures include:
Review templates or office tools the providers use in your facility or practice.
If you are a specialty practice or an emergency department, develop a specific encounter form for pregnant patients. This could be a paper or electronic tool the provider is given prior to seeing the patient. On that encounter form (or tool/template), use prompts to identify pre-existing conditions, complications, and risks for pregnancy.
Educate providers using in-services, a PowerPoint presentation during the monthly meetings, or one-on-one education. Every provider and practice is different, so there is not a one-size-fits-all solution on how to improve services and documentation.
Here's an example of a provider documenting a pregnancy, but not capturing all relevant diagnoses:
20 y.o. female who presents today for abscess of right gluteal cleft, present on and off for past year. Recent increase in size and tenderness over past 2-3 days, increased redness, not significant change in size. Currently 5 months pregnant. No known allergies.
Constitution: Negative for fever.
Gastrointestinal: Negative for diarrhea, nausea, and vomiting.
Vital Signs: BP 90/50 (BP Location: Right Arm, Patient Position: Sitting, Cuff size: Adt) | Pulse 80 | Temp 98.6 F (37 C) (Oral) | Ht 160 cm (63") | Wt 59.4 kg (131 lb) | LMP 06/27/2017 (approximate) | BMI 23.21 kg/m²
Physical Exam
Constitutional: She is oriented to person, place, and time. She appears well-developed and well-nourished. No distress.
Neurological: She is alert and oriented to person, place, and time.
Skin: Abscess of right gluteal cleft, tender, erythematous, approx. 2 x 2 cm, no sinus tract present
Psychiatric: She has a normal mood and affect. Vitals reviewed.
A/P: Cutaneous abscess of buttock.
See procedure note. No antibiotics at this time. Will need to wait for culture results. Will try to avoid antibiotic use due to current pregnancy. Thorough draining and NS irrigation of abscess today. Follow up in 4 days.
Wound Culture. Return if symptoms worsen or fail to improve.
The provider assigned only L02.31 Cutaneous abscess of buttock for the abscess. With a few quick reminders from staff, this provider could improve the documentation and capture all conditions for the encounter.
The provider documented that the patient is five months pregnant, and lists in his medical decision-making that he wants to avoid antibiotics. He ran cultures after performing the incision and drainage procedure.
Other relevant codes are:
O99.712 Diseases of the skin and subcutaneous tissue complicating pregnancy, second trimester (patient is five months pregnant, which is the second trimester)
Z3A.00 (The provider only documented five months, not how many weeks)
If this encounter had not been reviewed by a coder, only the abscess would have been submitted. The documentation supports additional codes, and coding guidelines specify that unless a provider specifically documents, "the pregnancy is incidental to the services provided," all conditions documented are relevant to the pregnancy and care provided, and need to be captured. Do not assign routine pregnancy Z codes when a complication is coded. In the above case, the skin/integumentary area causes the complication; therefore, look to category O99 Other maternal diseases classifiable elsewhere but complicating pregnancy, childbirth and the puerperium.
Combining provider education and coder training ensures we capture pregnancy diagnosis codes and complications at the highest level of specificity. It also ensures organizations that collect data are provided accurate and comprehensive information. This in turn leads to more opportunities to develop care and improve processes to reduce the highest areas of risk and conditions identified.
---
Valerie Milot, BS, CPC, CCS, AAPC Fellow, is an ICD-10 trainer with 30+ years' experience in coding, billing, regulatory compliance, auditing, and provider education. She has trained coders for a variety of outpatient and professional roles. Milot has worked in clinical roles, as well. She is a member of the Seacoast-Dover, N.H., local chapter.
---
Resources:
Outsource Strategies International, Medical Coding News, High-Risk Pregnancy – ICD-10 Coding Changes in 2017
CDC, Reproductive health
Center for Medicare & Medicaid Services, The 2018 ICD-10-CM Official Guidelines for Coding and Reporting
Latest posts by Guest Contributor
(see all)