Getting a Visual on Patients May Present Problems
February 2, 2018
Comments Off

on Getting a Visual on Patients May Present Problems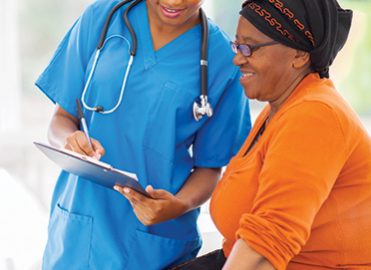 Help physicians fill in the missing information when they use visual cues to determine a diagnosis.
Most coders are familiar with the coding and documentation guidelines required to support the management of hierarchical condition categories (HCCs); for certain conditions, however, physicians may use visual cues to decide whether the patient's diagnosis is appropriate. This can create serious documentation challenges. Here are three such conditions, with suggestions for documentation improvement.
Cachexia
Physicians may state that many of their elderly patients are skinny, but this is different from malnutrition. As a result, querying the physician regarding any associated manifestations documented in the note (loss of weight, HIV, cancer, depression) is important, and may be necessary. Encourage the physician to code for cachexia (wasting syndrome), as well as code for the body mass index (BMI) and other conditions that may contribute to the cachexia. Keep in mind that a frail patient is not necessarily a cachectic patient. The clinician should state if the weight is stable to add clarity for the coder.
Senile Purpura
Physicians often look at an elderly patient and notice there is bruising, but may decide it's merely part of the aging process. In many cases, there is no treatment required. If the physician documents the use of blood thinners, a query may be necessary to capture the additional conditions that need to be coded (repeated falls, liver disease, malnutrition, etc.). Often, physicians won't document bruising or discoloration to the skin because this is "normal." Educate your physicians on the importance of documenting "normal" observations.
Severe Obesity
Obesity is a sensitive subject. Patients are often unhappy when a physician calls them obese, and physicians often think twice before they add that diagnosis to a patient's medical record. This diagnosis, however, includes a cavalcade of comorbidities (hypertension, hyperlipidemia, obstructive sleep apnea, polycystic ovary syndrome, etc.). When you query your physicians on the diagnoses and coding for the comorbidities, also remind them that you must code for the BMI, as well, so it must be documented. The BMI determines whether the diagnosis is overweight or obese due to excess calories. Proper BMI documentation will also prevent miscoding the level of obesity.
Take Part in the Improvement Process
Training should include both the clinical and coding sides of healthcare. Without coding support from healthcare business professionals, and documentation improvement efforts from physicians, these conditions will continue to present challenges.
---
Mary E. Wood, CPC, CPC-I, has 30 years of coding, auditing, and consulting experience. She traveled extensively for five years as a consultant, and gained experience on a variety of projects. Wood is a U.S. Air Force veteran. She is active in various veterans' groups and teaches retired veterans and military spouses medical coding. Wood is a member of the Sacramento, Calif., local chapter.
Latest posts by Guest Contributor
(see all)
No Responses to "Getting a Visual on Patients May Present Problems"