Coding HBO Therapy Is a Gas
In Billing
February 16, 2018
Comments Off

on Coding HBO Therapy Is a Gas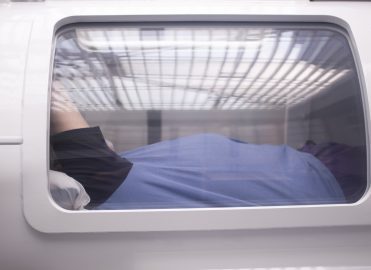 It may sound like something out of a sci-fi movie, but hyperbaric oxygen (HBO) therapy is real. It involves breathing pure oxygen in a pressurized room or tube, and it has long been used to treat decompression sickness from scuba diving. More recently, physicians have found it useful to treat other conditions.
Medicare Coverage under the Outpatient Prospective Payment System (OPPS)
Medicare reimbursement for HBO therapy is limited to that administered in a chamber (including a one-person unit) and only for the following conditions:
Acute carbon monoxide intoxication (acute carbon monoxide poisoning)
Decompression illness (bubbles in blood or tissue caused by rapid decrease in atmospheric pressure)
Gas embolism (gas bubbles in the blood that obstruct circulation)
Gas gangrene (rapidly progressing tissue death resulting from a bacterial infection)
Acute traumatic peripheral ischemia (caused by an injury that blocks blood flow to an extremity)
Crush injuries and suturing of severed limbs
Progressive necrotizing infections (necrotizing fasciitis) (serious infections of tissue)
Acute peripheral arterial insufficiency (lack of oxygen and nutrients to tissue)
Preparation and preservation of compromised skin grafts (failing skin graft caused by insufficient oxygen supply to tissue)
Chronic refractory osteomyelitis (chronic bone infections) unresponsive to conventional medical and surgical management
Osteoradionecrosis (bone death from radiation therapy)
Soft tissue radionecrosis (soft tissue death)
Cyanide poisoning
Actinomycosis (infection of soft tissue), only as an adjunct to conventional therapy when the disease is refractory to antibiotics and surgical treatment
Diabetic wounds of the lower extremities (sores or ulcers on legs and feet caused by diabetes) in patients who meet the following three criteria:

Patient has type I or type II diabetes and has a lower extremity wound that is due to diabetes;
Patient has a wound classified as Wagner grade III or higher; and
Patient has failed an adequate course of standard wound therapy.
Medicare National Coverage Determination (NCD) for Hyperbaric Oxygen Therapy 20.29 further states:
The use of HBO therapy is covered as adjunctive therapy only after there are no measurable signs of healing for at least 30 days of treatment with standard wound therapy and must be used in addition to standard wound care. Standard wound care in patients with diabetic wounds includes: assessment of a patient's vascular status and correction of any vascular problems in the affected limb if possible, optimization of nutritional status, optimization of glucose control, debridement by any means to remove devitalized tissue, maintenance of a clean, moist bed of granulation tissue with appropriate moist dressings, appropriate off-loading, and necessary treatment to resolve any infection that might be present. Failure to respond to standard wound care occurs when there are no measurable signs of healing for at least 30 consecutive days. Wounds must be evaluated at least every 30 days during administration of HBO therapy. Continued treatment with HBO therapy is not covered if measurable signs of healing have not been demonstrated within any 30-day period of treatment.
Change Is In the Air
The Prior Authorization Model for Non-emergent Hyperbaric Oxygen Therapy will end on Feb. 28. 2018, based on date of service. Facilities and beneficiaries may continue to submit prior authorization requests after that date for treatments occurring prior to March 1, 2018. The independent evaluation of the model is ongoing.
Effective April 3, 2017, the Centers for Medicare & Medicaid Services (CMS) removed topical application of oxygen for chronic non-healing wounds from NCD 20.29. Check your Medicare administrative contractor's (MAC) Local Coverage Determination (LCD) for possible coverage, but know that separate or additional Medicare payment for any physician's professional services related to this procedure are not covered, regardless of local coverage policy.
Effective Oct. 1, 2017, CMS added the following non-pressure chronic ulcer ICD-10 diagnosis codes to Group 2 codes:
L97.115, L97.116, L97.118, L97.125, L97.126, L97.128, L97.215, L97.216, L97.218, L97.225, L97.226, L97.228, L97.315, L97.316, L97.318 L97.325, L97.326, L97.328, L97.415, L97.416, L97.418, L97.425, L97.426, L97.428, L97.515, L97.516, L97.518, L97.525, L97.526, L97.528, L97.815, L97.816, L97.818, L97.825, L97.826, L97.828
Effective Oct. 2, 2017, ICD-10-CM code M27.8 Other specified diseases of jaws is covered under the HBO therapy NCD, retroactive to Oct. 1, 2015. HBO therapy patients with this diagnosis are not a part of the prior authorization program and claims may be submitted under the normal Medicare process.
Coding Example
The supervising physician should report their service with CPT code 99183 Physician attendance and supervision of hyperbaric oxygen therapy, per session.
Effective Jan. 1, 2015, outpatient hospitals providing HBO therapy should report HCPCS Level II code G0277 Hyperbaric oxygen under pressure, full body chamber, per 30-minute interval instead of HCPCS Level II code C1300 Hyperbaric oxygen under pressure, full body chamber, per 30-minute interval, which was concurrently discontinued.
Note: This guidance contradicts Medicare Claims Processing Manual, Pub. 100-04, Chapter 30, Section 30, which erroneously continues to list C1300 as a billable code.
The following may be included in calculating the total number of 30-minute intervals billable under G0277:
(1) time spent by the patient under 100 percent oxygen;
(2) descent;
(3) air breaks; and
(4) ascent.
CMS provides the following coding example in Transmittal 3280, released June 5, 2015 (emphasis added):
NOTE: A physician order for a 90-minute HBO treatment typically means that the physician desires that the patient be placed under 100% oxygen for 90 minutes. In order to safely achieve 100% oxygen for 90 minutes, additional time may be needed to provide for the descent, air breaks, and ascent. Therefore, the total number of billable 30-minute intervals would not be based solely on the amount of time noted on the physician order. In calculating how many 30-minute intervals to report, hospitals should take into consideration the time spent under pressure during descent, air breaks, and ascent. Additional units may be billed for sessions requiring at least 16 minutes of the next 30-minute interval. For example, 2 units of HCPCS code G0277 should be billed for a session in duration of between 46 and 75 minutes, while 3 units should be billed for a session in duration of between 76 and 105 minutes. Furthermore, 4 units of HCPCS code G0277 should be billed for a session in duration of between 106 and 135 minutes. HBO is typically prescribed for an average of 90 minutes, which hospitals should report using appropriate units of HCPCS code G0277 in order to properly bill for full body HBO therapy. In general, we do not expect that a physician order for 90 minutes of HBO therapy would exceed 4 billed units of HCPCS code G0277.
EXAMPLE: Physician orders and patient receives 90 minutes of therapeutic HBO; Patient requires and receives 10 minutes of descent time; Patient requires and receives 10 minutes of air breaks; Patient requires and receives 10 minutes of ascent time.
The above example would be billed correctly by reporting 4 units of G0277, reflecting the sum of the 90 minutes of therapeutic HBO, 10 minutes for descent, 10 minutes for air breaks, and 10 minutes for ascent.
Make sure the provider bills the correct number of units and the documentation supports that HBO therapy was provided on the dates of service billed.
---
Sources:
NCD for Hyperbaric Oxygen Therapy (20.29)
CMS Transmittal 3921, Nov. 17, 2017
Medicare Claims Processing Manual, Pub. 100-04, chapter 32, section 30.2
CMS Manual System, Pub. 100-04 Medicare Claims Processing Manual, Transmittal 3280, June 5, 2015
Latest posts by Renee Dustman
(see all)