Make your May MAYnia Meeting the Biggest Event of the Year!
March 1, 2018
Comments Off

on Make your May MAYnia Meeting the Biggest Event of the Year!
Theme: Spring to Your Local Chapter!
May MAYnia was created to give healthcare professionals an opportunity to discover what AAPC local chapters offer. Prospective members can experience the valuable education and networking found at chapter meetings.
It's the perfect time of year for officers to spotlight their chapter, giving an opportunity for non-members and new members in their community to connect with like-minded healthcare professionals and associate with the largest organization in the world supporting the business of healthcare. This is your opportunity to "showcase" your chapter!
Tips for a successful May MAYnia …
Schedule your meeting date no later than the end of March.
Market your event by taking flyers to surrounding healthcare facilities, along with a personal invite to attend your meeting.
Dedicate meeting time to talk to your non-member guests about AAPC and what your chapter has to offer.
Devote time to recognizing students that may be in attendance. Give them an opportunity to ask questions about this profession.
Create a handout on what students can expect after completion of their courses; this may include:
Steps to prepare for certification.
Study groups available in the area.
Review classes scheduled in the area.
A paragraph on "The Value of Networking" at local chapter meetings, and how this can lead to future employment, post certification.
Details about a mentoring program, if you have one in your chapter. Seasoned healthcare professionals are a huge resource for new members and students. Utilize your members to their full potential by starting a mentoring program, if you do not already have one in place.
Provide superior education for your May meeting. Think outside the box. Look for a respected professional in your community as your speaker. They are always a good draw.
Decorate, using the "Spring to your Local Chapter" theme.
Invite any AAPCCA or NAB board members living in your community to attend your meeting. They are a powerful resource for answering questions about AAPC.
Finally make sure your event is FUN! You'll be giving out the May MAYnia FREEBIES and GIVEAWAYS from AAPC.
All freebies and giveaways are mailed to the chapter president. Please go online to aapc.com and ensure your correct address is on file; you won't want to miss out! Freebies are only shipped if you have a May meeting planned and approved for CEUs.
Providing something for everyone will keep attendees engaged and sends the message that your chapter cares about the success of its current and future members.
Are you ready for your May MAYnia Meeting?
If not, what are you waiting for? Submit your May meeting today!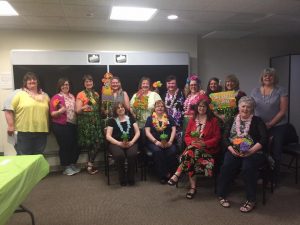 Plattsburgh, NY 2017 May MAYnia "Tropical Style," Picture courtesy of Susan O'Loughlin AAPCCA Board of Directors Region 4
Latest posts by Linda Litster
(see all)