Post-Operative Complications in the Global Period
In Billing
March 1, 2018
Comments Off

on Post-Operative Complications in the Global Period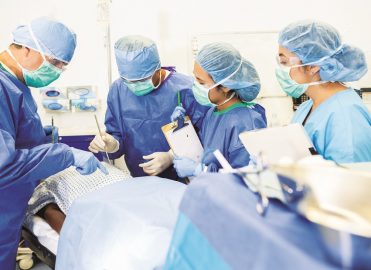 Is the caring for, and treatment of post-operative complications in the global period coded and billable?  To answer this question, You first must know who the third-party payer is because different payers have different rules.
What's the Global Issue?
Medicare says they will not pay for any care for post-operative complications or exacerbations in the global period unless the doctor must bring the patient back to the OR. This also applies to bringing the patient back to an endoscopy suite or cath lab. Modifier 78  for return to the OR is used whenever the patient is brought back to the operating room (or endoscopy suite/cath lab) for complications and signals the third-party payer to pay for the services in the post-operative global period. The payment for procedures modified with a 78 modifier are reduced by the percentage of RVUs allocated to the pre-operative care and post-operative care for the CPT® code.
Only the RVUs allocated to interoperative portion for the surgery are paid when modifier 78 is used. Instead of the full fee, somewhere between 75-80 percent of the fee is paid. The global period from the original surgery does not change and the date that patient leaves the post-operative global period is based on the original surgery, not any subsequent procedures that resulted in return to the operating room.
What if the patient does not have Medicare?  AMA CPT® has its own definition of a global period and it is different from Medicare's definition. On Page 70 of your CPT® Professional Manual, you'll find the Surgery Guidelines. It states the following (bolding added):
Follow-Up Care for Diagnostic Procedures
Follow-up for diagnostic procedures (eg, endoscopy, arthroscopy, injection procedures for radiography) includes only that care related to the recovery from the diagnostic procedure itself. Care of the condition for which the diagnostic procedure was performed or of other concomitant conditions is not included and may be listed separately.
Follow-Up Care for Therapeutic Surgical Procedures
Follow-up care for therapeutic surgical procedures includes only the care which is usually a part of the surgical service. Complications, exacerbations, recurrence or the presence of other diseases or injuries requiring additional services would be separately reported.
These instructions from the AMA are quite different than those from Medicare. They leave the coder and the biller in a quandary about what to do with services that treat post-operative complications for non-Medicare patients that do not require a return to the operating room. There are some organizations that implement Medicare rules for every payer. But doing this may be causing the practice to lose money by not billing for billable services. It is difficult to implement policies for the coding and billing departments that are payer specific while attempting to also maintain compliant operations. But the potential loss of real earned income is very real that it should not just be ignored.
There are two questions that arise from this discovery of these two different guidelines, one form Medicare and one from the AMA. They are:
How does one code and bill for post-operative complications in the global period that does not require a return to the operating room such that it will not be denied as post-operative period?
How does the practice determine who they can bill these services to?
How to code and bill for post-operative complications that do not require a return to the operating room:
The best way to demonstrate the coding is with an example. Mary, a non-Medicare patient returned to the Ob/Gyn's office with surgical wound dehiscence three weeks after delivery via c-section. Mary is also a type 2 diabetic. Doctor performs an E/M and evaluates the wound and determines that she needs to do an incision and drainage to make sure that Mary heals properly. Doctor also teaches Mary proper wound care, reviews Mary's blood sugar numbers and prescribes an antibiotic. A detailed interval history was documented along with an expanded problem focused exam and MDM of moderate complexity. This encounter can be coded and billed as follows:
99213-24-25      E11.9, O86.0
10061-79            O86.0, E11.9
Both modifier 24 and modifier 79 refer to an "unrelated" service and some would balk since the global was created by the delivery of Mary's baby and the care would appear to be related to the delivery. But the care is being provided, not for the delivery, but for the Infected Obstetric Surgical Wound, O86.0 and Mary's diabetes. This is considered unrelated to the C-section, which had taken place three weeks ago. The unrelated is supported by the surgical complication diagnosis, which is not the diagnosis associated with the surgery.
Here is another example, Tom's mother brings Tom to the ED two days after his tonsillectomy because he is spitting up blood. Tom is 16-years-old and not a Medicare patient. The Otolaryngologist who performed the tonsillectomy is called to into the ED to control the bleeding. This is coded:
42960-79            J95.830
Although this appears to be related to the tonsillectomy the surgeon performed two days ago, it is not. The tonsillectomy was performed for J35.1 Hypertrophy of the tonsils, while this service in the ED was performed for J95.830 Postprocedural hemorrhage of a respiratory system organ or structure following a respiratory system procedure.
Determining Whom to Bill Global Services?
Unfortunately, transparency with reimbursement policies from each payer is not easily gained. It is easier today than it was in the 1990s and the early 2000s when we had manuals from the payers and they would send us update pages, maybe. Today, we have payer websites which have their reimbursement policies. However, the websites are not necessarily complete and there are areas that are not covered. One of those areas is often how the third-party payer treats post-operative complications.
Go onto your third-party payer website and search their policies to see if they have a firm policy, stating that they follow Medicare's policies for post-operative complications, if they follow the AMA's definition of global period or if they have a different definition, specific to that payer. Create an excel spreadsheet and document your findings. One thing you may find is that they are silent on post-operative complications and the global period.
When the payer is silent on how they wish to handle post-operative complications and the global, your practice then must decide as to what your practice's policy is. You have one of two routes to take. You can follow the AMA's rules, or you can be extremely conservative and follow CMS' rules. Either way, put it in writing and train your billing and coding staff. This policy belongs in your compliance manual. Either way, by being consistent, following your policy, you will be able to defend your position, by what is instructed by AMA CPT® in writing or by what is instructed by CMS in writing.
The practice should follow what is documented on the excel spreadsheet that their reimbursement policy states each payer's global policy, and in the absence of a reimbursement policy, your practice will have a written policy as to which standard the coders and billers are to follow. That is the best compliance advice that can be given with these differing rules while still not wanting to leave money on the table.

Latest posts by Barbara Cobuzzi
(see all)