Five Ways to Keep Employees Off Electronics During Meetings
March 7, 2018
Comments Off

on Five Ways to Keep Employees Off Electronics During Meetings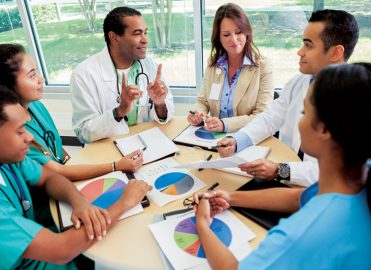 Don't you hate it when you go to a meeting, and some attendees are spending more time on their electronic devices than listening? Do you become angry when you are trying to train physicians on coding and clinical document improvement, and those who need what is being said the most are browsing Facebook or reading email?
We get only so much face to face time, and we must use it wisely so that the point of the meeting or training hits hom,e and the attendees are not distracted by their "pocket computers." What can we do to minimize these distractions?
1. Make sure the meeting/training is relevant and informative.
People often turn to their electronic devices when they are bored. When they are invited to meetings that have little relevance to their jobs or their perceived tasks, they will lose focus and turn to their phones and tablets. This means that the attendees need to be shown the relevance of the material right up front, so that they have a reason to stay focused on what is being discussed and said in the meeting/training. Invite employees only to those meetings relevant to them, and make sure the meeting stays on topic.
2. Establish a no-electronics policy before  meetings.
Identify all electronics that have the propensity to interfere with the meeting and notify the attendees that these devices are not allowed in the meeting. Give the reason behind the decision so that the attendees do not feel that this is a capricious decision. This policy can go out with the meeting invitation and agenda. Don't implement a new policy at the beginning of the meeting. Give the attendees time to digest the understand the new policy.
3. Be clear about the meeting's start, stop, and break times.
The meeting organizer is showing the attendees that they respect their time which in turn the attendees should respect the meeting/training's time and agenda. That way the employees know when they can go back to work, check their email, and focus on other tasks.
4. Stay on meeting's agenda.
Keep the meeting on the stated agenda and do not stray from the stated purpose of the meeting. Nothing loses the attendees focus quicker than leaving the topic for which the meeting was called. If other issues or topics are brought up, table them, and plan on addressing them at another meeting when they are on the agenda.
5. Do not chastise employees in public for breaking the meeting rules.
No adult appreciates being humiliated in public, and doing so only increases feelings of resentment. If an attendee does not respect the terms of the meeting as set forth ahead of time in the invitation and/or agenda, speak to them afterward, in private, and reiterate the terms of the meetings and ask them to respect your time, as well as the others attending the meeting.
Latest posts by Barbara Cobuzzi
(see all)