HIM: Work Inside or Outside of the Box?
March 1, 2018
Comments Off

on HIM: Work Inside or Outside of the Box?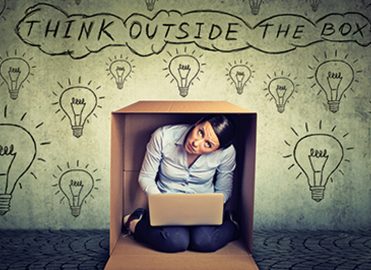 Explore and weigh your options to determine what work environment is best for you.
By Jen Flohr, RHIT, COC, CPMA, CPCO, CCS, CAPM, ICD-10 Certified Trainer
Over the years, more healthcare organizations have chosen to outsource some, if not all, of their health information management (HIM) roles to staffing companies, eliminating plenty of direct-hire positions. Due to the high demand for healthcare professionals, there are many staffing companies specializing in HIM support. How do you decide if working in HIM for a healthcare facility or as a vendor is right for you? Here are some things to consider.
Working for a Healthcare Facility (Inside the Box)
Stability and Security: Being employed directly through a healthcare organization or facility provides a sense of job security and stability. You get to know your co-workers; work collaboratively in a team environment; stay informed of events or engagements that the hospital/facility sponsors; and feel as if you're part of something bigger in the community.
Opportunity for Growth: Most organizations prefer to hire from within, whenever possible. Being on the inside allows you to learn of job openings as they become available. These positions may mean a promotion from your current role, or an opportunity to use your expertise in a new and challenging way.
Develop Professional Relationships: Although healthcare facilities are increasingly encouraging their HIM professionals to work remotely, many still prefer their employees to be onsite. Working onsite allows you to develop rewarding professional relationships with management, physicians, and other healthcare providers. These relationships may prove advantageous in your career. Remember: It's not always what you know, but who you know!
Working for a Vendor  (Out of the Box)
Familiarity with Multiple Electronic Health Record (EHR) Software: When you work for a staffing company, you are often able to work on several different EHR programs and encoders, depending on what the clients use. It's beneficial to have experience with as many kinds of healthcare software as possible, and this is a great opportunity to do so.
Diversity of Healthcare Specialties/Service Lines: Vendors work with all types of healthcare facilities, from physician practices to ambulatory surgical centers (ASCs) to multi-hospital healthcare delivery systems. Depending on your experience, assignment, and assignment length, you'll have the potential to work for various medical specialties, inpatient, outpatient, or professional-fee services.
Continuing Education Unit (CEU) Opportunities: Most vendors offer their employees free monthly webinars so they can continue with professional development while earning AAPC or AHIMA CEUs to maintain their credentials. This is a definite perk!
Flexibility: Most employees work from home; although, it's entirely contingent on the client's needs. The working hours tend to be flexible and not your typical 8:30 a.m. to 5:00 p.m., as well. For example, you may be allowed to work weekends or evenings if that fits your schedule better.
Compensation: Traditionally, a vendor is able to offer a slightly higher hourly rate than a healthcare facility; however, both typically require an initial and/or quarterly performance review, and hold annual reviews with possible pay increases.
Weigh the Benefits
As far as benefits go, both options are comparable and competitive. Some staffing companies and facilities offer a bonus structure for high-performers, have a wellness/fitness reimbursement program, and will pay annual dues for one healthcare association membership such as AAPC.
If you are a student, new to the HIM field, or simply ready for a change, explore all the prospects, weigh the pros and cons, and then decide which is best for you.
---
Jen Flohr, RHIT, COC, CPMA, CPCO, CCS, CAPM, ICD-10 Certified Trainer, has 20+ years in the healthcare industry. She is the owner of JBF Healthcare Consulting, LLC, specializing in consulting and interim management assignments in the areas of revenue cycle management, HIM, and clinical documentation improvement. Flohr has an associate degree in HIM from Hodges University, and she is a member of the Haverhill, Mass., local chapter.
Latest posts by Guest Contributor
(see all)