Documenting Opioid Dependence and Abuse
March 1, 2018
Comments Off

on Documenting Opioid Dependence and Abuse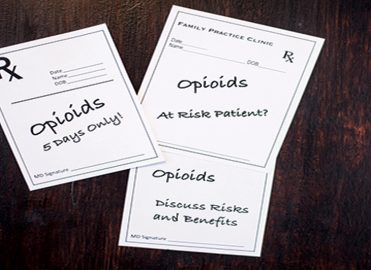 New metrics and quality measures call for improved documentation to track this growing problem.
Opioid dependence and overdose are at crisis levels. Healthcare professionals have a front row seat to this epidemic, and we have a responsibility to know coding and documentation requirements for such cases.
Opioid Use Becomes a Quality Measure
According to the Centers for Disease Control and Prevention (CDC), 91 Americans die every day from an opioid overdose. Prescription drugs play a significant role in this statistic. According to the National Committee for Quality Assurance (NCQA), the amount of prescription opioids sold to pharmacies, hospitals, and physicians almost quadrupled from 1999 to 2010. Deaths from prescription opioids have also quadrupled in the same time (NCQA, 2017).
In response to this growing problem, the NCQA introduced two new Healthcare Effectiveness Data and Information Set (HEDIS) metrics:
Use of Opioids at High Dosage: This measure assesses the rate of health plan members 18 years and older who receive long-term opioids at high dosage (average morphine equivalent dose >120 mg).
Use of Opioids from Multiple Providers: This measure assesses the rate of health plan members 18 years and older who receive opioids from multiple prescribers and multiple pharmacies.
In implementing these metrics, the NCQA is adding health plans to the list of those responsible for stemming the opioid problem. In addition to the NCQA's efforts, opioid use is tracked closely by many value-based reimbursement and quality outcome payment models.
ICD-10 Coding
Opioid use is defined in ICD-10-CM under the category F11 Opioid related disorders, which is further categorized by patterns of use, abuse, and dependence. As with other drug use and dependency codes, these codes may specify "with intoxication," "with induced psychotic disorder," and "with other induced disorder."
Rely on documentation in the medical record to assign the most accurate code for the encounter. Clinicians typically turn to the Diagnostic and Statistical Manual of Mental Disorders (DSM-5), published by the American Psychiatric Association, for diagnostic protocol. The DSM-5 criteria for Opioid Use Disorder are:
The diagnosis of Opioid Use Disorder can be applied to someone who has a problematic pattern of opioid use leading to clinically significant impairment or distress, as manifested by at least two of the following, occurring within a 12-month period:
Taking more opioid drugs than intended.
Wanting or trying to control opioid drug use without success.
Spending a lot of time obtaining, taking, or recovering from the effects of opioid drugs.
Cravings opioids.
Failing to carry out important roles at home, work, or school because of opioid use.
Continuing to use opioids, despite use of the drug causing relationship or social problems.
Giving up or reducing other activities because of opioid use.
Using opioids even when it is physically unsafe.
Knowing that opioid use is causing a physical or psychological problem, but continuing to take the drug anyway.
Tolerance for opioids.
Withdrawal symptoms when opioids are not taken.
Note: Not everyone who uses opioids has an opioid use disorder. The above list is not applicable if the individual is experiencing these symptoms under appropriate medical supervision.
According to the CDC, the majority of drug overdose deaths (more than six out of 10) involve an opioid. Documentation improvement aides coding specificity and allows stakeholders to generate quality data that could potentially save lives.
Note: If you or someone you care about is struggling with opioid dependency or addiction, help is available. For information, go to www.samhsa.gov/find-help/national-helpline or call 1-800-662-HELP (4357).
---
Resources
For more information on the U.S. opioid epidemic, ways to spot abuse, 2018 ICD-10 codes, and government response, read the article, "Help Combat the Opioid Crisis by Following Guidelines and State Rules," in the February issue of Healthcare Business Monthly.
For more information on HEDIS, read "HEDIS: Improving Healthcare Quality and Patient Outcomes," in the October 2016 issue of Healthcare Business Monthly.
Articles published in Healthcare Business Monthly are available online at the Knowledge Center on AAPC's website.
American Psychiatric Association, DSM-5TM, 2013.
NCQA Blog: Features and Announcements. (n.d.). Dec. 1, 2017, from www.ncqa.org/
Opioid Overdose. (2017, August 30). Oct. 23, 2017, from www.cdc.gov/drugoverdose/epidemic/index.html
Latest posts by Colleen Gianatasio
(see all)