Give Your Provider a Pep Talk
March 1, 2018
Comments Off

on Give Your Provider a Pep Talk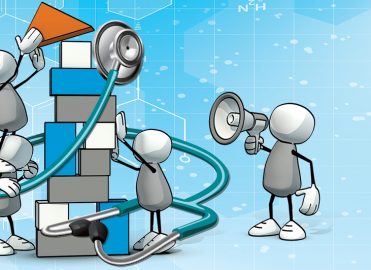 Encourage physicians to value proper documentation and help them fulfill risk adjustment requirements and HEDIS scores.
By Meera Mohanakrishnan, MS, CPC, COC, CPC-P, CRC, CPC-I, CCS, PAHM
The medical record is evidence of a patient's past and present health status and medical treatment. Quality documentation is necessary for accurate coding and billing. More significantly, it's essential to deliver quality healthcare. For these reasons, it's important to initiate a physician education program (PEP) talk to explain compliant documentation and encourage provider buy-in of better medical record-keeping.
RADV, HEDIS, and the Importance of Provider Documentation
The Centers for Medicare & Medicaid Services (CMS) collects data to rate the quality of care physicians deliver. This data relates to the diagnoses documented by the rendering physician. As such, every physician should be aware of the risk adjustment data validation (RADV) process for Medicare patients.
RADV is the process of verifying that chronic diagnosis codes submitted for payment by the Medicare Advantage organization are supported by medical record documentation for the patient. Physicians should know that CMS likely will audit their patients' medical records, at some time. Upcoding or changing diagnoses to obtain higher reimbursement without supporting source documents is fraud. Data validation certifies that both the documentation and coding are appropriate.
Providers are the main source of information driving the documentation of chronic conditions, as well as Healthcare Effectiveness Data and Information Set (HEDIS) scores. This means that for every visit a coder/educator has with your physician, it's an opportunity to reiterate the importance of documenting chronic conditions and HEDIS measures. A big challenge in provider engagement is getting them to understand the alignment of HEDIS measures and quality patient outcomes. The medical record chronologically documents patient care, and is an important element contributing to high quality care.
Provide physicians with educational materials and forms to assist them to improve their documentation, such as shown in the Sample Checklist. This allows for improved HEDIS and risk adjustment factor (RAF) performance.
Sample Checklist:
| | |
| --- | --- |
| Checklist | Yes / No |
| Patient ID | |
| Patient full name | |
| DOB | |
| Sex – female /male | |
| DOS | |
| Medical record number | |
| Physician full name and credential | |
| PCP full name and credential | |
| Location and contact details of the physician office | |
| Chief complaint/subjective | |
| HPI | |
| Appropriate medical, social, and family history | |
| Review of systems | |
| Physical examination | |
| Lab or other ordered test(s) | |
| Working diagnosis consistent with findings | |
| Final assessment | |
| Plan of action consistent with diagnosis | |
| Documentation and supporting chronic condition in each visit | |
| Document HEDIS/quality codes | |
| CMS accepted signature | |
| Physician credential | |
Physicians know the medical decision-making process. As such, they are the best choice to capture accurate information from a clinic or hospital visit — not only for better documentation purposes, but also for accurate coding and billing. You can look at the exam and tally the necessary elements to get an evaluation and management (E/M) code, but the physician has a true handle on the medical component and should select the E/M code.
Be sure your physicians are aware that lab results or radiological imaging diagnoses results are not codable unless the clinician brings the information into the medical office visit or progress note.
Common Missed Opportunities for Physician Education
Scenario 1 (incomplete documentation): A patient visits the physician for fever and nausea. The patient has a history of chronic conditions including hyperlipidemia, hyperthyroidism, neuropathy, depression etc.
The diagnosis in Scenario 1 cannot be submitted due to an incomplete record. The objective, assessment, and plan are not documented. The MA plan would not be reimbursed for the highlighted chronic condition.
Scenario 2 (Rendering physician is different from signed physician): This is common when a group of doctors works in a shared institution/clinic, but may lead to legal issues. The staff/physician should select the correct physician name and correct authentication name in the electronic health record (EHR).
Scenario 3 (missing signature or chart not closed): The physician should know that if there is no signature in the record, the record is incomplete and CMS will not accept it. If the signature is illegible, Medicare will consider evidence in a signature log or an attestation statement to determine the author of the medical record entry. If signatures are missing or illegible, providers may submit an attestation statement.
A signature log or attestation statement would support the identity of the illegible signature. If the original record contains a printed signature below the illegible signature, this may be accepted, as well.
CMS example for an attestation letter:
I, _____[print full name of the physician/practitioner]_____, hereby attest that the medical record entry for _____[date of service]_____ accurately reflects signatures/notations that I made in my capacity as _____[insert provider credentials, e.g., M.D.]_____ when I treated/diagnosed the above listed Medicare beneficiary. I do hereby attest that this information is true, accurate, and complete to the best of my knowledge, and I understand that any falsification, omission, or concealment of material fact may subject me to administrative, civil, or criminal liability.
The following handwritten signature examples meet the requirement:
Legible full signature
Legible first initial and last name
Illegible signature over a typed or printed name
Scenario 4 (chronic condition not documented): The record shown in Scenario 4 documents the patient is on drugs that support the diagnoses of diabetes mellitus, hypothyroidism, hyperlipidemia, etc.; but the physician has not documented chronic diagnosis in the medical record.
The doctors should be educated in documenting chronic conditions in every visit, as we never know if the patient will return to the physician during the same year. In such scenarios, the RAF for the patient is affected and the MA plan would not recognize the correct revenue, affecting the patient's quality of care.
Record the Right Documentation 
Here are points you should make for your PEP talk:
Documentation should be accurate, valid, and complete.
Handwritten medical records must be legible.
The medical record must include the physician signature with full name and credentials.
Rendering physicians must sign the record.
EHR should be authenticated (e.g., signed by, electronically signed by, authenticated by), followed by the provider'ss name and credential.
Some EHR settings that automatically fill in the full history, full exam, and full review of systems info for all patients and/or for every patient visit. These systems require the provider to manually uncheck a box to delete the services not provided, often resulting in overbilling.
Document every active chronic condition and HEDIS measures with detailed documentation to support it in the medical record, because you never know if or when the patient will be back to the doctor for that year.
Include current medication list.
Clinical evaluation and findings are documented for each visit.
Document every chronic condition and support every chronic diagnosis by monitored, evaluated, assessed, or treated (MEAT) criteria.
Document disease to highest level of specificity (for example, if the patient has diabetes mellitus type II with neuropathy, document the same and just not diabetes mellitus II).
Code to the highest specificity.
Help your doctors to help their practice and patients more effectually by getting them to pay attention to the details with a PEP talk.
---
Meera Mohanakrishnan, MS, CPC, COC, CPC-P, CRC, CPC-I, CCS, PAHM, is a Certified ICD-10 Consultant and director of Medical Coding Operations at IntegraNet Health and dean of IntegraNet Coding Academy in Houston, Texas (mmohanakrishnan@integranethealth.com). She has a Master's degree in Biochemistry and is a member of the Houston, Texas, local chapter.
Latest posts by Guest Contributor
(see all)